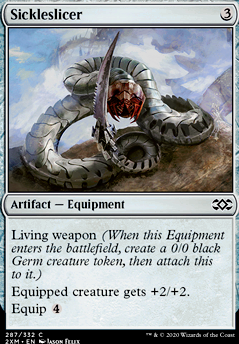 Tokens
Legality
2 years ago
The Custom Categories have been updated with a "Living Weapon" section, including
I think these are the coolest way to take advantage of Akiri's ability for as few cards as possible, and I expect to see this line-up and probably more of the 4-6 cmcm ones in most Akiri lists.
I'm still looking to better take advantage of Akiri's protection ability. Leonin Shikari will help with that, and there's some instant-speed-equiping equipment/enablers out there like Healer's Headdress, Sparring Collar, Auriok Windwalker, Brass Squire, Magnetic Theft... do these all seem worth it? What are y'alls thoughts?
2 years ago
Thank you all for the comments and suggestions!
bushido_man96 I think some of them might be worth it. The problem is, they usually don't have much utility after auto equipping. Valduk might be a good back-up wincon.
abby315 you say you had no suggestions but then proceed to give me many good suggestions haha! Ancestral Blade is especially awesome!
Coward_Token I considered brawl, I have mixed thought about it. I'll call it a maybe for now.Good catch on Acclaimed Contender. Out.
enpc all good cards. The list of good early drops is long, and space is tight.
griffstick yeah extra combats are great, but it's tough to find room when I'm cramming in so many equipment and creatures haha!
SynergyBuild yeah the do seem kinda meh IMO.
LunchBox1211 I know some current/former Marines but did not serve myself. I thought the name/pun was clever and goes well with the theme of Boros in general. I decided not to go with the swords for this one... not sure why. Maybe I just got bored of them.
Would love cut suggestions. Looking to at least add Mask of Immolation, Ancestral Blade, and Sickleslicer, and Leonin Shikari.
4 years ago
KayneMarco: As a Pauper EDH deck, you can only use one uncommon creature as the Commander, and only commons in the 99. Unfortunately neither of those two cards were ever printed/released at common, so they wouldn't be legal. =)
As for the deck...
Echo Circlet & Vanguard's Shield for starters. Plus Cathar's Shield, Accorder's Shield also because you want to keep him untapped and able to block as well as attack. There're other vigilance enablers like True-Faith Censer, too.
Bone Saw & Bonesplitter because you don't really care about his Strength. Maybe even things like Unholy Strength and Predator's Gambit.
So I guess I'm thinking voltron. Which would include things like Bladed Pinions, maybe Flayer Husk and Sickleslicer.
Then of course Vault of Whispers and Darksteel Citadel to help justify that Cranial Plating you got there.
Costly Plunder + Ichor Wellspring / Mycosynth Wellspring.
Night's Whisper should be here. you might like Dash Hopes for late game security, but it's probably useless early on.
I'd also recommend a LOT of recursion/reanimation, that way you can just let your commander die, then get 'em back to avoid Commander-tax. Things like Macabre Waltz, Grim Discovery, etc.
Both Exalted creatures, too? Servant of Nefarox and Duty-Bound Dead.
I'm just tossing out ideas, so maybe something there can help get you started! =)
5 years ago
Alloy Myr, Arcbound Crusher, Arcbound Slith, Brutalizer Exarch, Cathodion,Corrupted Harvester, Frogmite, Gust-Skimmer, Myr Enforcer, Plaxcaster Frogling, Skyreach Manta, Suntouched Myr, Wizard Replica, Copper Carapace, Culling Dais, Glint Hawk Idol, Sickleslicer, Sphere of the Suns, Spread the Sickness, Grim Affliction, Instill Infection, Steady Progress, Stoic Rebuttal, Tree of Tales, Vault of Whispers
All missing card pictures.
5 years ago
Don't stop now. I believe in you!