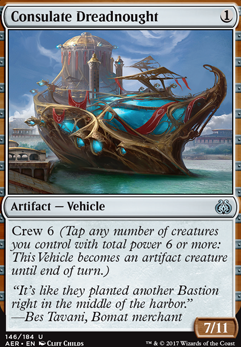 Legality
| | |
| --- | --- |
| Format | Legality |
| Standard | Legal |
| Modern | Legal |
| Frontier | Legal |
| Commander / EDH | Legal |
| Vintage | Legal |
| Legacy | Legal |
| Tiny Leaders | Legal |
Consulate Dreadnought
Artifact — Vehicle
Crew 6 (Tap any number of creatures you control with total power 6 or more: This Vehicle becomes an artifact creature until end of turn.)
Consulate Dreadnought Discussion
3 days ago
Don't stop now. I believe in you!
3 weeks ago
Once you attach Siege Modification to a Vehicle you lose the one big advantage that Vehicles have, which is they are difficult to remove with Sorceries.
As mentioned above, Fatal Push will kill them, but with the Modification Declaration in Stone will Exile them.
There are also spells that are problems for Artifacts now. Chiefly Dissenter's Deliverance, and Forsake the Wordly. A lot of Sideboards pack these against the Temur Marvel decks.
Fling would get around some of these problems but you would want at least four copies.
I think there is a deck that can win with Consulate Dreadnought, but I think it is a deck that packs counter spells.
Oh, and as pointed out above, Toolcraft Exemplar would allow you much more chance of Crewing your big Creature, as opposed to Thraben Inspector. The one draw it gives you is not really a good enough trade off.
3 weeks ago
I considered adding Gryff's Boon, but it would only really work if I had already had a way to crew the dreadnought so it's not the most helpful.
As for Toolcraft Exemplar it seems pretty good, but with Thraben Inspector, Built to Smash, Shock and the Consulate Dreadnought put one slot is pretty full, and since it's so highly unlikely to get that turn 3 win is rather have that slot helping me get the turn 4 one!
The Spire of Industry I'll add as a 2 of because it works well but I'd rather have more basics in case I get stuck without a dreadnought early game.
3 weeks ago
Luciferos,
A small point of clarification on Insult / Injury: Because of the wording on the card, not all the extra damage actually Tramples though. Say you had cast Insult and were attacking with Consulate Dreadnought + Built to Smash (10/14 with Trample), and an opponent chump-blocked with a Rogue Refiner (3/2). You would likely assign 2 damage to the Refiner and 8 to your opponent's face. Then Insult triggers, and the damage is doubled. So you actually end up doing 4 damage to the Refiner and 16 to your opponent. It's still TON of damage, but it's not quite as good as Double-strike would be.
Also, Fling works fine with Insult. In that case, Fling is the 'source you control', so it does twice as much damage. Flinging the 10/14 Dreadnought from the previous example would do 20 points of damage.
4 weeks ago
@pickelchu Sure. But if they block and you Fling, your creature's now dead. Conversely, if you Built to Smash and then ALSO Fling on turn 4 after swinging a Siege Modification Consulate Dreadnought, that's lethal damage by itself unless their blocker has huge toughness, and BTS+Fling is less mana than Cast Out by itself.
Built to Smash or other Trample-givers also synergizes with the Insult half of Insult / Injury because if you double the trampler's assigned damage, all that extra tramples through. Fling does not synergize Insult because that double damage would still be blocked, and Fling deals damage (not the creature) so doubling its damage doesn't help Fling.
IMO Built to Smash is going to help you get people dead a lot more than Shock, whereas Fling is a card you should have to work WITH Built to Smash instead of one or the other.
4 weeks ago
Your main problem with Consulate Dreadnought is that most of the top decks are going to chump block that 10/11 first strike constantly. You want to find a way to grant Trample, such as Brute Strength, Built to Smash, Distemper of the Blood, and Invigorated Rampage.
Aerial Modification helps but is 5 mana. Modifications are obviously useful as they obviate the need for crew, but you're not necessarily going to get the damage through.
Onward / Victory may be a useful choice - Onward doubles the creature's power which could let you fling for 20+ damage alone, while Victory grants Double Strike which could instakill someone when they can't block.
Tapping out your opponents can be really useful, too. Topplegeists can provide a good source of cheap tap-out and also are flying chumps and can function as lockdown if the game drags and you get Delirium.
Load more