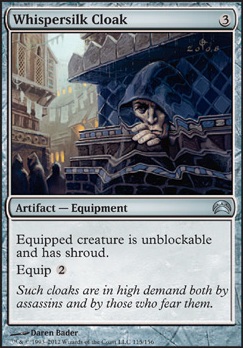 Whispersilk Cloak
Artifact — Equipment
Equipped creature is unblockable.
Equipped creature has shroud. (It can't be the target of spells or abilities.)
Equip 2 (2: Attach to target creature you control. Equip only as a sorcery.)
Have (18)

t

h

e

g

i

g

i

b

e

a

s

t

,

D

i

d

g

e

r

i

d

o

o

d

a

,

T

h

e

H

o

r

s

e

, webdokkeren , alittlex ,

X

x

C

a

t

a

c

l

y

s

m

i

C

x

X

, Fairseas , cortexjackal , ibtnecniv ,

P

e

p

s

i

A

d

d

i

c

t

e

d

, BlackLusterLotus ,

insert

clever

id

, seraphim_atreides , MUTEDM1ND ,

S

a

n

i

T

h

e

C

a

t

,

C

o

m

i

c

a

l

f

l

o

p

, Pinkiepiek9 ,

d

e

a

t

n

1

3

4

2

Want (8)

p

s

k

i

n

n

0

1

,

b

r

o

k

e

n

d

w

a

r

f

, Jessebear , sobedeito , hlafayette , bigbass ,

s

h

a

d

o

w

h

o

u

n

d

1

4

, jussikmr
Whispersilk Cloak Discussion
1 day ago
Hey dude, Bryan here. You have a nice deck going - it is delightfully aggressive! However, I worry about your consistency both in terms of card draw and how you recover from disruption like board wipes, mass bounce, and/or land destruction. Let's start with your land-base:
You currently have 19 basic lands and 39 total lands. That is a ton! For comparison, my Bant (G/W/U) decks usually run between 12-15 basics and that is for three-colors. I would encourage you to look at adding some non-basic lands that can fit your strategy. A few suggestions in no particular order:
Arid Mesa: Best fetch in your colors to start replacing the CIP tapped fetchs you currently run. Also consider ones that only target a single color (like Scalding Tarn or Marsh Flats if you find fixing to be a problem.
Buried Ruin: The graveyard often functions as a second hand in EDH and you have no recursion currently. It seems some of your heaviest hitters are artifacts and Ruin can help you ensure they stick.
Cavern of Souls: I think one well timed counter-spell hitting your Gisela could be game-ending for you and blue is the most prevalent color in commander. You need to ensure that she resolves to take advantage of all the synergies you have built around her. Bonus that it works for your other angels (like Aurelia) as well.
Sunhome, Fortress of the Legion: Double-strike seems oppressively good here and your deck wants cards that interact with the combat step. (On the double-strike note, have you considered adding Silverblade Paladin? Could be a power-house).
Rogue's Passage: You also need to ensure your creatures are able to deal that combat damage for a lot of your synergies to occur. Might not be as useful with all the tokens but could be if you are pushing for combat lethal on one creature.
Kher Keep: Any red deck should run this land - especially a token one!
Strip Mine: Some lands in EDH are out of control like Cabal Coffers or Gaea's Cradle and having a means to deal with them is essential.
Personally, I would cut Thawing Glaciers as I find it to be too slow (even in decks that can abuse untap abilities). Likewise, Vivid Meadow, Terminal Moraine, and Nomad Stadium dont feel like they do enough for you. I also try to minimize playing lands that come into play tapped no matter how good they look on paper. Imagine losing a turn as you wait for the land to untap only to have it blown up or bounced back to your hand. You want cards that do something as soon as they hit the table to maintain your explosiveness.
Since you are building a combo-deck, you must be able to reliably draw your combo pieces by turn 7 (or sooner) to ensure Gisela has the desired impact. As your deck is currently, I fear that you will often be sitting there in top-deck mode hoping to draw into a key piece while your opponents build insurmountable board states or assemble combos of their own.
Your deck wants to be the aggressor and I think adding draw, tutors, and deck thinners is the way to ensure this happens. Consider: Solemn Simulacrum, Scroll Rack, and Sensei's Divining Top for draw and tutors like Idyllic Tutor, Enlightened Tutor, and Gamble. I also think recursion is very important as you really have no way of getting a card back if it is destroyed (which happens often) so consider Sun Titan, Karmic Guide, and/or Reveillark, at least for your creatures.
Finally, I think you could also benefit from some artifact ramp to ensure you hit your high mana drops on curve or before. Some solid ones to consider: Darksteel Ingot, Coalition Relic, Chromatic Lantern, Boros Signet, Thran Dynamo and my personal favorite Mana Vault. You might want to consider some protection for Gisela as well as her abilities paint a huge removal target on her. My personal favorite: Lightning Greaves but you can also run Swiftfoot Boots, Whispersilk Cloak, Champion's Helm or Mask of Avacyn depending on your needs. Avacyn, Angel of Hope could be a good fit with all the tokens and lack of recursion to keep your stuff alive, although she is a great target for Bribery type abilities.
I hope Im not overloading you with information here, just trying to help you tune your deck as competitively as possible; nothing worse than assembling your game-winning combo only to have it countered or stolen from you. Good luck refining the build and lets get together for a game soon!
Later,
Bryan
P.S. I didnt see Inquisitor's Flail on your list which could be a good fit.
5 days ago
@SirFowler I've always been a fan of the boots, but I could not find room for it in the deck. What, if anything, would you cut to make room for some boots?
I have never had success with Whispersilk Cloak (it always seems to be too expensive for what it does), so I think I'll skip on that for now.
Cheers
6 days ago
Thanks for the suggestions. I used to run shroud on Daxos, but the inability to target him myself was too limited. Giving him double-strike is quite useful, as it doubles my odds of pulling something cool from the top of my opponent's deck. If Daxos is my only creature on the board, I can't move the Lightning Greaves or Whispersilk Cloak away from him in order to set him up with a Battle Mastery or Fireshrieker.
I'll consider Soldevi Excavations - thanks!
| | |
| --- | --- |
| Cost | 3 |
| Converted cost | 3 |
| Avg. draft pick | 2.45 |
| Avg. cube pick | 5.09 |
Legality
| | |
| --- | --- |
| Format | Legality |
| Heirloom | Legal |
| Legacy | Legal |
| Vintage | Legal |
| Commander / EDH | Legal |
| Modern | Legal |
| Duel Commander | Legal |
| Pauper | Legal |
Related Questions