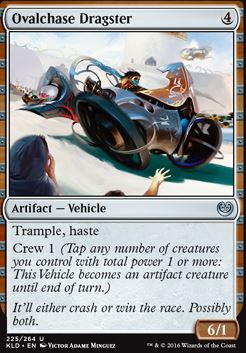 Legality
| | |
| --- | --- |
| Format | Legality |
| 1v1 Commander | Legal |
| Frontier | Legal |
| Vintage | Legal |
| Modern | Legal |
| Standard | Legal |
| Legacy | Legal |
| Duel Commander | Legal |
| Casual | Legal |
| Unformat | Legal |
| Pauper | Legal |
| Commander / EDH | Legal |
Ovalchase Dragster
Artifact — Vehicle
Trample, haste
Crew 1 (Tap any number of creatures you control with total power 1 or more: This Vehicle becomes an artifact creature until end of turn.)
Ovalchase Dragster Discussion
3 months ago
Don't stop now. I believe in you!
4 months ago
I think Unlicensed Disintegration is pretty good, but it's true that 2 artifacts makes it very unlikely to work as anything more than "Destroy Target Creature" for 3 mana (which is fine). However, you can throw in some Equipment or Vehicles that help increase your aggression.
Fleetwheel Cruiser and Ovalchase Dragster have Haste, and Haunted Cloak and Strider Harness grant Haste while attaching for (1). Almost all your minotaurs are 2-3 mana, so once your lands outpace that, being able to attach a Haste to each - conversely, a Vehicle allows you to crew with a creature with summoning sickness.
...also, minotaurs driving racecars is a stand-alone concept whose value cannot be overstated
My main concern with Cartouche of Zeal plus Trial of Ambition is that since you are burning your hand out so quickly, you're making it very likely that you will be able to trigger that combo rarely (if ever), so just having an equipment or vehicle you can toss out to help trigger Unlicensed Disintegration damage and accelerate your damage may get people deader faster. Also, you can use the Crew mechanic if need be to tap out your whole board to do more damage with Throne of the God-Pharaoh if need be to secure the victory.
5 months ago
Ovalchase Dragster works for some rush damage
honestly I'd cut the legendary enchantments down to 1 each personally just because you don't want too many dead cards in your deck
I'd definitely cut Rhonas as much as I love him down to 2 as with an Indestructible, deathtouch god I doubt you'll use all 3 of them ever. In fact if this deck is good you wouldn't even use 2 most games.
I'd add some sort of ramp in here so you don't run too slowly. the new Naga Vitalist works well in 3+ colour decks.
I'd also add more creatures and maybe some of the Gideon tute cards or even Call the Gatewatch
Hope this help and as much as its frustrating thinking of versing a expensive indestructible planes walker deck like is... its also hilarious XD
Would you mind helping me with my standard The Evo word
6 months ago
My first thought was Spear of Heliod pumps all your creatures and can get you targeted removal that people often forget about.
Second thought is Iroas, God of Victory. Menace helps when you don't have easy access to trample but what's really great is a you don't take damage when attacking. Makes Ovalchase Dragster even better.
Finally I think Paradox Engine really shines in a vehicle deck. Also it allows you to take advantage of cards like Savage Beating letting you attack with your driver's as well for a big finisher. There are tons of possibilities with this card.
Load more