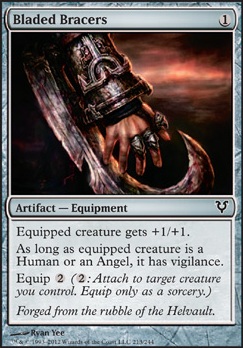 Legality
| | |
| --- | --- |
| Format | Legality |
| 1v1 Commander | Legal |
| Vintage | Legal |
| Modern | Legal |
| Casual | Legal |
| Legacy | Legal |
| Duel Commander | Legal |
| Unformat | Legal |
| Pauper | Legal |
| Commander / EDH | Legal |
Bladed Bracers
Artifact — Equipment
Equipped creature gets +1/+1.As long as equipped creature is a Human or Angel, it has vigilance.Equip 2
Bladed Bracers Discussion
2 months ago
Don't stop now. I believe in you!
8 months ago
I've been trying to think of ways to make this deck more aggro proof, Tormented Angel was a little weak in the power scale for me I think, if I cared about the extra point of health I would board in Veteran Armorer or even the flavorful Bladed Bracers I've been thinking about, though that would require more humans.
1 year ago
Fetces and shocks are always helpful. since most of your creatures are white, you might want to add in Brave the Elements for protection against removal. I think Bladed Bracers isn't really doing much so you may want to replace it. Valor in Akros is really expensive for a pretty limited effect. since you are playing white, Path to Exile is really awesome
1 year ago
Out: Elspeth, Sun's Champion was in to add width since it's one of the biggest weaknesses of voltron decks. Removed due to cost and limited utility of other abilities. Bladed Bracers are good with Siggy, but not really with anyone else, too situational.
In: Indestructibility seems limited in that Siggy's hard to target, but it's more about surviving wraths (one of the few ways to deal with her). I'm not totally sure it's necessary with the presence of Umbras, but we'll see. Battle Mastery is a good way to push cmdr damage and eliminate opponents quicker.
1 year ago
Hey Radiant-Paladin! Give this deck a shot, u re not gonna regret :D
Flayer Husk seems cool but too weak I think. Bladed Bracers is cool because of the vigilance, what makes some difference on aggro matches. But I agree, it is not the most powerfull card on the deck.
Hero of Bladehold is sweet, if she sticks on the board is almost game over. But 4 mana is too much for this deck, and the deck is to improve the little dudes with the equipes, not playing big ones :)
1 year ago
This seems like a cool deck. Knights are my favourite tribal, so I may give this a shot.
Flayer Husk seems like a great include for this deck. It's a creature you can drop on turn 1, as well as being an equipment for Puresteel. At the very least it seems like an obvious upgrade over Bladed Bracers.
Also, have you considered Hero of Bladehold? You put a sword or swiftfoot boots on her and that will probably just in you the game outright.
Load more