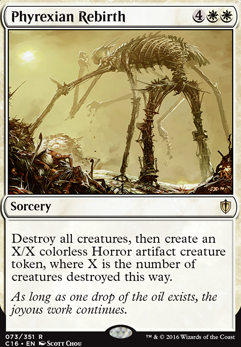 Legality
| | |
| --- | --- |
| Format | Legality |
| Noble | Legal |
| 1v1 Commander | Legal |
| Vintage | Legal |
| Modern | Legal |
| Casual | Legal |
| Vanguard | Legal |
| Legacy | Legal |
| Archenemy | Legal |
| Planechase | Legal |
| Duel Commander | Legal |
| Unformat | Legal |
| Pauper | Legal |
| Commander / EDH | Legal |
Tokens
Phyrexian Rebirth
Sorcery
Destroy all creatures, then create an X/X colorless Horror artifact creature token, where X is the number of creatures destroyed this way.
Have (16)
maR2307 , xXThormentXx ,

H

R

1

9

, pokemate0 ,

N

e

m

e

s

i

s

, Swamy , TheAlmostHero , rhinoloupe , Friedrice24 , thetechzombie ,

S

p

a

r

k

y

4

1

,

o

r

z

h

o

v

_

i

s

_

r

e

l

a

t

i

v

e

l

y

_

o

k

a

y

8

1

9

,

V

a

1

m

a

r

, Mousemke , NostalgicAce , Lucretian
Want (1)
HyperJujibiter
Phyrexian Rebirth Discussion
3 weeks ago
I like a lot of what you're doing here... but since you've committed to using Craterhoof, why no Avenger of Zendikar? I understand a lot of people don't like seeing them together, but with what you've got going on I feel Avenger would be a better fit than Craterhoof, which to me is mostly a win more.
Other odd ones to me are the Autochthon Wurm and Seraph of the Masses. The convoke will probably make them easy to cast, but if you have the board state to do that, what's the one more creature gonna do for you? Instead, why not use Thunderfoot Baloth and/or Angelic Skirmisher which help all your creatures massively?
Some other fun cards you might enjoy are Hour of Reckoning, Holy Day (cause I mean... you already have fog lol), Brave the Elements is decent against those pesky Blasphemous Acts, Appeal / Authority is a newer card with some great potential for minimum mana, Gideon's Phalanx more tokens and protection (although the cmc is a deterrence...), and Overwhelming Stampede is an improved overrun (Overrun might be better here, but... ~shrug~).
For an easy to read version check the tabs below:
As I'll tell everyone though, these are just my opinions, if you feel they are invalid or really (dis)like a certain card by all means ignore what I said. Overall it looks very good and fun to play and I hope you're enjoying it. Regardless if you like any of my suggestions, +1 from me!
1 month ago
Well that is the first time I have ever been to the WU page on edhrec lol. A great way to deal with hate I found is just speed everything up, I've done it a few times and lose some great cards in the process but taking a decks average CMC from ~4-5 down to ~2-3 is just something that can put you miles ahead of your opponents.
Since you seem set on changing commanders I really like Geist of Saint Traft takes boardwipe or anti hexproof cards to kill and comes out turn 3 so you always have a creature then. He is small and other than control I don't know what your plan is. He is also very different from brago. They both like to attack but brago flickers your stuff this guy just hits harder.
Lavinia of the Tenth seems kinda meh. You can flicker her which if you can do that consistently every turn then she turns pretty good but I feel like you would be much better off going to GW and playing Gaddock Teeg so the big scary stuff is hampered rather than the small silly stuff.
Grand Arbiter Augustin IV doesn't seem like he would be directly hated. I play a karn deck with some mana reducers that are ignored because my opponents are busy with a turn 3 wurmcoil engine. So I wouldn't expect augustin to get hated off the board a lot. He slows your opponents and speeds you up. pretty nice and feels low key.
Isperia, Supreme Judge likes to swing into your opponents and is a decent body with evasion and makes people hesitate to swing at you. needs Swiftfoot Boots or Lightning Greaves or similar. much like brago does.
Gwafa Hazid, Profiteer can they really be mad at you when you give them cards? ;) (I jest they will be mad and this guy will die...)
Temmet, Vizier of Naktamun this one is new and interesting to me. I think this is one of your better options just load up on things like Stolen Identity, Phyrexian Rebirth, Rite of Replication and swing with scary unshockable tokens. Strionic Resonator should be great here. I really like this one for his cheap cost and you almost want him to die so that you can embalm him. that threat should keep him around a bit more.
1 month ago
Triggers require their conditions to be met at the time of their triggering (so if a creature is destroyed during the first part of a spell resolving it won't see things happening later during the resolution), but don't get put on the stack until a player would receive priority, this means they don't target until that time.
For example, if you control a Soul Warden and cast Phyrexian Rebirth, the Soul Warden will be destroyed before the token enters and you won't gain any life.
On the other hand, if you control Reyhan, Last of the Abzan (who is your commander) and Conjurer's Closet, you can target Reyhan with the triggered ability, choose to put him in the command zone, triggering his ability, then return him to the battlefield. When you do, he will be a valid target for his ability.
2 months ago
Have you considered a Training Grounds to go along with your Thrasios?
Also if you are going with a big clone strategy here is a few suggestions Voice of Resurgence, Mystic Genesis, Stitcher Geralf, Phyrexian Rebirth, Oviya Pashiri, Sage Lifecrafter, Mimic Vat, Reef Worm, Phyrexian Processor, Precursor Golem, Blade Splicer, Tempt with Reflections, Stolen Identity, Saheeli's Artistry, Crush of Tentacles, and Myr Battlesphere.
2 months ago
Drop Naturalize, you've got enough artifact/enchantment hate. Prey Upon is meh, Selesnya Charm is much better. Avacyn's Pilgrim and Sakura-Tribe Elder are much better than Elvish Mystic or Llanowar Elves. Heliod, God of the Sun, Tolsimir Wolfblood, Woolly Spider, and Qasali Ambusher are meh. Wayfaring Temple is meh too, I personally like Scion of Vitu-Ghazi better. Darien, King of Kjeldor is a staple, you need board wipes so like Hour of Reckoning, Phyrexian Rebirth, and Ezuri's Predation are good choices. Phyrexian Processor and Mimic Vat are awesome. Shamanic Revelation, Harvest Season, Angelic Accord, and Thunderfoot Baloth
2 months ago
dont skip you land base, id be looking at Sacred Foundry, Needle Spires, Arid Mesa, Battlefield Forge, Inspiring Vantage or Rugged Prairie.
i would personly say
1x Plains
2x Mountain
4x Arid Mesa
aslo look for a board wipe effect, Pyroclasm, Anger of the Gods, Wrath of God or even Phyrexian Rebirth depending on what you want your deck to do.
other cards in general you will want to look at (for mb or sb) Kitchen Finks, Eidolon of the Great Revel, Goblin Guide, Rift Bolt, Searing Blaze (idk why harry doesnt use that one), Valorous Stance, Balefire Liege, Brimaz, King of Oreskos, Ajani Vengeant and Fulminator Mage
Load more