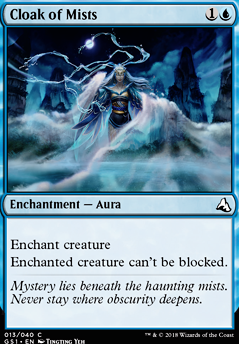 Legality
| | |
| --- | --- |
| Format | Legality |
| Tiny Leaders | Legal |
| Noble | Legal |
| Leviathan | Legal |
| Custom | Legal |
| Magic Duels | Legal |
| Canadian Highlander | Legal |
| Vintage | Legal |
| Penny Dreadful | Legal |
| Casual | Legal |
| Pauper EDH | Legal |
| Vanguard | Legal |
| Legacy | Legal |
| Archenemy | Legal |
| Planechase | Legal |
| 1v1 Commander | Legal |
| Duel Commander | Legal |
| Oathbreaker | Legal |
| Unformat | Legal |
| Pauper | Legal |
| Commander / EDH | Legal |
Cloak of Mists
Enchantment — Aura
Enchant creature
Enchanted creature is unblockable.
Cloak of Mists Discussion
7 months ago
DiverDown Did some small digging on the issue, and I have found at least one common denominator.
The following cards from Magic Game Night - (GNT) have incorrect legality:

And in Global Series: Jiang Yanggu & Mu Yanling - (GS1), only the cards listed below works:
The rest of them have incorrect legality.
This shows that only NEW entries in the database are affected by this bug, cards that existed before which only got an updated image in the sets didn't get affected.
I have tried to edit cards(using the "fix card" function) but that does not yield any result at all, everything looks okay in the forms when submitting the cards.
I also tried submitting an entry of an existing card in another set/expansion to see if it changed something, but it didn't.
So the entries in the database are probably corrupted, manual deletion and readding is maybe a way to go for individual cards. But what causes the bug I have no idea of.

To investigate this issue further it would be good if I have more cards to look at, so tag them here if you find any.
---
A
r
v
a
i
l
: I hope not, except for this bug I think it works somewhat good.
7 months ago
Card Categorization
I've categorized the cards in your deck here: https://deckstats.net/decks/50753/1215572-animar
The following analysis is based on that categorization. Several cards are in more than one category, so I've categorized them based on their primary or common case. E.g. Ancient Animus is both "Removal" and "+1/+1 Counter Interaction", but you're going to cast it to kill something -- the +1/+1 counter is a nice bonus.
Strategy
There's no explicit or stated goals of the deck, so I can't evaluate the cards against that. If you have a goal, let me know.
The core effect of Animar is to play creatures, which grows Animar. As Animar grows, he helps you play more (and more expensive) creatures. Some notable limitations:
Animar only decreases colorless costs
Animar only cares about creatures
Animar only cares about casting creatures
Animar is cheap to cast and protects himself from most removal (due to his protection from Black and White). Because of this, we can assume that we will get him out early and keep him out long enough for him to provide benefit. We'll build the deck assuming Animar is on the battlefield at all times.
Since Animar reduces the colorless component of creature costs, we'll get the biggest benefit from colorless creatures. As with any unlimited cost reduction effect, we should look for ways to break the free case. The obvious one here is to bounce and recast colorless creatures for free.
Since we're playing all of these (hopefully free) creatures, Animar will grow quickly. Giving Animar good evasion will give us to win on commander damage quickly.
To best abuse Animar, we want:
Many creatures across a range of mid to high colorless costs
As many of those creatures in our hand as possible
An many +1/+1 counters on Animar as soon as possible
A means to make Animar unblockable
The easiest way to break Animar is to create an engine that casts colorless creatures and bounces them to your hand as many times as possible during a turn. We'll want ETB/LTB effects on those creatures and cards that care about creatures entering and leaving the battlefield. Additionally, we'll want cards that care about +1/+1 counters on a creature.
Favor creatures over non-creatures, as you get a discount on creatures. Try to keep colored costs to a minimum - avoid double or more colors in a cost.
Abusable Colorless Creatures:
Repeatable Bounce:
Synergies:
Unblockable Enablers:
We'll want to get as many creatures down as quickly as we can. Card draw and other card advantage effects are valuable.
Draw/Card Advantage:
Changes to the Existing Cards
I would consider cutting way down on the amount of ramp. Mana dorks get the deck running early, but they don't have any synergy with the core effects. I suspect that's what was leaving you feeling like you had a dead hand.
Cards that seem particularly problematic:
1 year ago
Really cool concept and I look forward to playing against this.
Chance Encounter is awesome, and thats a quick wincon. But I think Frenetic Efreet is a must have as well.
Some cards to stay alive and keep your deck competitive in the meantime: Cyclonic Rift , Hour of Devastation , Spell Swindle
Rogue's Passage , Aqueous Form, Cloak of Mists , Hot Soup , Whispersilk Cloak are some options to get in if you get Okaun, Eye of Chaos huge.
The Locust God is a good option to take advantage of Zndrsplt, Eye of Wisdom on drawing a card.
Zndrsplt's Judgment , Goblin Game , Creepy Doll for flavor.
And 3-5 more bounce cards and counterspells to keep yourself viable.
Disrupt Decorum , Tide of War Puppet's Verdict
Sol Ring , Izzet Signet , Swiftfoot Boots , Rhystic Study to ensure viability .
I'll try to take another look later.
1 year ago
Here are some cards I would suggest considering:
Metallurgic Summonings, Dauthi Embrace, Ethereal Usher, Distortion Strike, (this one is spendy) Mu Yanling, Rogue's Passage, Aqueous Form, Cloak of Mists, Writ of Passage, Paradox Engine
Also, the threat of recurring really powerful sacrifice artifacts isn't present here. You need to use this to completely lock down the game if possible. I don't see any big target that you would want to recur so bad that you're willing to set up your commander for it. Try some things like Nevinyrral's Disk, or things like Myr Battlesphere, Wurmcoil Engine that give you value with a sac outlet or if they get removed. I think if you look you can find more potent targets.
Also, Helm of the Host can copy your commander permanently (or copy a copy) and avoids legendary rule. This will allow you to use the effect more than once per turn. Watch out that you have to pay full cost for the artifact though.
You should add at least 3 more lands.
These are deadbeat cards that I think you should remove from your list (and you know I love you so don't take this personally): - Ensoul Artifact, 5/5 isn't a good enough incentive for the threat of removal and a 2-for-1 against you.
Beacon of Unrest, you don't have enough self-mill to support this card, nor do you have enough expensive creatures/artifacts to make the 5 cost a value.

Counterspell, almost useless in Commander. Straight counters just cause you to make hasty bad decisions without upside. The other counters you have on the list are much better.

Vraska's Contempt, too expensive for commander.

Walk the plank, it's a sorcery, and you have plenty of disruption on the list.

Windfall, I can see that you're trying to maybe stack your graveyard here? I still don't think this card is worth it.

Primal Amulet, has a powerful back side but you don't actually have very many of these spells on the list, and I think you should remove about half of the ones you have. Might end up just sitting there.

Animation Module, Decoction Module, Fabrication Module... you know this is jank. If you had any way that was on-theme to use energy, it might be worth it. Maybe. You really need all 3 bonuses to make it worth it. Also, if you are planning on putting this together with tutors, in our play group you will be eaten by dragons before you get all 3.
1 year ago
Hi gravemaster117,
I like what you've done here! I'm using a Brago deck myself; have a look if you're interested (and leave a comment too if you feel like it (Incomiiiiing!).
During play, I've found that Brago is often a prime target, si I've added a bit more protection for him like some counterspells and some stuff that makes stopping his attacks a lot harder like Aqueous Form, Cloak of Mists, Spirit Mantle and Steel of the Godhead.
I also use a bit more mana rocks than you, because Brago can blink these after every single attack and thus untap them again; allowing me to use them pre- and post-combat. Azorius Signet, Basalt Monolith and Mana Vault have all been extremely helpful.
Last but not least, I've added some stuff that allows me to all but lock-down my opponents, if things turn out to take a turn for the worse. As Brago can untap so much with his blinking abilities, this makes you a lot less vulnerable to to lock-down effects like Stasis and Static Orb.
Hope any of this help; have fun brewing and playing!
Regards,
NV_1980
1 year ago
Not bad! May want to change to EDH type and you have to add your landbase. I'd suggest 36 lands, so you'll need to cut a few others.
I'd also suggest some extra support cards, specifically Retether and Three Dreams.
3 or less CMC value cards to consider ( not auto-includes, just value to consider )
Blessing of Leeches lose 1 life on your upkeep, unlimited regenerate creature. Too powerful not to include.
Asha's Favor Vigilance, First Strike
Aspect of Gorgon +1/+3 and Deathtouch
Cartouche of Ambition Lifelink and a -1/-1 counter on a creature of your choice.
Awesome Presence Offensive version of Propaganda.
Cho-Manno's Blessing Protection from colour of choice. Good for preventing damage and becoming unblockable.
Chromatic Armor Protection from colours of choice on the fly for mana.
Cloak of Mists Unblockable
Crab Umbra Pay 3 mana to untap Zur and it has totem armor.
Curiosity Draw cards when Zur deals any damage.
Daily Regimen 2 mana to put a permanent +1/+1 counter on creature as many times as you want.
Daybreak Coronet Bit more expensive, but 2 mana, +3/+3 first strike, vigilance and lifelink.
False Demise Cheat death once.
Glistening Oil infect for 2 mana.
Infinite Authority punishes opponents and rewards you with +1/+1 counters if they attack or block you.
Invisibility unblockable
Kithkin Armor 1 mana unblockable by power 3 or greater and sac the aura for prevention of damage to zur from one source
Pemmin's Aura On demand 1 mana shroud for turn and 1 mana to untap zur
Pretender's Claim tap down all lands defending player controlls
The 5 scarabs Red Scarab Blue Scarab Black Scarab Green Scarab White Scarab
Sadistic Glee +1/+1 counter every time any creature dies.
Shade's Form Pay 1 black as many times as you want to give creature +1/+1 until end of turn and when creature dies, return it to the battlefield under your control.
Skeletal Grimace +1/+1 and pay 1 black to regenerate this creature.
Sleeper's Robe Fear and draw a card when you deal combat damage
Strange Augmentation +1/+1 base, potentially +3/+3 for one mana if you have a few different types of cards in your graveyard.
Sultai Runemark +2/+2 deathtouch
Traveler's Cloak Draw a card and Zur gets landwalk for a land type of your choice.
Triclopean Sight Untaps Zur, gives him +1/+1 and vigilance.
Unholy Strength 1 mana +2/+1
auto-includes:Pariah Save's your ass. Pair with indestructability to ignore damage.
Auramancer's Guise +2/+2 for each enchantment. Very overpowered.
Entangler Zur can block all the creatures.
Righteous Authority Esper has +1/+1 buff problems. This will buff Zur significantly and give you additional card draw. With blue and black in your arsenal, card draw shouldn't be a problem.
Sage's Reverie Big +1/+1 buff and big card draw. Play late to mid game to turn Zur from a wimp into one shot killer.
Load more
No data for this card yet.