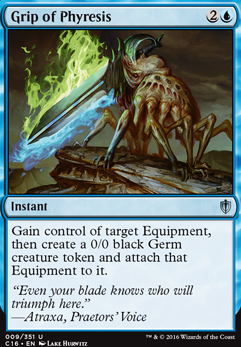 Tokens
Legality
2 years ago
Aquitect's Will to replace Convincing Mirage probably. I have also had good luck with Launch and Octopus Umbra .
In order to get your boss out before blockers exist it helps to get her out on turn 2. Saprazzan Skerry and Svyelunite Temple are some of the only cards that can do that.
Other people often go voltron so Grip of Phyresis hurts them and helps you.
This is one of my favorite commanders. The amount of ramp from Thada is amazing and exiling combo pieces is just as useful. Try to steal Double Strike equipment early and exile two artifacts at a time, or artifacts that double triggered effects.
3 years ago
1empyrean, I totally feel that Parallax Nexus could have been a good card if it wasn't for the short sighted-ness of the card's designers. Thinking back on that Specter tribal Bolas deck - I was given one heck of a whallop. It was a 1v1 game, and I was way too greedy on the opening hand - which was primarily mana rocks that produced colorless mana. My deck at the time was a different list, as I didn't acquire most of the very pricey lands on the list. No excuse for a pilot who kept a bad hand though.
S1ayerMonkey, appreciate the +1! Thank you for being honest - i've put alot of effort into this decklist (and page) hoping to perfect my own vision for Atraxa. I recall Grip of Phyresis, I found it adorable that the germ token was wielding the Sword of Body and Mind - such a shame that sword is hot trash though. I feel that Sword of Truth and Justice should have been the previously mentioned card. Oh well. At one point Praetor's Grasp was in the deck, but it didn't feel cohesive to the strategy I was beginning to implement in the deck. At the time I was running cards like Ghostly Prison - playing to the strategy of "Get counters on players, lock them out of resources/make it impossible for them to get damage on me and proliferate the poison counters on opponents". Honestly, I never enjoyed playing that way so I adjusted to what you see before you now.
3 years ago
Hi! This seems fairly well thought out, so I'm not sure what suggestions I can make that you haven't already observed, but I'll leave a like and give it a shot.
have you considered Grip of Phyresis? It's certainly in the name. Praetor's Grasp fits your Vorthos theme and can also find you things you need or remove key combo pieces from your opponents' decks.
3 years ago
Boza There is no way that card A and B has no plausible mana cost. Concentrate draws 3 for 4 mana. Put either of A and B into a 4 CMC and it will never see play. That means for it to be worthwhile it would need a CMC of 3 or less. Now a 2 CMC draw 3 is almost certainly too good, riding dangerously close to Ancestral Recall, so I'd think 3 CMC is where these would be at.
Card C, I agree on 3 CMC, be it or . It rides close to Remand but is borderline a functional reprint of Lapse of Certainty or Memory Lapse. You will almost always shuffle and draw, while the opponent will have to value the countered card against card draw.
Card D. Cheap is where it's at. You provide your opponents with additional options and only if they take advantage of it do you gain a benefit. Only other situation is when you Braingeyser a player to push for lethal.
Actually the more I think about it, the more it seems like a Nekusar, the Mindrazer card where you just want to wheel and make people draw with Teferi's Puzzle Box to mill them out if the damage plan doesn't work out.
Card E: I would go for a 4 CMC. Vigilance and Deathtouch are a powerful combination and losing Deathtouch (for all creatures, not just yours) in trade of a card seems like a fair trade in many situations. The wording would have to specify that the controller of Card E draws a card - otherwise the opponent who activates it draws the card.
"All creatures lose deathtouch until end of turn and Card E's controller draw a card. Only your opponents can activate this ability and no more than once each turn."
Since deathtouch is very much a black/green ability and vigilance is present in white/green, you can go for either a monogreen version or a combination of black and white or black and green. I would never make it green and white as it doesn't have the right flavor. That color combination is often more about building up, community and society - not tricks (outside stat buffing combat tricks). To me the black and white pairing is the most flavorful, as black grants the deathtouch but is also willing to trade an advantage/resource for power - hence the card draw. The flavor in a monogreen seems a bit off. So I would go with .
Card F, I don't like the specification on the owner instead of controller of the equipment. If an opponent yoinks it with say Grip of Phyresis, they don't get any benefit from the card's abilities. I would make it somewhat like this:
This is more a shared Lightning Greaves for the protective measures it grants than any offensive capabilities like Assault Suit - I view in the perspective of multiplayer. I doubt it'll do more than allow people to save a creature they control when they decide to board wipe. The opponents will immediately realize (hopefully) that if they fight for use of it, they'll give the controller way too much value, so they'll just ignore it. At least that's my take on it. But then again I've been in plenty of games where people take the offer of Tempt with Discovery and I facepalm every time, when the caster goes to find Cabal Coffers, Urborg, Tomb of Yawgmoth and Gaea's Cradle or similar.
Load more