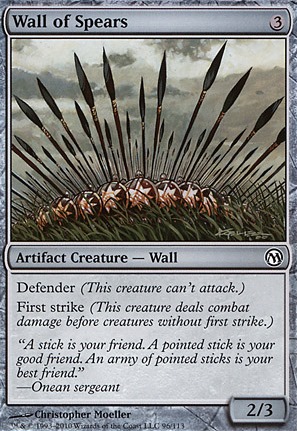 Wall of Spears
Artifact Creature — Wall
Defender (This creature can't attack.)
First strike
Browse Alters
Trade
Legality
| | |
| --- | --- |
| Format | Legality |
| Tiny Leaders | Legal |
| Vintage | Legal |
| Penny Dreadful | Legal |
| Commander / EDH | Legal |
| Noble | Legal |
| Magic Duels | Legal |
| Block Constructed | Legal |
| 1v1 Commander | Legal |
| Canadian Highlander | Legal |
| Vanguard | Legal |
| Leviathan | Legal |
| Pauper EDH | Legal |
| Planechase | Legal |
| Duel Commander | Legal |
| Unformat | Legal |
| Modern | Legal |
| Pauper | Legal |
| Oldschool 93/94 | Legal |
| Legacy | Legal |
| Archenemy | Legal |
| Casual | Legal |
| Oathbreaker | Legal |
Wall of Spears Discussion
2 years ago
Tap lands like Dismal Backwater or Jwar Isle Refuge can go. Here's some lands you don't have listed that are good in my opinion Sunken Hollow, Watery Grave, Tainted Isle, Sunken Ruins and Ash Barrens.
Tunnel Vision can be a funny combo with things like Junktroller, Hinder, and Spell Crumple.
Dreamborn Muse, Riddlekeeper, Oblivion Sower can be good if you're exiling stuff, Manic Scribe, Crypt Ghast, Mortivore maybe?, Guiltfeeder, Nighthowler, Eater of the Dead, King Macar, the Gold-Cursed, Thousand-Year Elixir, Wight of Precinct Six, Consecrated Sphinx, Arcane Denial, Mirage Mirror can be secretly good, Stolen Goods, Praetor's Grasp and Dream Fracture.
I feel like the defender route can be... alright but with dimir you might as well just have good useful creatures that so happen to have decent toughness... also I feel like Jace, Vryn's Prodigy Flip, Oona, Queen of the Fae, Thunder Wall, Wall of Spears, Reinforced Bulwark, and Psychic Membrane are either don't fit or you can find something better.
2 years ago
Well I don't want to destroy the wall tribe you got going here as that is kinda neat but here is what I would take out:
Carrion Wall, Fog Bank, Reinforced Bulwark, Wall of Shadows, Wall of Vapor, Wall of Spears
good walls but some of them have too low toughness or just don't really help you do anything. Best way to know what to take out though is to play the deck and mark the low impact cards.
2 years ago
Don't stop now. I believe in you!