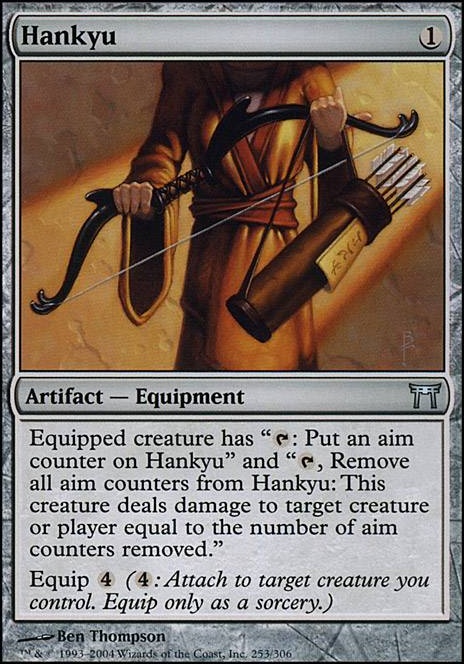 Legality
| | |
| --- | --- |
| Format | Legality |
| Pre-release | Legal |
| Noble | Legal |
| Leviathan | Legal |
| Magic Duels | Legal |
| Vintage | Legal |
| Modern | Legal |
| Penny Dreadful | Legal |
| Vanguard | Legal |
| Legacy | Legal |
| Archenemy | Legal |
| Planechase | Legal |
| 1v1 Commander | Legal |
| Duel Commander | Legal |
| Unformat | Legal |
| Pauper | Legal |
| Commander / EDH | Legal |
Hankyu
Artifact — Equipment
Equipped creature has "Tap: Put an aim counter on Hankyu" and "Tap, Remove all aim counters from Hankyu: This creature deals damage to target creature or player equal to the number of aim counters removed."
Equip (4) ((4): Attach to target creature you control. Equip only as a sorcery.)
Hankyu Discussion
1 month ago
Don't stop now. I believe in you!
3 months ago
If this is mostly casual, some stuff like Hunt the Hunter/Setessan Tactics/Ulvenwald Tracker might perform well, Hankyu,Heavy Arbalest, Livewire Lash, Mortarpod, Shuriken, Surestrike Trident and Wolfhunter's Quiver all exist, as does Brass Squire, Basilisk Collar, Gorgon Flail, Gorgon's Head,Vial of Poison which I know has been used for Brigid, Hero of Kinsbaile edh.
If this is a more competitive legacy meta, Animate Land for land destruction might be an option as a dumb one-off deck.
All told, good luck and have fun testing! If you're looking for something particular just say.
1 year ago
Death's Shadow is nice fodder for gaining +1/+1 counters on your general. While mystic fish is nice, cumulative upkeep doesn't play nice with proliferate. Much of the rest of your deck is very solid though! I've always loved Hankyu especially with Horseshoe Crab, perhaps either of these can find a home in your deck!
1 year ago
I really like the idea, Never thought I'd ever see a Hankyu deck. Let me know how it works out!
1 year ago
Drat! you're right LeIceTea. I thought I had stumbled upon something really cool.
Well I have completely changed the deck upon that revalation. I have removed Dross Scorpion and Mesmeric Orb in favor of tried and true Hankyu combos.
Let me know what you think about the deck now. Thanks.
Load more