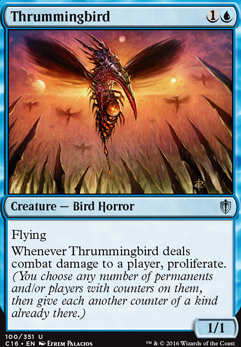 Legality
| | |
| --- | --- |
| Format | Legality |
| Pre-release | Legal |
| Noble | Legal |
| Leviathan | Legal |
| Tiny Leaders | Legal |
| Magic Duels | Legal |
| Vintage | Legal |
| Modern | Legal |
| Penny Dreadful | Legal |
| Casual | Legal |
| Vanguard | Legal |
| Legacy | Legal |
| Archenemy | Legal |
| Planechase | Legal |
| 1v1 Commander | Legal |
| Duel Commander | Legal |
| Unformat | Legal |
| Pauper | Legal |
| Commander / EDH | Legal |
Related Questions
Thrummingbird
Creature — Bird Horror
Flying
Whenever Thrummingbird deals combat damage to a player, proliferate. (You choose any number of permanents and/or players with counters on them, then give each another counter of a kind already there.)
Have (12)
ironax , bakeraj4 , maR2307 , pokemate0 , Friedrice24 , frederiklw ,

G

r

a

n

t

l

e

y

9

1

,

p

s

k

i

n

n

0

1

, Yawkcorb ,

A

s

h

y

, timmyb ,

a

e

o

n

s

t

o

r

e

m

y

l

i

v

e

r

Want (0)
Thrummingbird Discussion
16 hours ago
So as the title says, I've been having issues with my accordion blocks on my decks lately. Below is an example of the coding, and you can see the end result at the deck's page: Ezuri's Unending Progress
Any help would be greatly appreciated. I would like all of my decks to end up looking nice and uniform. My other deck Karlov's Tithes is exactly how I want things to end up. Thanks in advance!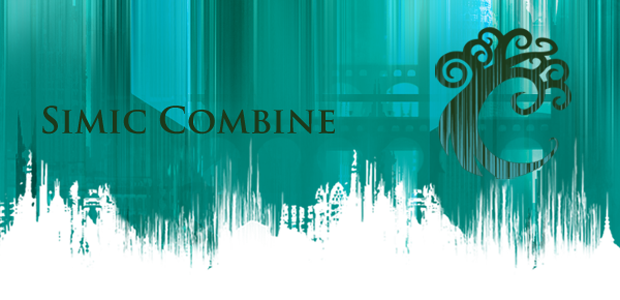 My third EDH deck, and my first non-Black EDH. I chose Ezuri, Claw of Progress because I have always liked the idea of a +1/+1 counter-based deck. Blue/Green (Simic) is an ideal color combination for such a deck, as mechanics like Evolve naturally place counters on your creatures. Coupled with the Proliferate mechanic from New Phyrexia, and you have a deck that easily turns one and two drop creatures into powerhouses.
1 day ago
I might suggest adding enchantments/equipment that give your commander hexproof--you do not want it to be removed and the +1/+1 counters it has amassed to be lost to oblivion.
The following also would make good additions to this deck:
Tezzeret's Gambit draws you two cards for 3 mana and 2 life, and also allows you to add an additional +1/+1 counter to Animar.

Thrummingbird is a low costed creature, with minor evasion and the potential to ramp Animar further with each attack. At the very least, it will force an opponent to use removal, or waste a blocker on a 1/1, allowing a more dangerous threat through.

Other proliferate spells may prove useful as well, though their mana costs are a bit high for what you receive. Still, definitely worth a look, particularly if you find yourself light on removal/counter spells.

Add more mana dorks (such as Llanowar Elves and its clones) to help you quickly ramp into your powerful creatures.

One thing to be careful of is Fatal Push, an incredibly common card. Your numerous creatures with in their mana costs are incredibly powerful, and have the potential to become quite large, but are still susceptible to this very common removal spell. Green has a number of tools allowing you to return cards from your graveyard to your hand--it might be worth it to add some.
As for what to cut, you have a number of creatures which do not work well in this deck. Goblin Lackey is fairly pointless, as it only makes a difference if (1) you can actually get it to deal damage, and (2) you have another goblin in your hand. Neither of these are likely, and both occurring is incredibly rare. Another example is Ancient Brontodon. Yes, it has a large body, but it is vanilla nonetheless. Your return on this card is negligible. There are a number of other creatures in your deck that add very little, other than an inexpensive to cast body. I suggest you work on streamlining the deck, and making sure each and every card goes toward your planned victory.
1 week ago
I'm not a nice person but I want more people to be dicks to eachother by playing Superfriends. It really depends on your price range. I always find that blue and blue-multicolored really works for 'walkers, like Venser, the Sojourner, Tezzeret the Seeker ,Jace, Architect of Thought, Jace, Unraveler of Secrets, Tamiyo, the Moon Sage, Jace, the Mind Sculptor, and Narset Transcendent. Good blue support cards: Deepglow Skate, Cyclonic Rift, Thrummingbird,Tezzeret's Gambit, Inexorable Tide, and Atraxa, Praetors' Voice.
As for green and greenish planeswalkers: Nissa, Voice of Zendikar and Nissa, Vital Force and Nissa, Steward of Elements, Tamiyo, Field Researcher, Garruk Wildspeaker, maybe either Kiora, Ajani, Mentor of Heroes and Unyielding and Vengeant (the ones you already have), Xenagos, the Reveler, Vraska the Unseen, Sarkhan Vol, Garruk Relentless Flip, Samut, the Tested, Oath of Nissa, and Primal Vigor.
As for White: Gideon of the Trials and Gideon Jura, Ajani Steadfast, any Elspeth, Oath of Gideon, Djeru, With Eyes Open and the other non-planeswalker white spells (which you seem to have covered), and Nahiri, the Harbinger.
As for Red: none of them. Fuck red. All the Chandras but the new one don't appeal to me and you should only splash red.
And last (but certainly not least); BLACK: Sorin Markov and Sorin, Lord of Innistrad, Kaya (if you wanna be bitchy), Sarkhan the Mad, Liliana of the Veil and Liliana Vess and Liliana, Death's Majesty, Ob Nixilis Reignited, Tezzeret, Agent of Bolas, Ashiok, Nightmare Weaver, Oath of Liliana, and that one black removel spell that proliferates.
And as for three colors and colorless: Karn Liberated, Ugin, the Spirit Dragon, Rings of Brighthearth, Contagion Engine, and maybe even Throne of Geth.
Sorry for how unorganized this is, don't give none. Good luck on pissing all your friends off until they get sick of you then you sell all the 'walkers and buy Eldrazi Tribal and they don't invite you to parties 'n all... And about your deck, my advice would be too follow the above suggestions and try to lower the mana-curve.
3 weeks ago
No problem! And yes, putting Rafiq in the 99 was what I meant, not as the commander.
I couldn't really give any suggestions (research cards online) earlier, but now I can help more.
Proliferate lets you put 1 more counter on any number of counters on the battlefield, so if you were to proliferate, and you have 5 creatures with +1/+1 counters on them, you can add one more to each of them, and up a loyalty counter on a planeswalker, or an experience counter if you have it. Just any kind of counter. It's an amazing ability to have, and blue has it the most I believe (if not it's a close 2nd).
---
Good cards to consider for proliferating might be:
Thrummingbird is not bad. It has flying so it'll be harder to get from damaging players and proliferating
Contagion Engine is a MUST for a proliferators. You proliferate TWICE, and weaken your opponent's creatures, (which fun fact you can proliferate those as well). Has kind of an expensive cost at first, but after a bit in the game, four mana to up all your counters, then up them AGAIN will be a walk in the ballpark, especially since most the cards in this deck are 5 or less mana.
Contagion Clasp is the diet sugar-free version of the above, of course its much cheaper, but the ability is the same cost, and only proliferates once. Still not a bad card though.
Steady Progress is a pretty simple instant, and helps for card draw.
Finally, this may not be TOO useful, but is something to think about, Throne of Geth will let you proliferate, HOWEVER saccing the artifacts you have isn't too good of an idea, but that's up to you. At the very least, you could sacrifice the Throne itself to proliferate just once, maybe sac Sol Ring once you have tons of mana? That's up to you.
There are a few other cards which proliferate, but they deal Infect damage. Thankfully you can proliferate the poison counters they give to players and the -1/-1 counters they put on creatures, but it's been my experience playing with Infect decks that it's often better to make Infect the absolute focus of a deck that has it, Reason being that the creatures built around Infect are designed to be very fast, Infect decks are usually fast aggro decks
---
Good cards for putting counters on creatures might be
Lifecrafter's Gift you can never go wrong with this card, it's almost like proliferate too.Scale Blessing Pretty much the same as above.Patron of the Valiant is like those two almost proliferate cards above, except it's a creature with flying, which means you can put counters on it too!!
Titania's Boon Easy way to get the proliferate train started.
Mikaeus, the Lunarch is slowgoing, and in danger of getting targeted with an instant or sorcery, but you still have counters to throw around.
Vastwood Hydra if you plan on having the gobs of mana for it, or at least enough to put 1 counter on each other creature once it inevitably dies.
Sunbringer's Touch is okay for the first part, but it's mostly for that juicy trample effect that it'd shine in this deck.
Ainok Bond-Kin Tuskguard Captain Crowned CeratokAbzan Battle PriestAbzan Falconer these will synergize the hell outta this deck, in my humble opinion.
Renegade Krasis is another good ol' counter putter.
Celestial Ancient will be useful, with those 12 or something enchantments in your deck.
Inspiring Call is also good for both synergy and card draw.
4 weeks ago
For Counters goodness,
Thrummingbird is also a bird :P
Load more