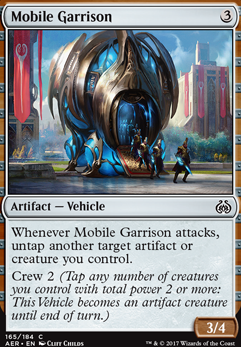 Legality
| | |
| --- | --- |
| Format | Legality |
| Standard | Legal |
| Modern | Legal |
| Frontier | Legal |
| Commander / EDH | Legal |
| Vintage | Legal |
| Legacy | Legal |
| Duel Commander | Legal |
| Tiny Leaders | Legal |
| Pauper | Legal |
Mobile Garrison
Artifact — Vehicle
Whenever Mobile Garrison attacks, untap another target artifact or creature you control.
Crew 2 (Tap any number of creatures you control with total power 2 or more: This Vehicle becomes an artifact creature until end of turn.)
Mobile Garrison Discussion
4 weeks ago
Don't stop now. I believe in you!
1 month ago
No, that doesn't work. Unless they specifically say otherwise or would only make sense otherwise, the abilities on a permanent-type card (artifact, creature, enchantment, land, planeswalker) only work while it's on the battlefield. You can't crew Mobile Garrison while it's in the graveyard.
1 month ago
I played Mobile Garrison which was promptly destroyed as an artifact. The next turn I played Paragon of Eternal Wilds and waited for my next turn. That next turn I argued (and I assume inappropriately so, but i'm new-ish to magic and also wanted to win) that I could then tap Paragon of Eternal Wilds to turn Mobile Garrison into an artifact creature because of its crew 2 ability while it was in my graveyard, then use Pulse of Murasa to return Mobile Garrison to my hand. Was I correct in assuming I could do this or correct in thinking I was wrong?
3 months ago
Suggestions:
Load more