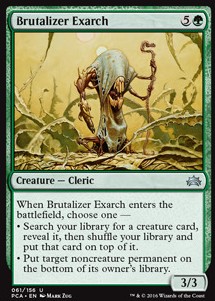 Legality
| | |
| --- | --- |
| Format | Legality |
| Tiny Leaders | Legal |
| Noble | Legal |
| Leviathan | Legal |
| Magic Duels | Legal |
| Canadian Highlander | Legal |
| Vintage | Legal |
| Modern | Legal |
| Penny Dreadful | Legal |
| Vanguard | Legal |
| Legacy | Legal |
| Archenemy | Legal |
| Planechase | Legal |
| 1v1 Commander | Legal |
| Duel Commander | Legal |
| Unformat | Legal |
| Casual | Legal |
| Commander / EDH | Legal |
Related Questions
Brutalizer Exarch
Creature — Cleric
When Brutalizer Exarch enters the battlefield, choose one - Search your library for a creature card, reveal it, then shuffle your library and put that card on top of it; or put target noncreature permanent on the bottom of its owner's library.
---
Have (0)
Want (32)
marsp44 , Vukodlak , NorthPolar , AlphaSp , cainanunes , EnderA , mhmaurer , 0nilink ,

p

p

h

h

a

a

z

z

e

e

, Awesomeeli , sac_cb ,

X

x

C

a

t

a

c

l

y

s

m

i

C

x

X

, Royal_Windsor , Dienekes , heyo225 , oswrick , carna_5 , zephyrmoth , MoxFlux , adb_slayer , itskevinmiller ,

T

i

r

e

d

T

o

f

u

, kingquark , klokwurk , RoninH3RO , kaiser1245 , MamaTR ,

M

a

r

i

n

g

a

m

,

S

t

r

a

n

g

e

l

o

v

e

, OldSchoolGinger , drmeatball , Ouranos
Brutalizer Exarch Discussion
13 hours ago
spiral_te thanks for comments/suggestions!
I agree for point 1-7.
The original reason I put in Expedition Map is that I based the deck around the 6 flash-enablers. Theres no way to tutor for Vedalken Orrery and Leyline of Anticipation , and only Momir to tutor for Teferi, Mage of Zhalfir and Yeva, Nature's Herald . So the Map is my efficient way to tutor out Alchemist's Refuge and Winding Canyons . I would shift over to a Ulvenwald Hydra for this purpose but I do not have one.

Void Grafter is just part of the 'my creature can do what an instant can do' such as Dive Down or Mizzium Skin but I guess this is pretty situational and I would have to leave 3 mana open always.

I agree for the cuts to Kiora's follower, but not for Gyre engineer. Both were meant to be manadorks and I was guessing I need to ramp fast to be able to cast things on multiple turns. Genesis hydra was just thematic of the 'cheating creatures out'.

For Prowling Serpopard/Gaea's Herald, it's not really needed in my playgroup, since I'm the one that usually plays counterspells most of the time.

I'm looking to slot in Kederekt Leviathan for a 'cyclonic rift' effect that can be used twice due to unearth. But my considerations are that I'll need to build up my board again, so this would probably be used more when I'm behind. So i've opted to put in Profaner of the Dead and Scourge of Fleets as my AOE boardclear instead. What are your thoughts on adding the Leviathan?
Still need to cut 5 more :(
15 hours ago
This is a cool deck. All the cards are keepable, but these are the cuts I would make. Tried to cut something from each category rather than eliminate one.
At this point, it's a matter of personal taste what to keep because the remainder are all very good. I would try cutting Kiora's Follower , Genesis Hydra , and Gyre Engineer and seeing how the deck functioned.
Suggestions: - Tidespout Tyrant becomes a value engine/backup wincon - Prowling Serpopard or his ancestor Gaea's Herald for reasons - Veilstone Amulet turns all your spells into Mizzium Meddlers. - Cream of the Crop or other topdeck manipulation lets you set up your Rashmi triggers nicely. - Brutalizer Exarch is a bit heavy manawise but has two nice modes - Sages of the Anima easily puts you into crazytown
Happy Flashing!
3 days ago
CyborgAeon: Honestly, the way the deck has been winning has started to make Brutalizer Exarch seem slightly less practical, but it still a less complex loop than the Eternal Witness / Beast Within line. Winning through attrition is still on the table, so all in all Brutalizer Exarch still puts in a lot of work, but the rest of the deck sort of might not need him anymore.
However, if i do replace him for something, I want it to be something as practical and useful. Nothing really stands out to me though and a tutor is a tutor and I need every tutor that can look for Temur Sabertooth .
Throne of the High City is super meh, IMO. I really don't like saccing my own lands. I don't draw many, and monarch is hard to hold with all the Swan Song s in my meta.
Glad you liked Duskwatch Recruiter Flip: Hands down my favorite outlet, since you don't get non-creatures out of the deck when going infinite with it.
I've been wanting to explore the possibility of Memory Jar loops. Aside from that, I'm pretty content with the deck, it's very consistent as much as it can be at least.
3 days ago
How has Brutalizer Exarch worked out for you? A bit costly for a tutor or removal, but it does a lot.
2 weeks ago
I'll throw Brutalizer Exarch in with edengstrom1's list of creature tutors. Tutors to top of library but is also a creature so may fit in nicely with any other creature synergies.
3 weeks ago
UPDATE #1
Out:
Fauna Shaman Hydra Broodmaster Flametongue Kavu Skyshroud Poacher Tireless Tracker Scavenging Ooze Manglehorn Harbinger of the Hunt Wolfbriar Elemental Huntmaster of the Fells

Flip Yisan, the Wanderer Bard Gruul Spellbreaker Budoka Gardener Scryb Ranger Ulvenwald Tracker Quirion Ranger Ruric Thar, the Unbowed Buried Ruin Gruul Turf Kazandu Refuge Rugged Highlands Mountain Valley 2x Mountain 2x Forest
In:
Dualcaster Mage Llanowar Empath Genesis Hydra Yeva, Nature's Herald Decimator of the Provinces Siege Behemoth Magus of the Library Brutalizer Exarch Duplicant Greenwarden of Murasa Loaming Shaman Golden Guardian Flip Burnished Hart Wood Elves Gaea's Herald Frontier Guide Diligent Farmhand Contested Cliffs Endless Sands Ghost Quarter Mystifying Maze Fungal Reaches Sheltered Thicket Raging Ravine Game Trail Memorial to Unity
My first update is focused on fine-tuning the deck a bit and getting rid of some of the obvious misfits with some needed staples and just new cards I thought would work. I decided to go all-in on the quick beatdown plan, so I added in some low-curve mana producers like Wood Elves, Magus of the Library, Frontier Guide, and Burnished Hart along with some heavy beaters and game-enders like Decimator of the Provinces and Siege Behemoth. I also added a bit more tutoring power with cards like Genesis Hydra and Brutalizer Exarch. I removed a bit of the Elf tribal suite because while it may be good in the early game, it won't matter much if you get something like Skyshroud Poacher later in the game. I added Yeva, Nature's Herald because having flash is crucial for a deck like this to really succeed—surprise allows you to dodge removal and play conservatively instead of walking into spot removal and board wipes. Speaking of flash, I can't believe I didn't consider Dualcaster Mage before—you may not be able to cast your own instants and sorceries, but Nikya doesn't say anything about not letting you take other people's! Golden Guardian I think is an excellent card in this deck—not only does it die easily to most of your powerful creatures, including your commander, but it transforms instantly into a land to boost your mana AND that pumps out Golems every turn with the extra mana you have left over. Finally, I also beefed up the land suite a bit to include some more utility lands—one thing I've realized is that the lands in this deck will have to carry some of the extra weight of you not playing spells. Contested Cliffs gives you access to extra removal, as many of this deck's most powerful creatures are Beasts. Fungal Reaches lets you store extra Nikya mana for a big burst later on. Endless Sands is more insurance against removal and board wipes. And Mystifying Maze provides the deck with some much-needed defensive capability, once again helped by all that extra mana.
Something I'm struggling with is how much to focus on my beatdown plan versus an anti-control or combo plan. As it stands, this deck is well tuned for the beats but is weak against non-interactive strategies like storm or blink decks. Cards like Ruric Thar, Immolation Shaman, and Harsh Mentor would definitely put a crimp in their plans and stop them from going off, but they don't really help toward Nikya's goals much. Other cards like Runic Armasaur that are designed for the long game don't seem at home in this specific version of the deck—I could see an alternate build though designed more with control in mind than beatdown. You'll notice I've added a large Maybeboard of cards I want to include, but just can't find space for.
Thoughts?
Load more
Brutalizer Exarch occurrence in decks from the last year
Commander / EDH:
All decks: 0.01%