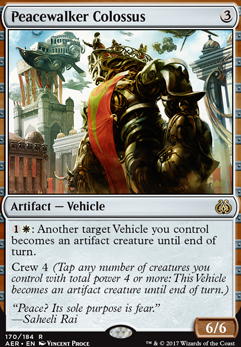 Peacewalker Colossus
Artifact — Vehicle
: Another target Vehicle you control becomes an artifact creature until end of turn.
Crew 4 (Tap any number of creatures you control with total power 4 or more: This Vehicle becomes an artifact creature until end of turn.)
Browse Alters
View at Gatherer
Trade
Legality
| | |
| --- | --- |
| Format | Legality |
| Tiny Leaders | Legal |
| 1v1 Commander | Legal |
| Magic Duels | Legal |
| Canadian Highlander | Legal |
| Vintage | Legal |
| Modern | Legal |
| 2019-10-04 | Legal |
| Block Constructed | Legal |
| Pioneer | Legal |
| Leviathan | Legal |
| Legacy | Legal |
| Frontier | Legal |
| Duel Commander | Legal |
| Oathbreaker | Legal |
| Unformat | Legal |
| Casual | Legal |
| Commander / EDH | Legal |
Peacewalker Colossus Discussion
2 months ago
There are tons of dwarves and vehicles to go off of, but I'll list some I think are sweet to get you started.
Oh and
Start Your Engines
seems like it would be fun to run.
9 months ago
Dwarfy doink indeed.
I have basically all of these cards save for Peacewalker Colossus . Ask me for some and I'll trade with you.
1 year ago
My Depala deck is called "Can she see over the dashboard?"
Some cards i like using that may or may not fit your deck include Crackdown , Aerial Modification , Peacewalker Colossus , Citywide Bust and Braid of Fire . Braid of Fire gives Depala tons of free mana to use pulling out artifacts and dwarves.
I started with "dwarves in tanks" and have moved more to "dwarves in airplanes". I would drop a few of the smaller, non-flying vehicles, Jhoira's Familiar and Foundry Inspector . Your artifacts are already pretty cheap. Is the Sun Titan really helping?
Maybe replace Fumigate with March of Souls so you have some creatures to crew vehicles after the boardwipe.
One really amazing card in Hateflayer . You can tap him to crew a vehicle and untap him to rain withering hell on your opponents. If you have 9 mana you can untap him 3 times for the same vehicle if you want. He destroys indestructible creatures.
1 year ago
A little surprised to not see any of these in the deck Consulate Dreadnought, Aethersphere Harvester, and Peacewalker Colossus. Especially the Peacewalker that thing is super good.
I also find it a bit odd that you're running with Grand Arbiter in such an artifact focused deck. I feel like Hanna, Ship's Navigator or Raff Capashen, Ship's Mage would make a bit more sense. You could even make a case for Lavinia of the Tenth since you seem to want to lock down your opponent with this deck and she could do that. Though her ability won't trigger while you have an orb effect out.
Other random cards you could consider art Ojutai's Command, Ensoul Artifact, Narset Transcendent, Wrath of God, Path to Exile, Ghostly Prison, Baird, Steward of Argive, Propaganda, and Windborn Muse.
1 year ago
Nice deck! Since you have so many dwarves, Metallic Mimic could boost them all and make big vehicles easier to crew. I love Bomat Courier, but you can decide if he fits well with the deck.Heart of Kiran can Peacewalker Colossus usually make some appearances in vehicle decks. Keep up the good work! Hope my suggestions help!
Load more