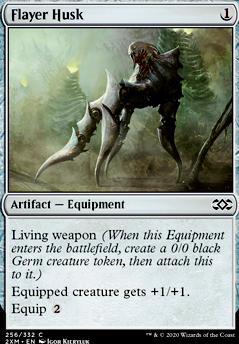 Flayer Husk
Artifact — Equipment
Living weapon (When this Equipment enters the battlefield, create a 0/0 black Germ creature token, then attach this to it.)
Equipped creature gets +1/+1.
Equip
Latest Decks as Commander
Flayer Husk Discussion
6 months ago
I've run something similar competitively on mtgo as a 7tix list. there are a few cards I would highly recommend that fit your budget. Toolcraft Exemplar solid turn 1 and very aggressive, first strike in the late game helps. Stone Haven Outfitter lord and card draw, one of the best turn 2s i had outside of paladin. Kitesail Apprentice only think better than double strike is evasion. this little guy has often been my win con Dispatch path to exile but better in these lists.
ive found deck like this offen struggle againt high numbers of removal spells, having a few cards that are both equipment and creature really can help in the long game Flayer Husk
ive also found Captain's Claws to be viable in the past as well.
my list for on the off chance its useful Arm the legion
1 year ago
jakeyuki12 : thanks for the comment! What do you mean with Boros equipment good stuff? I totally agree that the deck should not rely exclusively on the commander to function and I've tried to only include synergistic creatures and equipments, but I would be really interested in including your recommendations to power up the deck.
Joe_Ken_ : thanks a lot for the suggestions! Jor Kadeen, the Prevailer was already in the list since he's a really strong beater and I'd really like to fit Adriana, Captain of the Guard as well but I really can't find a slot for her... If I only could include one of them, which one of the two would you recommend?
The living weapons are a really nice idea, Batterskull costs too much mana but i'm trying to fit Flayer Husk alongside the Ancestral Blade already in the deck.
I'm also really debated regarding Sunforger given how strong it is, what do you guys think?
1 year ago
The Custom Categories have been updated with a "Living Weapon" section, including
I think these are the coolest way to take advantage of Akiri's ability for as few cards as possible, and I expect to see this line-up and probably more of the 4-6 cmcm ones in most Akiri lists.
I'm still looking to better take advantage of Akiri's protection ability. Leonin Shikari will help with that, and there's some instant-speed-equiping equipment/enablers out there like Healer's Headdress, Sparring Collar, Auriok Windwalker, Brass Squire, Magnetic Theft... do these all seem worth it? What are y'alls thoughts?
2 years ago
onehitterquiter: Thanks for the suggestions! I've tried each of those lands in previous versions of the deck, and I've found that either I need the blue mana more for counterspells or I need untapped lands. My strategy when playing this deck is often to sit back, do things at instant speed, and wait until everyone is tapped out in the very late game. At that point, I usually have a small creature or something to sacrifice, so Chimeric Coils , Guardian Idol , Chimeric Mass , Mortarpod , Flayer Husk , and Fountain of Ichor wouldn't fit with how I play the deck. I think Abstruse Interference isn't a good fit for a similar reason. The counterspell aspect of it isn't good enough to justify a spot in the deck.
All that being said, I think Lazotep Plating and Callous Dismissal are worth a look, so thanks for those!
2 years ago
Interesting! You might consider giving these cards a try: Mutavault , Faerie Conclave , Zoetic Cavern , Flayer Husk , Mortarpod , Chimeric Mass , Chronatog Totem , Guardian Idol , Fountain of Ichor , Chimeric Coils , Dance of Many , Callous Dismissal , Mobilized District , Dread Statuary , Springjack Pasture , Abstruse Interference , Lazotep Plating
Load more