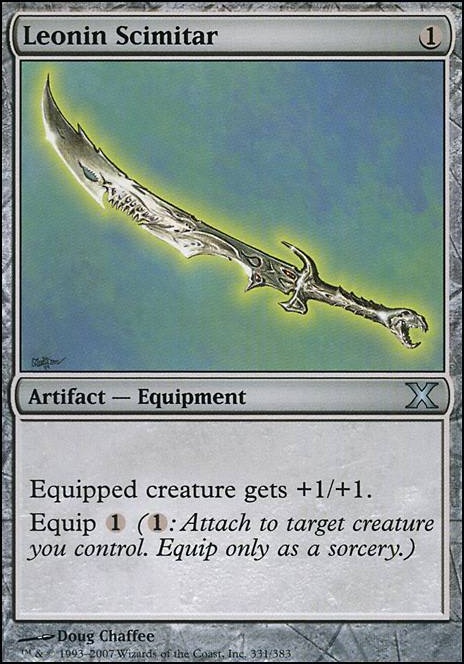 Legality
| | |
| --- | --- |
| Format | Legality |
| Vintage | Legal |
| Duel Commander | Legal |
| Commander / EDH | Legal |
| Legacy | Legal |
| Modern | Legal |
| Tiny Leaders | Legal |
| Pauper | Legal |
Leonin Scimitar
Artifact — Equipment
Equipped creature gets +1/+1.
Equip (1) ((1): Attach to target creature you control. Equip only as a sorcery.)
Leonin Scimitar Discussion
3 weeks ago
Don't stop now. I believe in you!
3 months ago
I would cut 2 Plains to start then cut these:
You probably want at least two or three more boardwipes:
I would make room for this enchantment:
Here are some suggestions for equipment cards to replace some of the cuts I suggested above:
If you want a planeswalker, try Nahiri for her equipment bullshit:
5 months ago
Leonin Scimitar was just the first thing that popped into my head, is all. Darksteel Axe is probably a better choice, since toughness boosts aren't as important to your unblockable creatures.
5 months ago
You could consider Puca's Mischief as an additional donate effect, with the bonus of swiping whatever cheap permanents might disrupt your opponents plan. It seems like it's on theme too.
My only criticism of your deck would be the Stoneforge Masterwork... I don't think you have enough beebles to make the Masterwork any better than any other minor power boosting equipment. For one mana, Leonin Scimitar will probably work just as well most of the time, and it doesn't encourage you to overcommit to the board.
Otherwise, fun looking deck! Pester people with beebles and then donk them for 10 life... they won't know what's going on!
Load more