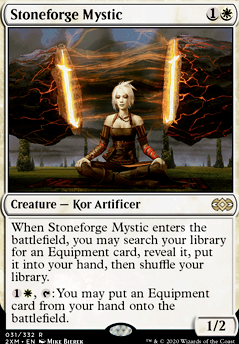 Stoneforge Mystic
Creature — Kor Artificer
When Stoneforge Mystic enters the battlefield, you may search your library for an Equipment card, reveal it, put it into your hand, then shuffle your library.
, : You may put an Equipment card from your hand onto the battlefield.
Browse Alters
Trade
Legality
| | |
| --- | --- |
| Format | Legality |
| 1v1 Commander | Legal |
| Block Constructed | Legal |
| Canadian Highlander | Legal |
| Commander / EDH | Legal |
| Duel Commander | Legal |
| Highlander | Legal |
| Legacy | Legal |
| Leviathan | Legal |
| Limited | Legal |
| Modern | Legal |
| Oathbreaker | Legal |
| Tiny Leaders | Legal |
| Unformat | Legal |
| Vintage | Legal |
| Casual | Legal |
| Custom | Legal |
| Quest Magic | Legal |
Latest Decks as Commander
Stoneforge Mystic Discussion
1 day ago
I used to play -Eldrazi Stompy in Legacy 3-5 years ago, before switching to EDH due the LGS where I had moved to having a large EDH community (pre-lockdowns). However, I'm currently in a position where I might be able to play some Legacy events in the near-future, and I want to update my deck accordingly. But I think it's worth briefly noting the developmental-chain that led to the current decklist that I own..
Ironically enough, this deck was originally based on a "budget" Vintage list from The Mana Source (watch it to have a chuckle over how much less the Reserve List cards used to be). My original list was extremely close to this, except invert the 1:4 ratio of Chalice of the Void / Null Rod , and I (originally) ran Simian Spirit Guide ..
---

Legacy Metroid_Hybrid
SCORE: 13 | 13 COMMENTS | 3485 VIEWS | IN 7 FOLDERS
---
1 week ago
Very Nice Aggro Edgar Markov list especially for a deck that is your first foray into commander. The Main problem I see you running into with this deck is that it is very soft to board wipes, and you will almost certainly lose the game if one resolves. I would recommend including Teferi's Protection , Flawless Maneuver , Boros Charm , Make a Stand , Unbreakable Formation , and Patriarch's Bidding . While these cards are skillful to utilize and require an understanding of your opponent's decks to know when to leave up mana to utilize them you will find you will be grateful to have them and win more often because of them.
Necropotence is an insanely strong card advantage engine especially in Edgar Markov that I would highly recommend as it allows the deck to continue to have the steam it needs going into midgame and mid-late game. In fact, when I am going for the aggressive strategy in my own deck it is the first card I tutor for if I can. Champion of Dusk , Pact of the Serpent , and Stinging Study are almost as good and serves the same purpose.
Stromkirk Condemned Is a pretty strong lord that most games you should have the land to pitch to it to boost your board, especially if you include some of the card advantage I recommended.
Reconnaissance Is also an amazing card for an aggressive strategy as it essentially gives all your creatures vigilance and you can remove any unfavorable blocks in combat.
For cards to remove to play them I will suggest cutting cards in different area's that I think have their advantages but probably benefit your decks aggro plan the least
Zealous Persecution and Vampiric Fury are not very necessary for yours deck. If you have not seen it already in time you will find that your anthem affects lords Shared Animosity , and Sanctum Seeker will be more than sufficient to win the game. Additionally, the card is quite soft to fog effects which are not too uncommon in commanders.
Anointed Procession is simply a card that is too slow for what an aggressive Edgar Markov deck wants to be doing and is much more suited to midrange aristocrat lists. Spending 4 mana for an effect that does not do anything is too slow and you would much rather want to be playing things like Sanctum Seeker , Vampire Nocturnus , and Bloodline Keeper  Flip
Abrade , Dismember , and Nameless Inversion have two main problems. For one when you are playing an aggressive Edgar Markov deck you are committing to winning the early mid-game so spending the time you need to kill your opponents interacting with their board states is not doing you any favors. Secondly, as an aggro deck the only permanents that are outright going to stop you are Magus of the Tabernacle , Windborn Muse , Propaganda , Ghostly Prison , Collective Restraint , Sphere of Safety , and Humility so if your going to play removal spells in your aggro deck the spell at a minimum should target enchantments though creatures as well can be valuable.
Obelisk of Urd Is ok but is probably to expensive on mana and you would rather be punching with creatures than using them to convoke this spell out.
Bloodcrazed Paladin is really only good when there is a board wipe and that is the last thing you want to happen to your board so would not recommend playing a creature that's only strength is to give you a measly benefit in the worst-case scenario.
Bloodthrone Vampire is not very good in aggro since you want to have as many creatures around as possible for all of your tribal payoffs and since your deck is not particularly geared towards and Edgar Markov Aristocrats Strat.
Stoneforge Mystic and Steelshaper's Gift help you get Skullclamp but you probably don't want to be looking for that card too hard especially if you play Necropotence , or Champion of Dusk as I recommended as you don't have to sacrifice your board state to get card advantage when a wide board state is exactly what you are looking for. Additionally, you are not playing too many sacrifice effects anyway so when you play a lord it effectively turns off your Skullclamp .
Those would be my additions and removals for your removals but your the one who gets to play the deck so make adjustments to suit your playgroup and what you want to get out of the deck. Feel free to check out my own Edgar Markov Deck A Vampire Storm *Primer*, not the exact same strategy as your deck, but you may find some useful advice in my section on my mindset of how I play Edgar Markov aggressively. Would be happy to hear your thoughts on my suggestions as well as what you think of my own deck.
1 week ago
I checked back here and I found this in the comments box, I guess I forgot to send it.
Where's Lonis, Cryptozoologist ? I also suggest cutting Counterspell and adding the Shardless Agent package with Ancestral Vision (which would allow you to cut Serum Visions. You could possibly replace Counterspell with Spell Queller and/or Force of Negation + Subtlety to prevent cascading into a counterspell.
I think you could also consider going Bant colors for Thraben Inspector and the Stoneforge Mystic package (You already got 4 swords...). This would also let you run Path to Exile as actual removal instead of Brazen Borrower since UG is notorious for having no removal. Also gives you access to a bunch of really good sideboard cards.
2 weeks ago
Had a Bo1 with Amulet Titan. Good lord that was one hell of a slog. It's hard to keep track of what all they were doing but they got out an early Urza's Saga to follow up my Stoneforge Mystic . I took turn three to pop Saga with Field of Ruin . They quickly follow with another with some Arboreal Grazer action. I got out my Batterskull on an end step and deployed Gideon Blackblade to give the germ double lifelink. I pulled up ahead on line enough to take a hit for 18 from a Primeval Titan . I followed with Gideon of the Trials to pin the Titan. They managed to get another Titan off of Azusa, Lost but Seeking land drops and they had to eat a Gideon. They took out GotT with some Golems and got a second Titan on board to go at me. I deployed Kaldra Compleat with my Stoneforge sitting on the side to block it and take it down. My Batterskull was giving me big life at that point with a Sword of Fire and Ice attached so I could sponge some blows. Some more trading with another Blackblade sponging blows off the emblem and giving Batterskull big boy lifegain. I eventually foretold a Doomskar and that sealed the deal with my planeswalker beats and germ.
That was a real brawl. There was big work done by all contributors. Gideon of the Trials emblem made magnets of our Gideons taking a lot of pressure off our life total while Batterskull with double lifelink with Gideon Blackblade sent our life soaring. We were sitting at around 48-50 by the end? Blacksmith's Skill gave us clutch as a 'block' for one of our Gideons getting threatened by a Titan. That bought a turn for another GotT to come in and nullify it. Doomskar has been an all star coming in clutch to close out games. With a log of our threats being resilient to the sweep we could easily follow with a big swing. I was stunned we were able to hold the fight without a single Path to Exile or Solitude . Wow. Those would have been fantastic pulls. The one flaw in my play that I could identify was getting Batterskull instead of Sword of Hearth and Home . That would have been great for blanking Titan hits. So what we pulled performed wonderfully and and we had a lot of live draws that would have helped. This is a real confidence booster for this deck's viability. I never even bothered attacking with Blackblade and I could have. xD
2 weeks ago
Played a quick game against W/B Pox Reanimator. I don't even know if the deck was going heavier on Pox but it had Liliana of the Veil , probably as discard outlets.
They led on a pair of Inquisition of Kozilek and Liliana of the Veil to strip me. I was able to hold out long enough to get Gideon, Ally of Zendikar to threaten Lili. They continued stripping me down to top deck mode. I managed to pull Gideon of the Trials to to get an emblem before being taken down. Middle Gideon held down the fort for a couple turns and the opponent ate up their Lingering Souls . I got out Castle Ardenvale to help with the Smallpox . They got out a Priest of Fell Rites and I followed up fortelling Doomskar . We went a couple turns with a Knight Ally token and Priest trading blows with Castle providing blocks for Priest. They got a Smallpox to eat some board and eternalized Priest to get Archon of Cruelty to kill my token. I stupidly forgot about my Doomskar for a turn but was kinda hoping for a Path to Exile or Solitude but I ended up blowing it up on the next hit. They followed up with a Persist and I pulled a useless Stoneforge Mystic .
That was a slug fest as they stripped my hand, I deployed threats, they are my threats and got out a big boi with me blanking on removal. I should note that I had a Path earlier in the game but between double Inquisition, several Liliana activations, and Smallpox , I had lost it before it was relevant. We'll played, opponent.
2 weeks ago
This deck is sick, I've been building a Kaalia deck recently, and although I don't have a high budget at the moment I'm going pretty well with the cards I'm getting from boxes.
I think a good one to add in future for your deck would be Piru, the Volatile . I know you said you aren't running boardwipes, but this one is rather unique, because its plastered onto a nice 7/7 dragon with lifelink, meaning that each creature it deals 7 damage to when it dies will gain you 7 life. Besides, a lot of your angels and some demons and dragons will probably be legendary, which means it won't effect you as much and definitely won't remove your Kaalia.
With my deck, I've been thinking about adding Imperial Recruiter , so I can tutor for my Stoneforge Mystic , Grand Abolisher or Mother of Runes . I personally think its worth it, but I haven't been playing cEHD for very long so tell me what you think :)
2 weeks ago
Played a couple games and it seems like green was coming out. First match up against Modern Maverick with Knight of the Reliquary , Noble Hierarch , Voice of Resurgence , Stoneforge Mystic , and MAINDECK Qasali Pridemage . I managed to slow them down off of two Ghostly Prison s by turn 6 until I could draw into Sphere of Safety . Closed off the removal with double Sterling Grove and maybe four turns bought off Out of Time the opponent had to wave the flag before the fleet of angels. In the second game, they had removal creatures and tutors galore to keep me off enough early plays that I folded to Eternal Witness to get back Eladamri's Call on my end step and I folded not needing to see what they'd pull, I was behind enough on board and stuck on two lands. Tiebreaker started out looking like the second but with double Sterling Grove in my opener, I could at least absorb a removal if not close them off removal completely. I was mainly leaning on that while Sythis, Harvest's Hand fed me into more board control. We went back and forth with me removing or isolating singular threats along the way until they blew me out with Engineered Explosives for three to get rid of two Ghostly Prison s, Enchantress's Presence , Out of Time , and Solitary Confinement but not before I could deploy a second Grove. They didn't have a very threatening board with On Thin Ice and Runed Halo still doing work. So I got back Confinement with Hall of Heliod's Generosity and sent in the final blows with Heliod, God of the Sun .
That was a close fought battle and much more back and forth than I anticipated. Those tutors provided for a rather consistent toolbox package. Alas, strats with one way to win are relatively easy to hate. It's less about accumulating hate and rather about using enough hate to get to that one piece. That Engineered Explosives blowout scared me but we just needed that one piece. Ironically, I drew into Confinement off of Sythis's trigger when I replayed my Halled back first Confinement. Guess I knew what I was discarding on that first upkeep.
Second match brought more green creatures with Heliod Company. First game went pretty smoothly as I got out a quick Sythis backed by Grove. Also started with Leyline of Sanctity . Always nice to get that incidental gotcha. They plopped out some creatures. I deployed Ghostly Prison and frankly, off the back of not being able to combo me, they folded to Sigil of the Empty Throne . Second game went very similarly too first match second game. Off the back of Grove and Halo, I got stuck on two lands and they widened their board beyond saving as I never got another land. Last game was very intriguing. They managed a decent board but I managed to get a draw engine behind Solitary Confinement early. They Walking Ballista + Heliod, Sun-Crowned to an arbitrary amount of life and asked how I was going to win. While I didn't have a guaranteed win, I could theoretically moderate how many draw engines I had out and use Hall of Heliod's Generosity to keep me from milling out until the opponent eventually would. They decided to close up there. A theoretically infinite amount of life: defeated. That made for a very interesting finish. I'm sure my opponent was just thinking 'How can they possible overcome all the life? They only have Heliod, God of the Sun and Sigil Angel beats.' Well, we found out. Very slowly. Very miserably.
3 weeks ago
Your deck seems a little unfocused. For example, you're running Stoneforge Mystic (a non-Human btw), but not enough bomb Equipment to take advantage of her value.. Also, it's hard to tell exactly how you plan on winning in face of a stalled boardstate (outside of Odric).
I suggest dropping the Aristocrat stuff from the 98 (but keep the Xathrid Necromancer ), as well as a boardwipe or two, and replacing them with some fun (Voltron) toys for Kitty.. One equipment in particular is Vorrac Battlehorns , as it renders creatures with Menace effectively unblockable..
On the Tribal side of things, Champion of the Parish & Gallows at Willow Hill are worth considering. Brave the Sands is a thing. And finally, since you're a Mardu deck that likes to go wide, you may really appreciate Fervent Charge . Pair that with repeat combat effects (ex. Aggravated Assault ) for maximum value
Load more