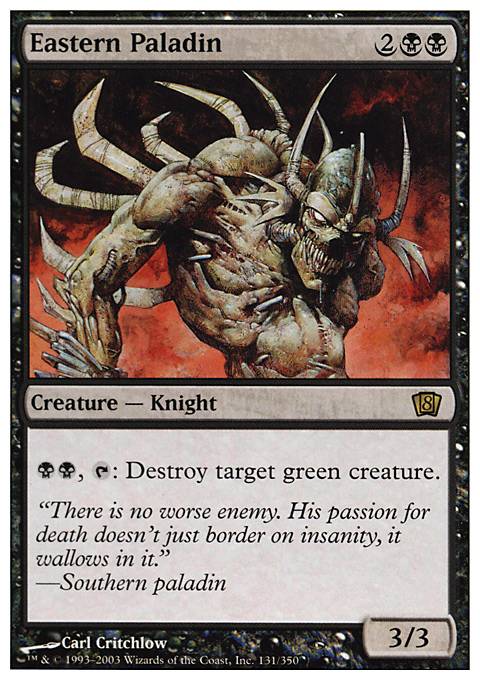 Legality
| | |
| --- | --- |
| Format | Legality |
| Noble | Legal |
| Leviathan | Legal |
| Magic Duels | Legal |
| Canadian Highlander | Legal |
| Vintage | Legal |
| Modern | Legal |
| Vanguard | Legal |
| Legacy | Legal |
| Archenemy | Legal |
| Planechase | Legal |
| Duel Commander | Legal |
| Unformat | Legal |
| Casual | Legal |
| Commander / EDH | Legal |
Eastern Paladin
Creature — Zombie Knight
(Black)(Black), Tap: Destroy target green creature.
Eastern Paladin Discussion
1 year ago
I definitely see where you're coming from. I, of course, had no idea what your playgroup is like. Mine is a little larger: probably the same 12-20 or so people. However, Depala does not stand a chance against any of them in 4 player games without the hatebears. Containment Priest stops reanimation, Bribery effects, and flicker shenanigans such as Brago, King Eternal so that the board doesn't get locked out. Holding down Grand Abolisher is the only way I will ever be allowed to cast any of my angels or anthems. Ethersworn Canonist is essentially just my answer to storm decks, and worst case it baits out removal before Gisela or Aurelia hit the board.
Some hatebears are less hateful, and double as actively beneficial to you, such as Angel of Jubilation which has that wonderful little anthem effect while also stopping a number of infinite combos. You can always just grab the select few that actually affect your meta. Spirit of the Labyrinth, for example, doesn't affect Depala's ability, but it stops a lot of popular decks I find myself against like Mizzix of the Izmagnus and Sharuum the Hegemon and some really popular cards like Rhystic Study and Sylvan Library. And, if you just really want to win a game, it makes Wheel of Fortune (or Magus of the Wheel or Wheel of Fate for budget-friendly options) into something a whole lot more devastating - but that knife runs both ways. Your opponents' wheels are also something very different with it down.
I do not run Heart of Kiran because I play exclusively 4-player games, and Crew 3 for 4 damage just isn't worth a card slot when I need to deal 120 damage to win.
I'll definitely reconsider Siege Modification. My issue with it is that it makes my opponents' removal become a 2-for-1, which I guess is the flaw of any aura. Normally they would never waste removal on a vehicle. I'll have to try it out to see if its worth the risk. From that perspective, though, another hatebear would actually serve the same purpose (can keep a vehicle crewed) plus the bonus of slowing my opponents' wincons down even more.
I find it really interesting that you consider Taurean Mauler a staple. I had never even seen it before until I did a Gatherer search for creatures with Changeling, and I definitely needed to read it to my friends when I first played it. Also, my playgroup is much less budget-friendly: we consider my Depala list as casual. We do, also, enjoy building new decks each week. And, to keep things fair, we are usually very ok with proxies. To most of us, the challenge is in the deckbuilding, and no one should be barred from competing just because they aren't wealthy.
On a lighter note, this week I am putting together a specter and ninja deck featuring Nicol Bolas for some shenanigans. A couple weeks ago I put together a racism-themed deck featuring all the old color-hate cards like Eastern Paladin and Lifeforce and some manipulation like Darkest Hour. See Janky Racism (Color Hate) if you're interested. Still can't find a copy of Scuttlemutt and its bothering the hell out of me. I live in Canada and ordering in cards from the US is very expensive...
1 year ago
Ok, I've made some changes with what I had on hand. Here's what I've done so far:
In: Charcoal Diamond, Dauthi Embrace, Sol Ring, Hell's Caretaker, Ascendant Evincar, Distended Mindbender, Abundant Maw, Artisan of Kozilek, and Thornbite Staff.
Out: Soratami Cloud Chariot, Western Paladin, Eastern Paladin, Distorting Lens, Delraich, Wall of Shadows, Infernal Spawn of Evil, Sorceress Queen, and Commander Greven il-Vec.
Now, as I acquire some of the other cards, I'll need to decide what stays and what goes. What should I switch out for Buried Alive at this point? I do have a Jet Medallion, but do I really need it? Hopefully I'll get some play testing done with it this weekend and see how it goes.