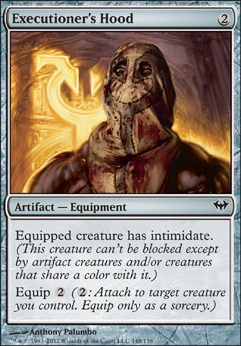 Legality
| | |
| --- | --- |
| Format | Legality |
| Tiny Leaders | Legal |
| Noble | Legal |
| Leviathan | Legal |
| Magic Duels | Legal |
| Canadian Highlander | Legal |
| Vintage | Legal |
| Modern | Legal |
| Penny Dreadful | Legal |
| Casual | Legal |
| Pauper EDH | Legal |
| Vanguard | Legal |
| Legacy | Legal |
| Archenemy | Legal |
| Planechase | Legal |
| 1v1 Commander | Legal |
| Duel Commander | Legal |
| Unformat | Legal |
| Pauper | Legal |
| Commander / EDH | Legal |
Related Questions
Executioner's Hood
Artifact — Equipment
Equipped creature has intimidate. Equip 2
Have (40)
Lucretian , Justinaut ,

R

u

b

y

S

t

r

i

n

g

s

, the.beanpole ,

T

h

e

R

e

a

l

P

e

a

c

h

e

s

, nathanrcfell , jstn.mrrtt , Shiromakuro , MagnaAura , RobbyFoxfur , greanbeaner , warcry02 , tragic_slip , Talistan , REV666 , hobbes131 ,

P

o

p

t

a

r

t

z

9

5

, switchkill65 ,

C

h

a

r

-

Y

o

u

,

m

e

n

t

o

r

6

,

T

h

e

D

u

g

g

e

r

n

a

u

g

h

t

, jrschnoebelen , angesoir , killstars ,

D

E

E

R

, Dsmonsta ,

J

a

u

n

t

u

, admizell ,

W

o

l

f

n

i

n

j

a

, seajay02 , RileySisay , Sav547 , geazykagar , Noobly , AlbinoLion ,

A

z

d

r

a

n

a

x

, lorddarkstar ,

K

i

l

l

D

a

t

B

U

G

, Hakira , mziter501
Want (304)
tralmix , jeanbern , Henma , Heavyjaw , BBBr0ny , Blue_Otaku_No.1 , sttmccln , MTGskrub , DrCheckmate ,

a

e

o

n

s

t

o

r

e

m

y

l

i

v

e

r

, Xanderin , kildozer_56 , Djricci97 , zgriffin1989 , That-old-noob ,

K

e

r

a

k

i

s

, Vukodlak , thegreatwizard , SuperNorst420 , Darthjr , Cringy_Name ,

N

a

p

o

l

e

o

n

B

o

n

a

p

a

r

t

e

, SweetMermaidPuss , QBrick , Missinigo , cannon_Spectacle , aurelius902 , tdunks19 , BlacksmithOfDarksteel , lmsmq , Aldolain , scitomniares , jesuslovedhumor ,

S

p

i

n

a

l

r

i

p

p

e

r

, therocker666ify , Killoginet , MagnaAura , Incredipaul , humancropcircle , Big-Foot , Florius , sybert1ger , norsekidoutofframe , EliasZap ,

A

l

m

i

o

s

, Silveros89 , kawa , bloodysmurf11 , MADMatt7777 , bwubwu3 ,

A

S

C

L

E

P

I

U

S

, Klayhamn , nlach , dredsilver , gregdebonis , kodemage , Intezra ,

F

r

a

n

k

S

t

a

r

, cmcewen87 , buildingadeck , Fooo ,

r

a

i

t

h

e

0

0

0

, toastertree , Furyofwaaagh , HyperJujibiter , Senpaij , RIft6 , marsp44 , robbnoble ,

S

i

c

o

h

i

p

p

y

, notsaying , 1337_Nerd ,

k

o

d

i

e

5

3

,

B

l

u

e

M

a

g

e

B

r

a

n

d

o

n

, Clones16 ,

k

n

t

o

, legobumb , davir , kingofcramers , Geerie , correcthorsebatterystaple ,

P

r

o

p

h

e

t

_

o

f

_

X

e

n

a

g

o

s

,

K

e

v

i

n

L

S

, jcbcrn517 , BetaTest ,

X

V

i

c

a

r

i

o

u

s

, IsaacX28 ,

x

a

n

t

m

7

0

, Liarz0 , ropesnake , Xelgion , Tarrandus , SphinxChi , Espi14 , Sevventh , FartMcMuffin , nobody1248 , Daddy1c3 , TrackerD , Clawsun73 , Eledan , weirdo366 ,

C

y

r

k

, TheAlmostHero , Monduck ,

O

r

i

g

i

n

a

l

B

l

u

e

, sneferie , Dadaman11 ,

Ashkaan

, rockinchizel , nulbie , BioTutorBrian , villon , Voxzorz , crobledo , nickmunnz ,

k

y

u

u

r

i

1

1

7

, saihtam6 , DoctorRed27 ,

L

i

K

W

i

D

C

A

K

E

, Myrolluth , Wizidross , Parthenopaeus_V , jkpker , Mordeken , DarkTarconis88 , Gypsyhatten , Lunrael , kvfd1719 , Facecheck , SlayLazyJayzy , Slepher , sushich , skimask38 , Izzetman11 , LastCall , Hopper_2011 , TheWeissik , Mind5hifty , mango_channel , callmecapn , Nicsor49 , JoshebBasshebeth ,

D

r

F

i

s

h

y

N

o

, nate_wizardadept , rerikson , YossarianLives ,

m

r

f

a

b

1

3

, Stryfe_ , jtaddeo ,

T

h

e

_

M

u

n

c

h

k

i

n

,

F

u

n

e

r

a

l

o

f

G

o

d

,

a

b

b

y

3

1

5

,

D

i

m

a

r

x

, erichitchmo , JochenTheConquerer ,

i

t

h

e

o

r

y

z

, ElisabethJoan , anbrx , Sporkity , BeefstewzEIT , sigh166 , Dagnira , NoSolution , XXXSALVATI0NXXX , Jspeed , WarIsHats , Kaedom , gebranjason5 , KazDew , Juggernate , chucklebot , TonyD ,

F

A

L

L

E

N

-

X

-

A

N

G

E

L

, OriginalOregano ,

n

i

g

h

t

f

i

r

e

p

h

o

e

n

i

x

, EcSamuel , NexusYuber , Rexlcon , tomshwag , jp262 , david_gaudreault , Unlife , middleschooldropout , Replayced , sraid , JSTR1302 , maxbot3000 ,

C

a

m

p

b

e

l

l

S

t

e

v

, Mai , Roccovsky ,

Z

a

e

s

, il-JumperMT , Kogan1911 , Clockwork_Control , scooter1265 ,

D

a

r

k

S

t

a

r

S

t

o

r

m

, Black_Honn , Freyed , darkdisciple , thelanranger , braveotternash , Siegmeyer245 ,

s

o

n

n

e

t

6

6

6

, Turtlelover73 , MomShoes , DonaNobisPacem , alford.caleb.g , noodle_bobinski , Tellur ,

r

-

k

a

n

e

, Axertin , DBZplayer21 , Timishue , KasaiAisu , rand_al_thor , RoninH3RO , DeadlyPro_21 , westerhack , drsergen , egge28 ,

H

e

l

i

x

S

n

a

p

H

e

l

i

x

, Aenderan , MerkavaIV16 , viewcube , Ahdor , juniogof , Thotny , tomofthewild ,

x

x

I

N

S

4

N

E

x

W

o

C

, dtfer , blerwymm , dasodahe , Aryil , BlazzBolt , butthead182 , dlj529 , Draknoz , Killuas , Rustria , Vashezzo , Harashiohorn , dogboystewart , NobleSlay3r , Exo-TheGamingCuber , TypicalTimmy , cobra1223 , treblicz027 , Albinobear , math_puppy , blaze19 , Jelmazzmo ,

r

o

c

k

l

e

e

m

y

h

e

r

o

,

P

T

s

m

i

t

t

y

,

R

a

d

e

i

n

t

, angesoir ,

A

i

o

r

i

a

x

W

i

n

g

z

,

S

e

v

e

n

t

y

7

I

N

a

4

5

, facepalmmuted , Ebbsbenedict , blackshott30092 , TheSavageJS , konsrs ,

F

o

r

k

b

e

a

r

d

, mtg_grizzly , theMarc , vvmk , wlbreda , RyanHruska , borensoren , binarysecond , UniTheDino , jkluge626 , momikulski , snackeater ,

R

u

f

f

i

g

a

n

, glistenerelf23 , Dpow1315 , Ursaromg , Deiaros , insanious , jcastanon , Dragon_Prince_Kino , Rathe , JimmyJimJimJammers , crusader4321 , AudioEmu , afishy , idavis , odber , akahele_ehu , flipt , Vialheart , xkyle813x ,

T

o

a

s

t

y

_

D

e

a

t

h

, lloyola063 ,

A

b

z

k

a

b

a

n

, Cunningcrow , Gladjolt , RPG_FOX , DarkHamlet , Tokaido , baalman9 ,

L

o

r

d

B

l

a

c

k

b

l

a

d

e
Executioner's Hood Discussion
3 weeks ago
So I was able to visit my LGS earlier this evening and get 2 packs, this is what I got (you would be interested in this DiverDown):
Overall opening this pack was pretty cool. It was suspenseful too since I didn't know what most of the cards were (I did recognize a few by art).
11 months ago
Here are some changes I would make:
The first changes are because I personally think instant speed interaction is better than it being limited to your turn. Second is because Path of Ancestry is strictly better even though it only helps with one creature. Third is because I think Theft of Dreams will be more useful overall. Fourth changes are to implement a new combo with Cloud of Faeries: use the same combo as Drake but if you have two of those enchantments or one with Simic Growth Chamber it will produce unlimited mana.
Besides that, I would maybe find a way to work in Mystic Remora. For beats you could add Executioner's Hood. I'll think about it some more.
1 year ago
Don't stop now. I believe in you!
2 years ago
For skulk there is Behind the Scenes and Skeleton Key
For intimidate there is Nim Deathmantle, Gruesome Deformity, Grisly Transformation, and Executioner's Hood
For fear there is Cover of Darkness, Dirge of Dread, Intimidation, Ebony Charm, Profane Command, Sleeper's Guile.
There's also Odric, Lunarch Marshal who copies keywords, Odric, Master Tactician who allows you to declare no blockers, Akroma's Memorial which has flying and pro two colours, a kind of evasion.
Load more
Executioner's Hood occurrence in decks from the last year
Commander / EDH:
All decks: 0.0%
Black: 0.02%