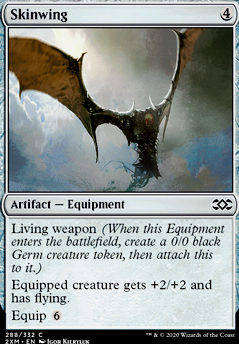 Skinwing
Artifact — Equipment
Living weapon (When this Equipment enters the battlefield, create a 0/0 black Germ creature token, then attach this to it.)
Equipped creature gets +2/+2 and has flying.
Equip 6
Latest Decks as Commander
Skinwing Discussion
1 year ago
Black also has a lot of disease/plague effects, so along with Zombies you're solid.
Adding Blue opens you up to Laboratory style cards like Arcane Laboratory, Laboratory Maniac and Laboratory Brute.
Blue/Black gives you a few good commander options too, the best to my mind being Gisa and Geralf -- You can cast a zombie from the grave each of your turns and you could say they're like The Ashford Twins (minus the weirdness and plus the good-natured antagonism). Grimgrin, Corpse-Born is also a good card just in the deck, a big Tyrant style zombie albeit with a setback.
You could add mutate creatures in like Dirge Bat and Insatiable Hemophage but it's a really shallow pool and mechanic, you're better off focusing on zombie synergies.
But, for some real fun, look to equipment with Living Weapon like Batterskull, Lashwrithe, Scytheclaw and Skinwing -- Equipments that have that bioweapon vibe on top of creating germ tokens to act as your T/G Virus!
Hope this gives you some ideas!
3 years ago
Are there really enough creatures in this deck to be consistent? I'd think some Living weapon equipments(Skinwing, Flayer Husk, Mortarpod) is just what the doctor ordered if there arent. I know you're ideally just casting Hope for 1, then 3,5 and maybe even 7 &9 mana, but thats still only 15 creatures. Food for thought, and plus 1! !
4 years ago
Don't stop now. I believe in you!