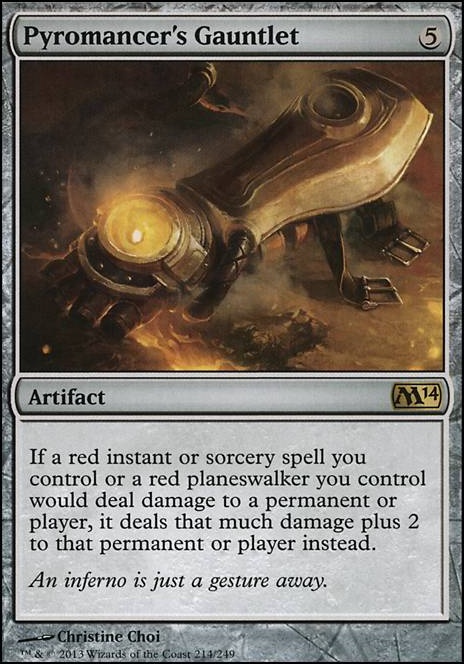 Legality
| | |
| --- | --- |
| Format | Legality |
| Vintage | Legal |
| Duel Commander | Legal |
| Commander / EDH | Legal |
| Legacy | Legal |
| Modern | Legal |
| Tiny Leaders | Legal |
Related Questions
Pyromancer's Gauntlet
Artifact
If a red instant or sorcery spell you control or a red planeswalker you control would deal damage to a permanent or player, it deals that much damage plus 2 to that permanent or player instead.
Pyromancer's Gauntlet Discussion
1 day ago
Don't stop now. I believe in you!
1 day ago
This commander seems great!! I want to build it too maybe... got some ideas...
Stormbreath Dragon, Comet Storm, Volcanic Fallout, Chandra, Torch of Defiance, Cryptolith Fragment Flip, Past in Flames, Pyromancer's Goggles, Pyromancer's Gauntlet, Blade of Selves, Grenzo, Havoc Raiser, Grenzo's Ruffians, Warchief Giant, Charmbreaker Devils, Chandra, Pyromaster, Embermaw Hellion, Fire Servant :)
1 month ago
Nice looking deck! Got some ideas...Satyr Firedancer, Trail of Evidence, Pyromancer's Gauntlet, Embermaw Hellion, Akki Lavarunner, Sulfuric Vapors, Docent of Perfection Flip, Metallurgic Summonings, Talrand, Sky Summoner, Young Pyromancer. Happy gathering!!
8 months ago
I've seen 3 madness cards: Reckless Wurm, Fiery Temper, and Violent Eruption.
I'm thinking that while with Chandra Ablaze you can choose when you want to discard a red card (and gain both the benefits of +1 on chandra and a cheaper casting cost for the red madness card), with Pyromancer's Swath you cannot choose when to discard: it forces you to discard your hand every single turn (included the oponents') so you have to keep the mana open for madness at the end of every turn (if you don't reserve the mana you just "waste" the madness card) --> this constraint forces you to have only part of your mana at disposal in case you have a madness card in your hand, and Pyromancer's Swath on the field.
Pyromancer's Swath has a huge drawback with that forced discard the entire hand at every turn. I think that Chandra is a better "discard machine" for your madness, and Pyromancer's Gauntlet and Fire Servant seem better damage amplifiers than the Swath on almost every aspect (except for the cost).
Do you agree?
8 months ago
And for more instant-matters cards: ... Insidious Will, Kaho, Minamo Historian, Living Lore, Lunar Mystic, Meletis Charlatan, Mizzix's Mastery, Nivmagus Elemental, Odds/Ends, Pyromancer's Gauntlet, Reverberate, Runechanter's Pike, Surrakar Spellblade, Twincast, Uyo, Silent Prophet, Wild Research, and Wild Ricochet.
1 year ago
I love this! I share your love of Jori. I'm currently using Keranos, but I've been thinking about Jori a lot.
Have you considered Pyromancer's Gauntlet? I know it's janky, but it supes up your little burn spells nicely. And anything that does multiple instances of damage (like Fiery Confluence or Electrolyze) scales well. Also makes your Mizzix's Mastery finisher a little easier.
1 year ago
Both will apply to the same situation.
Both cards will see Chandra's Ignition dealing damage. Let's say you have Embermaw Hellion apply first. Now the Ignition is dealing X+1 damage where X is the power of the creature you targeted. Then you have Pyromancer's Gauntlet replace that event so now the Ignition is dealing X+3 damage.
The only time you'd have to choose only one to actually take effect is if multiple effects would replace an event with something entirely different, such as having Archmage Ascension and Abundance trying to replace the same draw. If you have one replace it, the event is no longer a card draw and therefore the other can't effect it and does nothing.
Load more