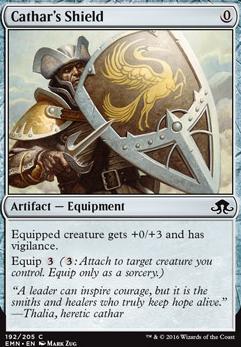 Legality
| | |
| --- | --- |
| Format | Legality |
| Standard | Legal |
| Frontier | Legal |
| Commander / EDH | Legal |
| Vintage | Legal |
| Legacy | Legal |
| Modern | Legal |
| Tiny Leaders | Legal |
| Pauper | Legal |
Related Questions
Cathar's Shield
Artifact — Equipment
Equipped creature gets +0/+3 and has vigilance.
Equip (: Attach to target creature you control. Equip only as a sorcery.)
Cathar's Shield Discussion
2 days ago
Don't stop now. I believe in you!
2 weeks ago
you should add in Cathar's Shields that way your opponent doesn't kill the creature before it has a chance to untap.
3 weeks ago
This is a cool concept, I have to say. However, generally the flurry of 0 cost artifacts isn't help you? You can spread them out over a few turns with your horde of blockers.
My suggested changes would be swapping the Cathar's Shield for Paradise Mantle. Just for the sometimes mana. And swapping Tormod's Crypt for something like Chromatic Star for the draw.
1 month ago
Yea, you will be losing Cathar's Shield too. Hopefully they give us some more 0 drop artifacts.
1 month ago
You probably want Stitcher's Graft over Honed Khopesh because, if you're running an exert deck, they're already tapped down, so the graft is generally better. It also combos with Cathar's Shield, like the rest of the creatures do.
Load more