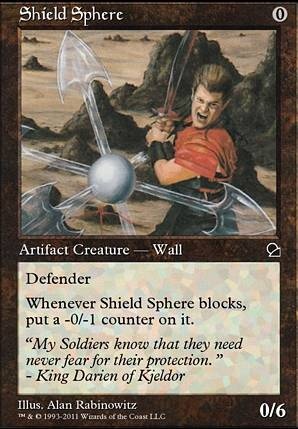 Legality
| | |
| --- | --- |
| Format | Legality |
| Tiny Leaders | Legal |
| Noble | Legal |
| Leviathan | Legal |
| Magic Duels | Legal |
| Canadian Highlander | Legal |
| Vintage | Legal |
| Casual | Legal |
| Pauper EDH | Legal |
| Vanguard | Legal |
| Legacy | Legal |
| Archenemy | Legal |
| Planechase | Legal |
| 1v1 Commander | Legal |
| Duel Commander | Legal |
| Unformat | Legal |
| Pauper | Legal |
| Commander / EDH | Legal |
Shield Sphere
Artifact Creature — Wall
Defender
Whenever Shield Sphere blocks, put a -0/-1 counter on it.
Have (5)

D

i

d

g

e

r

i

d

o

o

d

a

, jtfran02 , CAPTAINxCOOKIES , coyler2016 , lorddarkstar
Want (31)
Lingeringlemur , DeathCheese763 ,

M

a

r

s

h

a

l

L

a

e

r

o

t

h

, Rhaegos , Thotny , Manualman , ybladey , Skydra2 , Dienekes , SatansAfro , Bluewyvern , CosmicFungus , Ichtyology , colorfulsnailboy , sgcuttlefish , mrnking57 , VampireYuriGirl , Juicy_Ions , Magicwolfpack , snowmaster55555atgmaildotcom , pmartinmsh , Awuztein , ShadeBlade0 , kosta7 , Nomikon12 , marsp44 , szechuan53 , JGMFC ,

O

l

o

r

o

_

M

a

g

i

c

, fireborne1986 , jch1290
Shield Sphere Discussion
1 month ago
So currently there is a lot of interest in pod-cEDH. I spent a few weekends brewing & quickly grew tired of trying to calculate which 1-drop creature I could use to polish off a 5+ card flash-hulk chain. I had a slew of ideas and many attempts to find the right line & then I quit.
I like complex lines & unique styles of play that aren't 'punch with tymna&dorks, Draw a win' (even though it's actually just stupidly strong). Vannifar is unlike Gitrog - where usually every single card is worthwhile and has a place in the loop. In Vannifar currently a fifth of the deck is just dead cards. That's 1/5 cards sucking to draw, with only Brainstorm & Whirlpool Drake (by the way - this is a SPICY include - nice one) to fix that.
Most hulk piles use roughly the following cards: flash>hulk>body double & viscera seer>karmic guide>Reveillark This is a very basic, fairly efficient hulk-pile. It uses six dead cards, of which are not massively interchangable, and will usually suck in hand except for in fringe cases.
Most cEDH decks require a 5 card MAX in order to win. Whereas (and this is no slight on your part) vannifar lists use far beyond that efficient number of slots in order to play like it's a real pod deck.
It's down to the Vannifar community (and that includes you now) to hunt for a way to make pod decent in cEDH, as I believe that there's a great combo out there in simic that can be achieved.
2 months ago
Wait... but that doesn't work. You make infinite mana and then switch it off, you can only do that with the Invoker, not the redcap... I mean, yeah it can be hardcast, but Shield Sphere is better at that IMO
3 months ago
Hey, the 23 cards to consider cutting:
Built to Last
Cancel
Essence Scatter
Hindering Light
Render Silent
Rewind
Solidarity
Spell Rupture
Elixir of Immortality
Simic Keyrune
Wildfield Borderpost
Luminarch Ascension
Sight of the Scalelords
Estrid, the Masked
Teferi, Hero of Dominaria
Sleep
Azor's Elocutors
Colossus of Akros
Gwafa Hazid, Profiteer
Consulate Skygate
Gatecreeper Vine
Grappling Sundew
Guardians of Meletis
---
Budget cards to consider adding:
Cards to consider cutting:
Suspicious Bookcase
Gleaming Barrier
Plumeveil
Wall of Vines
Wall of Nets
Wall of Mist
Fortified Rampart
Shalai, Voice of Plenty
Return to the Ranks
Cleansing Meditation
Devastation Tide
Nevinyrral's Disk
Manalith
Blossoming Sands
Thornwood Falls
Tranquil Cove
Woodland Stream
Temple of Enlightenment
Good luck with your deck.
3 months ago
Have you thought of running Ornithopter, Shield Sphere and Phyrexian Walker instead of the three kobolds in order to increase the chances of activating Metalcraft for the Mox Opal?
I found myself wishing I would have, alot more often than I thought I would (though I didn't test them yet). I think that the Artifact type is irrelevant as directing spot removal towards a vannila 0 drop is not worth it and the format doesn't run alot of mass artifact removal.
4 months ago
I think you should look into running Enduring Renewal and a few costed artifacts, like Ornithopter, Memnite, Shield Sphere, and Phyrexian Walker. It would synergize nicely with Teshar, Ancestor's Apostle, Sai, Master Thopterist, and Artificer's Assistant. It would be something fun to play around with, and could make a wincon.
By the way, you've got two Padeem, Consul of Innovation listed.
Load more
Shield Sphere occurrence in decks from the last year
Commander / EDH:
All decks: 0.01%