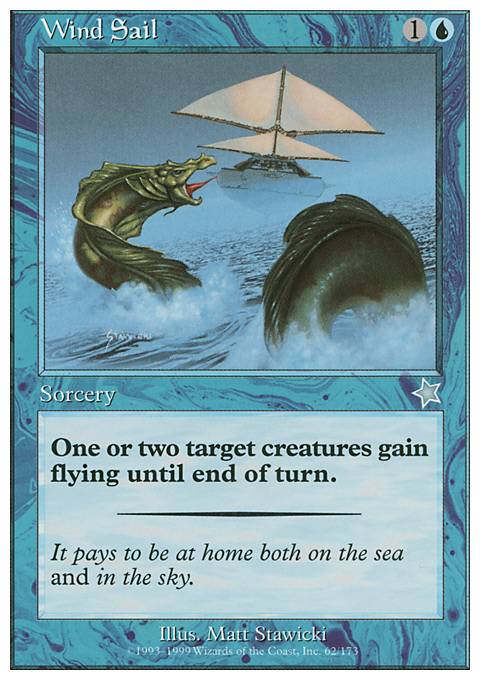 Wind Sail
Sorcery
One or two target creatures gain flying until end of turn.
Browse Alters
View at Gatherer
Legality
| | |
| --- | --- |
| Format | Legality |
| Tiny Leaders | Legal |
| Noble | Legal |
| Leviathan | Legal |
| Magic Duels | Legal |
| Canadian Highlander | Legal |
| Vintage | Legal |
| Casual | Legal |
| Pauper EDH | Legal |
| Vanguard | Legal |
| Legacy | Legal |
| Archenemy | Legal |
| Planechase | Legal |
| 1v1 Commander | Legal |
| Duel Commander | Legal |
| Oathbreaker | Legal |
| Unformat | Legal |
| Pauper | Legal |
| Commander / EDH | Legal |
Wind Sail Discussion
11 months ago
High Tide , Whelming Wave , Lingering Mirage , Eye of Nowhere ?, Coral Atoll , Treasure Cruise , Iceberg , Stinging Barrier , Thaumatic Compass Flip , Treasure Map Flip , Expedition Map , Chart a Course , Braidwood Sextant , Barbed Sextant (your ship need to navigate!) , North Star (Always a guide when lost.) , Beacon of Tomorrows , Water Elemental , Sea God's Revenge Drowned Catacomb (Ixalan pic), Tidal Bore , Sea Kings' Blessing , Drownyard Temple , Nephalia Drownyard , Rishadan Port , Dark Depths , Jwar Isle Refuge , Lonely Sandbar , Saprazzan Cove and River of Tears , Tidal Wave , High Seas , Capsize , AEther Tradewinds , Wind Sail , Thassa, God of the Sea i post this on your forum page do i figured it would be nice to have the on your deck page so you can look at this list and your deck without having to go back and forth
2 years ago
Don't stop now. I believe in you!
3 years ago
You have a lot of weenies. This works well with unblockable but you may want to consider wipes and cards like Night of Souls' Betrayal or Elesh Norn being played early via some graveyard manipulation.
Also consider that they have blockers for your blockable creatures and removal for your unblockable ones. What is your gameplan then? If your blockable creatures aren't threatening to your opponent's creatures as well as the opponent, you may get stalled.
Consider some stronger creature options. Your low CMC is good for a faster clock, but can hinder you when the faster clock results in a slower gameplan.
CUT:
You are running 10 mana rocks which is quite a bit actually. I'd suggest cutting some, or swapping them. Try Worn Powerstone or Mind Stone for the Keyrune. Maybe work in an equipment subtheme?
Debate keeping wrexial.
POTENTIAL ADD:
EQUIPMENT:
Ninjas sometimes have a subtheme of equipment. Just figured I'd recommend a few if you go this route.
You'll want to avoid wipes since you rely on creatures a lot yourself, beyond things like Cyclonic Rift. If you find wipes to be troublesome, try something like Living Death or a mass return-to-hand-from-grave spell.
A draw package is optional. Ponder Preordain Brainstorm are the big three everyone loves to run. I don't know if they really fit this list though.
Lands to consider:
---
Here is an odd idea which might be appealing. Steal their creatures, attack, and ninjutsu your own in, bouncing their creature and putting yours into play.
If you want to go this way, I can suggest some big ones: