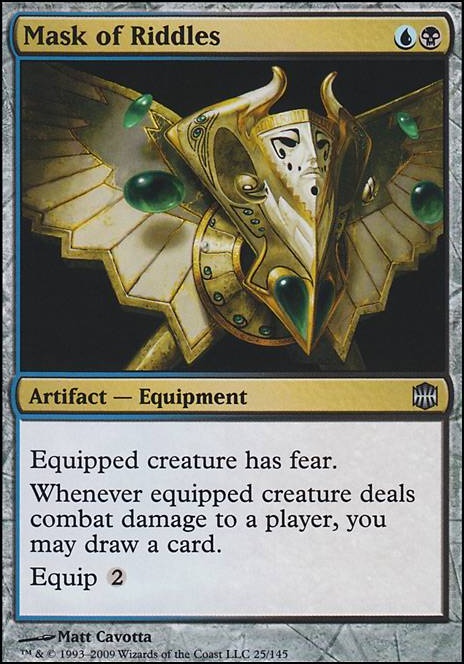 Legality
| | |
| --- | --- |
| Format | Legality |
| Pre-release | Legal |
| Noble | Legal |
| Leviathan | Legal |
| Magic Duels | Legal |
| Vintage | Legal |
| Modern | Legal |
| Penny Dreadful | Legal |
| Vanguard | Legal |
| Legacy | Legal |
| Archenemy | Legal |
| Planechase | Legal |
| Duel Commander | Legal |
| Unformat | Legal |
| Casual | Legal |
| Commander / EDH | Legal |
Mask of Riddles
Artifact — Equipment
Equipped creature has fear. (It can't be blocked except by artifact creatures and/or black creatures.)
Whenever equipped creature deals combat damage to a player, you may draw a card.
Equip 2
Mask of Riddles Discussion
9 months ago
Don't stop now. I believe in you!
9 months ago
CHANGELOG 29.05.17
Major overhaul to account for finalized archetypes.
CUTS:
GOLD:
WHITE:
BLUE:
BLACK:
RED:
GREEN:
None
ADDITIONS:
COLORLESS:
GOLD:
BLACK:
RED:
Note: With Welder and Daretti in the picture, I think its worth reconsidering whether we want Spine of Ish Sah. Its just pure value at that point (still slow to reduce opponents board presence, but you get your artifacts directly to the battlefield)
BLUE:
White:
A few thoughts:
If we want to include Eldrazi Displacer, then I think we have to keep the painlands, and should probably include some other colorless utility lands as well. I would be okay to lose some of the tap for any color lands as well as the artefact lands for this purpose. Its also possible that the Displacer is also just too good, in which case we can add the trilands over the painlands to give Simic Domain a bit more oomph.
Speaking of: Im not familiar with the enablers for Domain, so Im gonna be relying on you a bit to help flesh out the archetype. I look forward to your suggestions!
Anyways, let me know what you think about cuts/additions and I will make the changes. After that, we should probably just switch to cubetutor to get a better idea of where we are with each archetype.
/N
10 months ago
So due to being less than thrilled with my Bant Token deck, I was thinking about rejigging it to be a voltron deck since my commander; Ishai, Ojutai Dragonspeaker is pretty good at powering themselves up since I often play multiple opponents in my local magic group, and was considering of changing it to a new theme.
Cards I own
I For control and disruption I have plenty of control cards like Convolute, Counterspell, Simic Charm, Spell Rupture, etc... Disruption includes Divine Reckoning, Pacifism, Diminish, Paralyzing Grasp, Rapid Hybridization, Defang, Cage of Hands As well as stuff that trashes enchantments and Artifacts.
For powering up my commander my Artifact pool is less than ideal, had to work with what I got. They include Trailblazer's Boots, Fireshrieker, Skyblinder Staff, Ring of Evos Isle, Grafted Exoskeleton, and Livewire Lash.
Enchantments and effects for protecting my commander and/or giving them evasion include: Infiltrator's Magemark, Holy Mantle, Guildscorn Ward, Alpha Authority, Ghostform, Sheltering Word, Survive the Night, Haze of Pollen, Shielded Passage, Rogue's Passage etc...
Mana Ramp: Assume all of my mana rocks in the bant deck are going to be cannibalized.
Creatures: I don't have the good stuff to do a true one man voltron, but I can use walls like Angelic Wall, Fog Bank, Wall of Frost for protecting myself and the effects of creatures like Fan Bearer, Mistmeadow Witch, New Prahv Guildmage, to aid my commander so they can swing in for lethal damage.
Cards I'm Scouting to Buy
New commander to pair with Ishai: Reyhan, Last of the Abzan
The cards I'm looking to get for this build would be things like the WUBRG Wards and the dual color protection like Shield of Duty and Reason, and Spectra Ward. Mask of Avacyn, Swiftfoot Boots, Aqueous Form, Steel of the Godhead, Indestructibility, and Battle Mastery
Others: Ring of Thune (and the variants in the other colors),
Sword of Vengeance, Whispersilk Cloak, Inquisitor's Flail, Grappling Hook, Mask of Riddles, Sigil of Distinction,
Think this is something that I can/should pull off? Any Budget recommendations?
10 months ago
Change Log 01/05/17
Added colored artifacts for the Dimir artifact archetype. Thought it would be a good idea to include some Dimir/X artifacts as well for some added variance.
OVERALL THOUGHTS: I'm a bit worried that this archetype as it is now builds itself too easily. I would prefer to have more cross-pollination among archetypes and less "this card is only good in the artifact deck". There is a risk that having both goblins (which are basically junk cards if no one is in the archetype) and artifacts (many of which are only good in the Dimir archetype) dilute the cube too much, making the less archetype-driven decks worse off due to fewer playables. What do you think?
10 months ago
Nice Deck, here are some other cards to consider. In my opinion, you need to add some more complimentary cards to help Yidris out even more. He's so fun when he's broken.
Creatures: Courser of Kruphix, Kederekt Leviathan, Peregrine Drake, Torrent Elemental.
Artifacts: Fireshrieker, Mask of Riddles, Prowler's Helm, Trailblazer's Boots.
Enchantments: Bear Umbra, Mark of Fury, Nature's Will, Temur Ascendancy.
Spells: Snap, Rude Awakening, Tendrils of Agony, Artful Dodge.
Lands: Hanweir Battlements, Rogue's Passage
Check out my Yidris deck if you want Pouring like an Avalanche coming down the Mt
1 year ago
Some other cards that help take advantage of Yidris: Fireshrieker, Mask of Riddles, Prowler's Helm, Trailblazer's Boots, Strionic Resonator, Bear Umbra, Mark of Fury, Nature's Will, Temur Ascendancy, Turnabout, Fury of the Horde, Rude Awakening, Tendrils of Agony, Unexpected Results
Load more