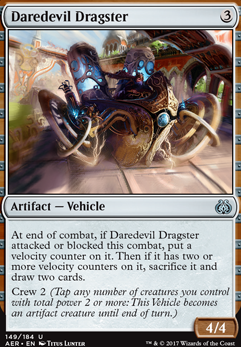 Legality
| | |
| --- | --- |
| Format | Legality |
| Standard | Legal |
| Modern | Legal |
| Frontier | Legal |
| Commander / EDH | Legal |
| Vintage | Legal |
| Legacy | Legal |
| Duel Commander | Legal |
| Tiny Leaders | Legal |
Daredevil Dragster
Artifact — Vehicle
At the end of combat, if Daredevil Dragster attacked or blocked this combat, put a velocity counter on it. Then if it has two or more velocity counters on it, sacrifice it and draw two cards.
Crew 2 (Tap any number of creatures you control with total power 2 or more: This Vehicle becomes an artifact creature until end of turn.)
Daredevil Dragster Discussion
4 weeks ago
Don't stop now. I believe in you!
2 months ago
Draw/Recursion:
Daredevil Dragster, Sun Titan, Phyrexian Arena
Ramp:
Darksteel Ingot, Commander's Sphere,
Answers:
Anguished Unmaking, Crackling Doom, Terminate, Utter End, Return to Dust
Win Cons.:
Lands:
Nomad Outpost Perfect Tri-color land.
Options:
Elspeth, Sun's Champion, Ankle Shanker, Mother of Runes To ensure you can get damage in and protect your key creatures.
Weldfast Engineer, Untethered Express
Potential Cuts:
Veteran Motorist I am not sure you get the value youre looking for.
Visara the Dreadful, Royal Assassin, Eradicate Seal of Doom You have plenty of single target removal. Look to add more board wipes.
Perilous Vault, Felhide Spiritbinder Too cute and not enough value from the mana sink as the token leaves.
6 months ago
Thanks! That's always helpful, to see what you saw while building the deck, and see if there's anything else you pinpointed as strong along the way. Admittedly, this pool isn't the greatest, but one thing I really like about prereleases is you can make some really amazing decks out of what seems like the most hopeless pile.
I agree with your Red for sure...Kari Zev, Skyship Raider, Quicksmith Rebel, and Sweatworks Brawler are all strong pulls pushing you into the color, and the removal in Shock, Chandra's Revolution, and Destructive Tampering only help.
I see the appeal in the Black for more removal and evasion (and honestly, I did the same in my prerelease pool, after all...), but I feel like with the card pool you have, a bit of menace and Unlicensed Disintegration is not really enough to pull me in.
I think I would have attempted Green. Between providing energy to power your Territorial Gorger, and a Riparian Tiger (which, honestly, is better than most of the rares you can get out of the prerelease packs), those make for an excellent high end that can't be accidentally stymied by an artifact-light deck (as my Fen Hauler often was). Aside from all the energy cards, Scrounging Bandar is surprisingly good. I don't know how much use you got out of your vehicles in practice, but I feel like the Daredevil Dragster is good enough to include as well, if for nothing other than eliminating a few chumps and drawing some cards, maybe in place of the Irontread Crusher, depending on how many 3-power creatures you ended up with. Natural Obsolescence is actually worth considering in this format, given how common artifacts are.
One thing to look at in upcoming prereleases is the potential for a 3-color deck/a color splash. That depends on if there are a.) multicolor lands (none in this set) and b) other fixing (in this set Prophetic Prism and Renegade Map) in your pool. But here, we didn't really have that opportunity.