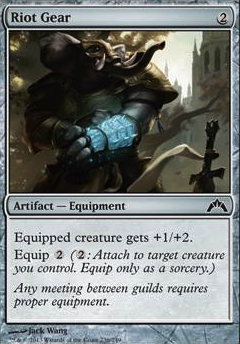 Riot Gear
Artifact — Equipment
Equipped creature gets +1/+2.Equip 2
Riot Gear Discussion
3 weeks ago
Any Eldrazi...
11 months ago
Is this suppose to be a standard deck? If so then the Parallel Lives isn't standard playable. Neither are the two dual lands you have in there. Have you looked into say an Accorder's Shield or Riot Gear , those would both make it a little tougher.
1 year ago
Firemind's Foresight is ok in certain EDH decks. If i'm running grixis control I can use it to tutor up 3 different counterspells; Dissolve , Counterspell , and Swan Song .
Totally Lost can be a great stall in draft actually. Not as a 4-of, but 1-2 in a control deck is actually not bad. Hey nice Assemble the Legion , have fun drawing it next turn and setting it up again.
Maze Rusher is pretty awful.
Riot Gear . Razortip Whip , flame caster wheel are all contenders.
Akroan Horse is pretty terrible too, but Search the City probably beats it.
In fact, my vote goes to search the city. There's a lot of bad cards out, but i think a lot of them get the pass that they're ok for draft, or edh, or have some type of application.
Search the City however, Is just so, sooooo bad.
1 year ago
Yes, oh my goodness, this happens all the time. In fact just yesterday, I was finishing off my Pauper Caw Blade deck, and It seriously took me 2 hours to find a single copy of Riot Gear ...
Also Cloudfin Raptor when I was making mono blue a few weeks ago. I guess I didn't actually open up as much Gatecrash as I had thought.
1 year ago
In the current standard environment, you're really crippling yourself by almost exclusively drawing from Theros. I'd really consider cards from Ravnica and m14. That's what you're going to need to round this deck out. You've also got a lot of two-of's and one-of's which are going to make you're draws pretty inconsistent.
I highly suggest evaluating exactly what you want the deck to do and cutting cards that aren't serving that purpose---or cards that aren't that great in standard. Riot Gear , I'm looking at you.
Legality
| | |
| --- | --- |
| Format | Legality |
| Legacy | Legal |
| Vintage | Legal |
| Commander / EDH | Legal |
| Modern | Legal |
| Duel Commander | Legal |