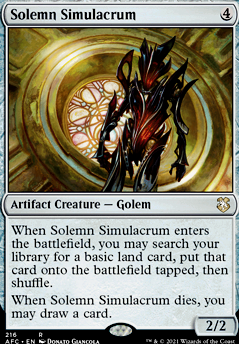 Solemn Simulacrum
Artifact Creature — Golem
When this enters the battlefield, you may search your library for a basic land card and put that card onto the battlefield tapped, then shuffle your library.
When this dies (is put into the graveyard from the battlefield), you may draw a card.
Browse Alters
Trade
Have (7)

G

r

a

n

d

e

K

h

a

n

, CatLord9001 , gildan_bladeborn , danaran117 , Sceptre ,

j

e

c

d

e

r

, CompleteWaste
Want (14)
latham06 , jw560211_magic , Azvac , Apathy-Dance , Mlord , TrevStar7 , Cool_Cat , swatb0t , dypwc2 , ExMastermind , Gorenzel , amhamh24 , Stryder114 , branthanson311
Legality
Solemn Simulacrum Discussion
1 hour ago
Hey! Kinda late, but I would like to suggest some stuff:
(Disclaimer: I have a budget way lower than yours, but I've been tinkering with Ghired for almost two years - he's my favorite commander. I'll break the suggested upgrades down into categories for better organization.)
Haste enablers:
Ramp: Run at least 15 ramp cards to make your deck flow smoother and faster.
As an aggressive deck, speed is fundamental. Fellwar Stone, Nature's Lore, Three Visits, Skyshroud Elf, Bloom Tender, Faeburrow Elder, Chromatic Lantern, Coalition Relic, Wood Elves, Skyshroud Claim and Mirari's Wake can ramp and heavily fix your mana, taking the place of Gyre Sage, Solemn Simulacrum, Rampant Growth, Sakura-Tribe Elder and Xenagos, the Reveler - the latter is a win-more ramp, and his 2/2 token is not large enough to synergize with the power-based card draw, while the other four fix for a single color of mana (Ghired decks can sometimes be color-hungry), and this deck can't abuse the sad robot for value.

In the land department, Krosan Verge and Blighted Woodland pull their weight, and synergize greatly with Avenger of Zendikar and Rampaging Baloths. Maybe remove Cascading Cataracts? (Your spells are not THAT color hungry.)
Direct damage:
Extra combats: You don't have to worry about your opponents' answers if they never get to their turn, so...
Boardwipes:
Card draw: Alongside ramp, it is my main concern with Ghired. I want to be able to rebuild my board after a boardwipe.
Some cards I suggest you to remove:
Some cool lands for you to try out: (landbase is my favorite part of deckbuilding)
I hope I've been of some help to you. I didn't suggest many token-related cards because I believe that, as long as you have decent ramp, draw and removal in your deck, you can win to your heart's content. Wanna throw in a Godsire? Do it. Prefer to clone your opponents' creatures with Hate Mirage? Go ahead. But the fundamentals of the deck is what makes it flow consistently. Have fun and smash 'em all (and run Doubling Season for extra fun) ;-)
2 weeks ago
multimedia Your Krothuss deck is super interesting and a totally different direction then mine and I loved to look at it, worthy of the upvote :)
All of your suggestions are great! I will definitely slot those cards in and try them out for a few games, Solemn Simulacrum is going to be a great addition along with Swiftfoot Boots. I'm super excited to see what creature suggestions you bring to the table!
2 weeks ago
Hey, you're welcome and thanks for the upvote at my Krothuss deck :)
I'm also having a lot of fun with Krothuss, it's currently my go to casual deck. My version is very different and my intentions with these upgrade suggestions is not to make your version into mine, but to mention some cards that have been playing well for me while also on a budget. Just about all these suggestions are cards in the maybeboard and I'll suggest what cards could potentially be cut for them.
Sol Ring is a staple powerful card for ramp and it could do more than Expedition Map for about the same price. Map doesn't really have a specific land that you want to search for. Solemn Simulacrum is basic land ramp that has interaction with Krothuss because it's a creature that ramps on ETB. Another nice thing about Solemn is when it dies you draw a card meaning that when attacking/copying Solemn they might die in combat which is fine since then you draw card(s).
Swiftfoot Boots has helpful effects not just for Krothuss, but also to give any creature you control haste for one mana so that it can attack the same turn it ETB to be copied by Krothuss. Reanimation is powerful, but if the reanimated creature doesn't have haste then you have to wait an entire cycle of opponent's turns before you can attack with reanimated creature + Krothuss which is slower.
If interested I'll continue in another comment with some sea monster upgrades to consider.
3 weeks ago
Cheap permenants that you can lay down with Vaevectis or other similar cards that then also give you mana: Wood Elves, Farhaven Elf, and Solemn Simulacrum and Yavimaya Elder also lets you draw so you can sac him with Asmadi for a profit. For similar "when permanent enters the battlefield" effect maybe Reclamation Sage and Acidic Slime.
Consider creating tokens to sac with Asmadi as well: Dragonlair Spider and Grave Titan
Asmadi is always a huge threat so you'll have to keep him safe with cards like Sylvan Safekeeper Swiftfoot Boots and Whispersilk Cloak.
Chaos Warp is a staple of jund and you could use it if someone tries to get rid of Asmadi. Deathsprout and Decimate are really good jund removal cards as well. Primal Surge is a lot of mana but a good alternative win condition.
Also assuming that Asmaldi gets to stay on the field then here are some good cards that let you make sure whatever you get with him is good: Augur of Autumn, Haunted Crossroads, Hua Tuo, Honored Physician, Varragoth, Bloodsky Sire, Brutalizer Exarch, Courser of Kruphix, Vizier of the Menagerie, Crystal Ball, and Call of the Wild. On the other hand, here are some cards to make sure whatever your opponents get from Asmaldi isn't good: Painful Memories, Agonizing Memories.
Then here are some big creatures you could get for free with Asmaldi: Woodfall Primus, Borborygmos Enraged, Kodama of the East Tree, and Artisan of Kozilek. Lurking Predators is also useful for this feature as well as setting up what's on top of your deck.
Mortuary Mire is probably a good addition to the deck as well.
Load more