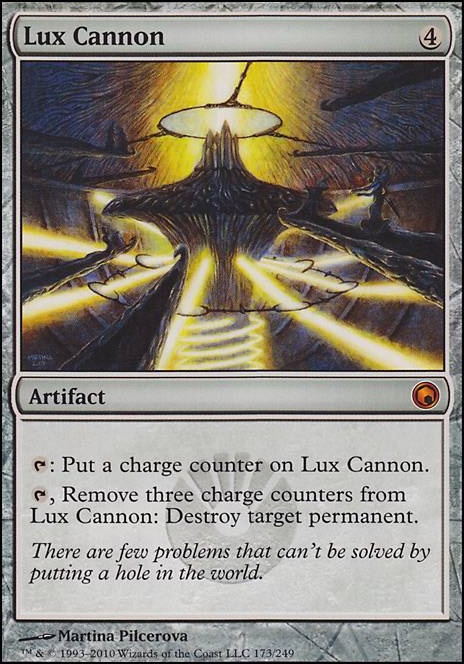 Legality
| | |
| --- | --- |
| Format | Legality |
| Vintage | Legal |
| Duel Commander | Legal |
| Commander / EDH | Legal |
| Legacy | Legal |
| Modern | Legal |
| Tiny Leaders | Legal |
Related Questions
Lux Cannon
Artifact
: Put a charge counter on Lux Cannon.
, Remove three charge counters from Lux Cannon: Destroy target permanent.
Lux Cannon Discussion
1 day ago
Don't stop now. I believe in you!
4 days ago
I'd cut the Winding Constrictor. You're not running energy or experience counters. The only artifact with counters is your Lux Cannon. The Constrictor allows your opponents to kill you faster with their poison. Corpsejack Menace is a safer and better (doubling, not just adding another +1/+1 counter) choice.
If you're adding Spike Feeder, you should add an Unspeakable Symbol. Take a close look at what is does with a Hardened Scales type effect.
6 days ago
Some cards to look at: Mycosynth Golem, Spine of Ish Sah, Copper Gnomes, Lux Cannon, Trinket Mage, Treasure Mage, Trophy Mage, Training Grounds, Brainstorm, Scroll Rack, Long-Term Plans, Kuldotha Forgemaster, Lightning Greaves, Frogmite (it's a lol card), Rings of Brighthearth (with maybe Basalt Monolith if you want the whole combo), Illusionist's Bracers, Aphetto Alchemist, Clock of Omens, Voltaic Key, Scarecrone, Padeem, Consul of Innovation, Show and Tell, Metalworker, Lightning Greaves, Ancient Tomb, Chrome Mox, Memnarch (Memenarch), March of the Machines, Colossus of Akros, Thran Dynamo, Duplicant, Mindslaver and Academy Ruins, Batterskull, Phyrexian Metamorph, Darksteel Juggernaut, Metalwork Colossus, Null Rod (if you're feeling cheeky), Omen Machine, Platinum Emperion, Platinum Emperion, Wurmcoil Engine. If you want a couple more combos, Muzzio isn't the best at combo-omg, but lemme know an I'll list a few more. Hope this helped!
1 week ago
I am planning to build an EDH deck with Atraxa, Praetors' Voice as the general, and I know that she is an immensely popular EDH general, but I still wish to make a deck with her, because angels are one of my favorite creature types in this game and Phyrexia is one of my favorite factions in this game.
The idea that I have for my deck will, naturally, be to use Atraxas ability to place additional counters on my permanents: specifically, +1/+1 counters on my creatures and loyalty counters on my planeswalkers.
First, for other proliferation cards beyond Atraxa, I am planning to use Contagion Clasp, Contagion Engine , Fuel for the Cause , Inexorable Tide, Spread the Sickness , Steady Progress , Thrummingbird , and Viral Drake; I will not use Volt Charge, because my deck will not support the color red, Core Prowler , because it simply is too weak, and neither Plaguemaw Beast nor Throne of Geth , because my deck will not be generating large quantities to tokens to sacrifice to the abilities of those permanents. I am currently uncertain about Grim Affliction and Tezzeret's Gambit, so I shall await feedback from other users here regarding those cards.
Second, I will need a method for placing +1/+1 counters on my creatures initially, before I can multiply them, so I am planning to use the following cards to achieve that goal: Archangel of Thune, Ghave, Guru of Spores , Daghatar the Adamant , Kalonian Hydra, Forgotten Ancient, and Echoes of the Kin Tree . If anyone has any suggestions for further cards, I will greatly appreciate them.
Third, for planeswalkers, I will be seeking to use planesawalkers with powerful ultimate abilities, preferably those that grant emblems, and some of the planeswalkers whom I am considering are Tamiyo, Field Researcher , Ajani Steadfast, Ajani Unyielding, Narset Transcendent , Elspeth, Knight-Errant, Elspeth Tirel, and at least one version of Sorin. It is not a high priority, but I would like to ensure that all colors are represented equally, or nearly equally, among planeswalkers in my deck.
Fourth, I have a number of wild cards, cards that do not contribute to the overall theme of the deck but are still very nice to use. Thus far, every EDH deck of mine has both a Gilded Lotus and a Thran Dynamo, but, with a deck that uses the proliferate mechanic, perhaps I could use Astral Cornucopia and Everflowing Chalice in their places, since I will be able to increase the number of counters on them. I believe that every green EDH should contain a Seedborn Muse, so mine shall, as well, especially because she will work well with contagion clasp and contagion engine. I have a Mirari's Wake and Privileged Position in each of my green/white EDH decks and a True Conviction in every white deck, so this one shall, as well. Would Lux Cannon work in this deck? I am considering it, but wish for feedback before I actually purchase it. Also, a deck such as this should definitely have Doubling Season, but that card is currently very expensive, so I shall need to wait either for it to be reprinted or for me to have a great amount of surplus money to spend.
What does everyone else say about this? What ideas can you offer me for an EDH deck centered around Atraxa?
2 weeks ago
Overall you're onto something great here. Mindslaver is a decent card but I've personally found it to not be of much use. It may be better in your group than mine, though.
If you're interested in running more removal you could try Lux Cannon. It isn't the fastest thing in the world but it's a decent ticking time bomb threat.
+1 from me!
2 weeks ago
"I want to drag the game out forever. I want to be able to win whenever I want, but choose not to. I want to say "No" to everything."
If this is what you want, then perhaps you'll like my deck deck:And I'll Pay a Red | Only 5 Red Spells! PRIMER. Take a look at the "Current Best Game" section, cause that's basically what I do with it.
Essentially once you combo out, you search every artifact that could be useful in manipulating the boardstate -- from Lux Cannon to Contagion Engine to Decimator Web -- along with Darksteel Reactor, and literally just sit there and stop them from doing anything, draw-go-ing each of your turns slowly ticking up the Reactor. For added fun, sacrifice the Reactor on turn 19 so the game has no end.
1 month ago
You probably know the deck better than I do, but even with the proliferate boost Lux Cannon seems too slow to be effective. Also, without any more infect cards to help it out Skithiryx, the Blight Dragon feels out of place. Those would be my two cuts.
Load more