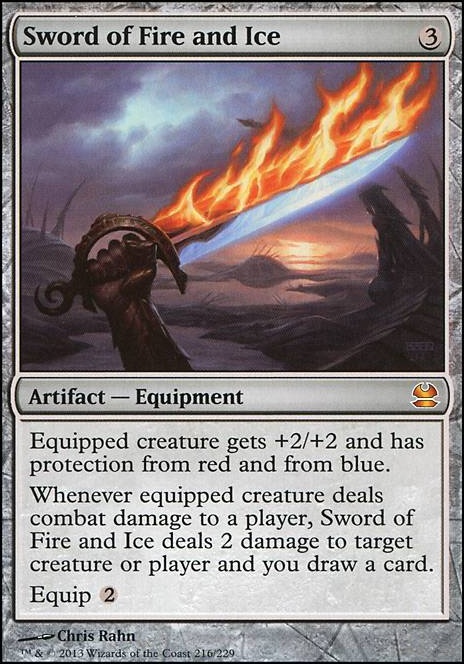 Legality
| | |
| --- | --- |
| Format | Legality |
| Noble | Legal |
| Leviathan | Legal |
| Magic Duels | Legal |
| Canadian Highlander | Legal |
| Vintage | Legal |
| Modern | Legal |
| Vanguard | Legal |
| Legacy | Legal |
| Archenemy | Legal |
| Planechase | Legal |
| Duel Commander | Legal |
| Unformat | Legal |
| Casual | Legal |
| Commander / EDH | Legal |
Sword of Fire and Ice
Artifact — Equipment
Equipped creature gets +2/+2 and has protection from red and from blue.
Whenever equipped creature deals combat damage to a player, Sword of Fire and Ice deals 2 damage to target creature or player and you draw a card.
Equip
Have (15)

m

i

r

a

c

l

e

H

a

t

, Dsmonsta ,

T

y

q

a

r

, warcry02 , Zomgasa ,

N

e

m

e

s

i

s

,

T

h

e

D

u

g

g

e

r

n

a

u

g

h

t

, bigc137 ,

M

c

S

l

e

u

t

h

b

u

r

g

e

r

,

V

a

s

b

e

a

r

1

,

T

h

e

R

e

a

l

P

e

a

c

h

e

s

,

J

a

u

n

t

u

,

D

r

e

d

g

a

r

, MagnaAura , Justinaut
Want (18)

F

u

l

l

m

e

t

a

l

m

a

g

e

, ryuzaki32667 , Fairseas , TAI434 ,

v

a

s

h

a

c

l

a

r

e

n

s

, Xikitten123 , bradyofportdetroit ,

R

o

a

d

h

o

g

, Galdelonian ,

S

e

r

g

a

l

, davir ,

K

e

v

i

n

L

S

,

T

h

e

D

u

g

g

e

r

n

a

u

g

h

t

,

R

i

d

e

r

s

_

o

f

_

B

r

o

h

a

n

, sneferie ,

V

a

s

b

e

a

r

1

,

b

r

o

k

e

n

d

w

a

r

f

,

M

i

n

d

A

b

l

a

z

e
Sword of Fire and Ice Discussion
15 hours ago
Changing it into a more controlling deck, keeping some of the main combo pieces but getting rid of some of them.
2 days ago
I am primarily looking for:
If you do not have these objects, feel free to look at my binder and make me an offer :) I especially love offers that involve masterpieces
1 week ago
Nice! I play pretty casually and play almost exclusively Boros colors, so here's my take:
1) 3.5. Skullclamp is really good in just about any token, sac or equipment deck.
2) 4. The only thing holding this back is the price.
3) 3. Not bad. The fact that you have to pay every time is annoying. Not quite as good as number 1.
4) 2.5. Not a huge fan. This basically eats up half your mana base and makes you the target of Strip Mines.
5) 2.5. Mask of Memory is pretty decent. Middle of the road.
6) 3. Solid. I like it.
7) 3. Good plan, Lifegain to mitigate paying life. Best with Necropotence.
8) 2. Still helps opponents, and normally discard outlets are useless without the deck being built around them.
9) 2. Tower of Fortunes is not really good if you don't have insane ramp. Better options out there.
10) 3.5. Nice!
11) 1. Just play Phyrexian Arena. Use Strionic Resonator for bigger trigger effects.
12) 2. Well of Lost Dreams is actually pretty good, but there are better lifegain effects than Peace of Mind. I like Inventors' Fair.
13) 2.5. You have to be pretty desperate to use this but it seems like it'd be okay sometimes.
14) 3.5. Tribal is always powerful.
15) 2.5. It's okay, kinda easy to interupt.
16) 3.5. I love Infiltration Lens!
17) 1. Little too janky and helps opponents.
18) 4. Because Slate of Ancestry is so good.
19) 1. I feel like there are better ways to repeat wheels. This one costs too much.
20) 5. My all time personal favorite. Humble Defector is good alone and my top two-drop in all my Boros/red decks.
So again, from a strictly Boros perspective, those are my thoughts. I'm sure you can see the biases and the ones I've actually tested haha!
Others to consider:
Hope some of this helps. This will be a good resource!
1 week ago
Hey TzickyT no worries, the community is here to help each other out!
Remember the Fallen would be great if you're building a Hunting Grounds / The Mending of Dominaria / Satyr Wayfinder / Mulch / Crucible of Worlds type deck (and others). At CMC3 it's pretty good, it returns a creature and an artifact, so it turns 1 card into 2 cards, just need a way to get the cards in the graveyard. Eternal Witness would be awesome in this build too. CMC3 is a bit slow for my strategy, and because it returns to the hand, and it's a sorcery, I wouldn't run it. If it was Instant, probably. Or if it was CMC2. If it slows me down a turn, it's not good for this build, have to fast infect and punch through (in this particular build).
It's funny I don't run any board-wipe in my build, this one is good because most cats can dodge it (before eminence). For CMC3 its very good. It's going to miss a bunch of creatures you really want to get rid of though, that something like Wrath of God will, could be a dead draw against certain commanders (tokens notably). It depends on your build, I don't see a Arahbo, Roar of the World in your public decks, but in my build, I use evasion (Sword of Feast and Famine, Sword of Fire and Ice, Trample, Doublestrike) to overcome blockers, I don't need to clear the board. I thought about Divine Reckoning as well, but I really dislike situational cards that may miss the real target. I'd probably also want protection, like Faith's Reward and abuse that infinitely, or Make a Stand / Rootborn Defenses / Teferi's Protection that type of effect to go along with it. I'm even contemplating taking out more protection / control to get more tutor, like Eldritch Evolution into the deck.
Blackblade Reforged with it's Equip 7 is too much. In my build, I'm not equipping Legendary creatures, Lost Leonin, Skyhunter Skirmisher, Adorned Pouncer etc. And rarely cast Arahbo, Roar of the World. There are some cool Legendary cats to equip, like Mirri, Weatherlight Duelist but I don't have enough Legendary to make it viable. It really needs Sigarda's Aid / Hammer of Nazahn / Puresteel Paladin / Balan, Wandering Knight / Stonehewer Giant / Stoneforge Mystic / Balan, Wandering Knight along with land enablers Cultivate / Kodama's Reach / Oreskos Explorer / Sword of the Animist / Nissa's Pilgrimage / Burnished Hart / Traverse the Outlands / Crucible of Worlds / Etc. A slight modification to this build could make it very effective. Because it doesn't have Trample, Haste, Lifelink, Draw, or Infect built in, it's not a priority. I'd still much rather have a Grafted Exoskeleton or a Steelshaper's Gift (or the likes) to Tutor my Grafted Exoskeleton, than draw a Blackblade Reforged. You'll also notice i've removed duplicate effects like I have Loxodon Warhammer but no Behemoth Sledge because they do the same things. I'd just rather tutor the better one Loxodon Warhammer in this case, than have 2 cards that do the same thing. Just my way of playing, I like consistency over force. I could see this with some nice Legendary creatures and enablers working out very well though, especially with Doublestrike/Trample mechanics. Imagine casting Berserk on a cat wielding this sword!! I do like this type of mechanic, and with you can overload the heck out of it, Lashwrithe is one of my favorites, nice too cause it's a living weapon. Would also be good on a Commander that does Commander damage as a strategy (Arahbo, Roar of the World doesn't do Commander damage)
All these are viable if properly supported in the deck. Like you wouldn't play a Prowling Serpopard in a Retribution of the Meek build, and Kemba, Kha Regent would be in a Blackblade Reforged build, as examples.
They all are too much protection, or potentially too slow / high CMC for me. I'm still testing whenever I can, deck is still not functionally perfect yet, but I do consistently pull my Lost Leonin + Eminence + Doublestrike enabler though, which is the goal! Much of the reason I don't play Lightning Greaves because I need to abuse the Eminence trigger.
1 week ago
Like above, Golgari as counters is a really bad strategy. It plays a much stronger midrange game. Stuff like Tarmogoyf, Dark Confidant, and Liliana of the Veil.
Anyway some good SB options: Back to Nature, Creeping Corrosion, Maelstrom Pulse, Damnation, Leyline of the Void, Fulminator Mage, Choke, Spellskite, Golgari Charm, & Sword of Fire and Ice
2 weeks ago
Honestly, I'm running 2-3 planeswalkers, Chandra, Bold Pyromancer, the Chandra, Torch of Defiance, and Jaya Ballard, if only because they're extra mana and burn. I might cut them, and other stuff out later. Also I'm running Darksteel Plate to give protection from the burn spells, and may even throw in Sword of Fire and Ice as it gives protection from red, and all of the red board wipes are damage based, thus working even when they are non-targeting.
Also, for creatures, Rhox Faithmender, Satyr Firedancer, Grand Abolisher, Angrath's Marauders, Dualcaster Mage, Felidar Sovereign and Boros Reckoner synergize well with your spells/makes sure they go off. plus the red colored, blue targeting coutnerspells are great for when someone tries to screw over a massive X spell/casting FS/SS.
3 weeks ago
Okay, cuts.
I would cut On Serra's Wings. As fun a card as it is, I'm not sure a four mana aura that doesn't recur itself somehow is going to be worth it in this deck.
Teshar, Ancestor's Apostle Only hits fifteen cards in your deck. Still probably good enough. I'd say you NEED to add a Mother of Runes to this deck though.
As much as I love Conqueror's Galleon Flip, it is isn't a great card. It's probably among the worst 9 in the deck if you are looking for 9 cuts.
I've never been a big fan of Sword of Vengeance. That and Forebear's Blade could be easy cust to get the other actual swords into the deck if desired.
Skysovereign, Consul Flagship is a sweet vehicle but it costs 5 and is probably not good enoug here.
Grappling Hook and Inquisitor's Flail are equipment that always seem sweet in theory but haven't quite put the work in for me, and I've often ended up cutting them.
I think Ghostfire Blade is the worst of your 1-mana equipment and could be cut.
I always try to put Masterwork of Ingenuity into my decks and it always ends up getting cut. Maybe you will have more luck, but its such an easy thing to cut when looking for things to cut because it doesn't do anything on its own. It's probably better here than in most decks though, with the 1 mana draw a card attached.
I'd cut Key to the City since it doesn't draw you cards. If you want more ways to make Sram unblockable there are more equipments/auras that can do that (and Mother of Runes would help).
No Argentum Armor? I know it is very expensive for this deck's curve, but I still think it may be worth it. It's a very powerful equipment and you are a tad light on removal anyway.
I could go either way on the creatures that just get boosted for being equipped like Kor Duelist, Auriok Edgewright, etc. If your plan is to do Voltron with Sram, they really don't help you toward that goal in any way and could be easily cut. But they are not a bad back-up plan if you don't want to go all in on Sram voltron. Hmm. Similarly, is Mirran Crusader doing anything special here, or is he just a fun dude to equip?
Am I missing why you would run Second Sunrise over Faith's Reward? The prior helping out all your opponents seems like a bit much.
Auriok Steelshaper doesn't do as much as he sounds like he might and I have cut him before. Sram isn't even a Soldier/Knight to boot. Same with Stone Haven Outfitter; remember that if you are doing Voltron and equipping Sram and he dies and you put him in the command zone, he didn't die so you won't draw a card.
So all that said, I would suggest the following:
IN: Argentum Armor, Mother of Runes, Sword of Fire and Ice, Sword of Light and Shadow, Faith's Reward
OUT: Second Sunrise, Forebear's Blade, Sword of Vengeance, Key to the City, Skysovereign, Consul Flagship, Masterwork of Ingenuity, Ghostfire Blade, Grappling Hook, Inquisitor's Flail, Conqueror's Galleon Flip, On Serra's Wings, Auriok Steelshaper, Stone Haven Outfitter, Mirran Crusader
That should bring tyou from 109 -> 114 -> 100, if I did my math right. Oh, and you definately want Field of Ruin/Tectonic Edge/Ghost Quarter/Strip Mine with this kind of deck! Otherwise Maze of Iths just ruin your whole day. And Rogue's Passage.
Good luck!
Load more