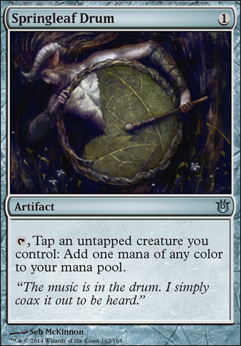 Legality
| | |
| --- | --- |
| Format | Legality |
| Vintage | Legal |
| Duel Commander | Legal |
| Commander / EDH | Legal |
| Legacy | Legal |
| Modern | Legal |
| Tiny Leaders | Legal |
| Pauper | Legal |
Springleaf Drum
Artifact
T, Tap an untapped creature you control: Add one mana of any color to your mana pool.
Have (12)

K

i

l

l

D

a

t

B

U

G

,

M

o

J

o

M

i

X

u

P

,

s

a

j

0

2

1

9

, DudeMan1031 , cryptoplasm , philktoken8998 ,

R

e

g

u

l

u

s

1

0

1

0

, golgarigirl ,

S

p

i

n

a

l

r

i

p

p

e

r

, Psycheretic , bakeraj4 , buildingadeck
Want (1)

S

p

i

n

a

l

r

i

p

p

e

r
Springleaf Drum Discussion
2 days ago
Don't stop now. I believe in you!
1 week ago
Hey man, sorry, I kinda stopped playing for a while.
I hope you like some of my ideas :).
Also, please feel free to ask me anything you want to know or tell me your own ideas :D
3 weeks ago
Sorry, it seems Ashnod's Altar is not modern legal! I'm fairly new to mtg ;9
The amount of lands you have seem pretty low. Although keeping the number of lands low will help consistency, spending money on fetches, moxen, shocks, and etc. are a pain in the budget. Atleast painlands are less of a pain to pay for. You might like Battlefield Forge and Sulfurous Springs.
One Inventor's Fair should be enough because the second would be a dead draw.
I'd use Darksteel Citadel because it can be tapped, sac'ed, and recurred with Pia's Revolution. And if a land wasn't played that turn, play it and repeat. Also, it helps to use Spire's mana ability.
Renegade Map can be swapped with Springleaf Drum, as the drum can tap a foundry inspector or disciple and produce any mana. As a possiblity, it can be sac'ed, recurred, played again with the mana, and tap another creature.
Blood Artist is awesome for when any creature dies. Shrapnel Blast your opponent's creature, they lose 2 life and you gain 2. May be worth considering a swap with Impact Tremors.
Mentioned before but I wanna push it, Viscera Seer or Bloodthrone Vampire along side with Atog/Intruder will have artifact and creature sacrifice outlets covered.
3 weeks ago
I don't think that at the moment you have enough 0 cost artifacts to really roll the deck strategy. Paradise Mantle is almost essential for a cheerios style deck. Hurkyl's Recall (or another artifact return spell) and Grapeshot are pretty awesome when combined for a combo if you have enough free to play spells. Say you have 10 artifacts in play that cost 0 and Sram, Senior Edificer is already in play. You play Hurkyl's Recall (returning all of the artifacts to your hand), then play them all again with Grapeshot right after. That is 11 damage. To maximize that combo you need cheap draw spells on top of Sram to load the board with your artifacts. Puresteel Paladin would also help, but I understand it is two white mana devotion. Maybe the Paradise Mantle or Springleaf Drum could help you add him in too. Good luck.
Obviously Mox Opal would be amazing, if you have the 200 bucks to get a playset.
Load more