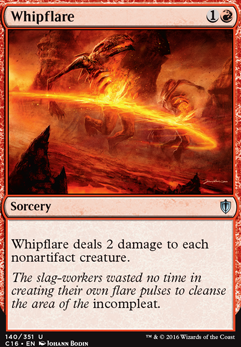 Legality
| | |
| --- | --- |
| Format | Legality |
| Pre-release | Legal |
| Noble | Legal |
| Leviathan | Legal |
| Magic Duels | Legal |
| Vintage | Legal |
| Modern | Legal |
| Vanguard | Legal |
| Legacy | Legal |
| Archenemy | Legal |
| Planechase | Legal |
| 1v1 Commander | Legal |
| Duel Commander | Legal |
| Unformat | Legal |
| Casual | Legal |
| Commander / EDH | Legal |
Whipflare
Sorcery
Whipflare deals 2 damage to each nonartifact creature.
Whipflare Discussion
1 month ago
Don't stop now. I believe in you!
1 month ago
I like Staff of Domination because it does...well, everything. The option is always lingering over your opponent's head that you'll go infinite once Elvish Archdruid resolves. The important things are:
It can work on its own. If your opponent hits you with something like Whipflare, you can still tap down their Arcbound Ravager, gain life, and draw cards to get back in the game.
You can control combat. When you have a couple of lords on the table, being able to attack with a 4/4 Elvish Mystic, then untap it so it can block, can be crucial to racing other aggro decks.
Also, I'm going to shamelessly plug my own Elf deck:
---

Modern sylvannos
SCORE: 8 | 5 COMMENTS | 1737 VIEWS | IN 1 FOLDER
---
I'm more partial to full-combo with Nettle Sentinel and Heritage Druid. I've found Lead the Stampede and Summoner's Pact beats Collected Company and Chord of Calling unless you're playing Shaman of the Pack and lots of lords. With Collected Company, I found it underwhelming when I spend 4 mana to flip two 1/1 mana dorks into play.
The main difficulty you'll find playing Elves is how vulnerable you are to Lightning Bolt and red in general. Naya Burn and R/G Tron are by far the worst matchups. You absolutely shit all over everything else when you can empty your hand on by turn 3, restock with Lead the Stampede/Beck / Call, and then still kill them with Craterhoof Behemoth regardless of anything else.
1 month ago
Hi, why don't you play Pyroclasm or Slagstorm over Whipflare? You can hit Affinity with them, without really making any difference on your side of the board.
1 month ago
IggmondVanre Really good suggestions. Thank you very much. Yes its a fantastic deck for fun. Im trying do it competitive too. If it will work, should be a bomb. Turn 1; If you are lucky you can put down completly your hand, draw 1-2 cards and attach equipments for free. gg
Yes, Cranial Plating its the best. The common affinity have the most important keys for improve this deck. Fatal Push its good proposal for removal. What do you think about Whipflare?A versatile deck it's important (use counters, removals...). But its difficult to conserve all the basic "strategic" cards.
For use third color i think deck needs 3 or more color mana like Glimmervoid or City of Brass combined with Mox Opal and cast 1-2 mana costs.
Im thinking about autodiscard strategy, place the biggest artifact reatures from graveyard with any card like Unburial Rites.
Thank you for comments and ideas.
1 month ago
I'm not the most experienced Affinity player, but traditional wisdom is that playing Wear / Tear to beat Stony Silence is shitty.
I think your artifact hate of choice should be Ancient Grudge over Hurkyl's. It's also good in matchups where they have a smaller number of artifacts that are high impact, and is in general more versatile.
Affinity sideboards I've played in the past generally have at least one (usually two) Stubborn Denial/Spell Pierce, at least one Thoughtseize, at least one Whipflare (maybe less good now), and at least one (most likely 2) Ghirapur AEther Grid. Aether Grid in particular is awesome, play it. Other cards worth thinking about are Sea Gate Wreckage and some kind of Storm hate card, likely Eidolon of Rhetoric.
Also, I hope you are playing all four Etched Champion in the main. If not, the rest should be in your board.
1 month ago
Hey everyone, recently I've been working on a Affinity deck and have put the full 75 together; however, recently I've been pondering the sodeboard strategy in Affinity. So, put together a short primer focusing just on a Affinity sideboard.
An affinity deck wins games on its own and really, there aren't very many cards that shut the deck down. There's Stony Silence and kataki, war's mage, recently Harsh Mentor, but the latter doesn't seem to pop up too much yet. On top of that, affinity packs galavanic blast main board to deal with the creatures. I'm sure I'm missing one or two others, but other than the said, removal is really the only other threat (perhaps the biggest of all). The point of the removal in turn becomes to slow Affinity down to the point where the other deck can go off. With that thinking, that they're simply trying to slow you down mosty, why not create a sodeboard that really just stops their deck to the point where removal won't help? The problem with that theory seems to be that it's hard to hit that much of the meta with three cards. I've noticed that most, if not all, affinity decks run a very generalized reactive sideboard for this reason. Cards such as counters, removal, board wipe, and discard, enchantment and artifact removal. All of which don't shut down one deck, but improvise and buy time against any deck instead of completely shutting down one. Even worse, the sideboards typically run so few of each to combat so much meta, that there's really no consistency with drawing what you sideboard. The later is probably due to just how well the deck runs. Could this not be improved though? Surely affinity can gain consistency and completely shut down major threats within the meta, without sacrificing to much of the flexibility of the sideboard. So, here are my thoughts on some cards that I think should be staples in every sideboard and the number to which they should be played. Let me know what you all think.
Slots 1&2: Spellskite seems to be to slow for Affinity at first, but when you're thinking about what you would put spellskite up against, it's not that bad. The most obvious is bogles. It steals the auras which actually makes it the pretty fast. Other than that it stops infect by stealing their pumps, stops burn by eating two spells which is crucial against burn who empties their hand fast, and eats any removal to protect the goods. It also pumps Cranial Plating and arcbound ravanger. It's not the most important card as it only shuts down two or three decks and bogles and infect are fringe at this point, and for this reason it's a 2 of for alright consistency since without it you might not face those matchups anyways.
Slots 3-5: Blood Moon is a 3 of because of how much of the meta it can shut down at this point. With the inclusion of fetches and shocks in recent years, many decks are only running maybe two or three basics at this point. And the biggest, or one of the biggest problems for Affinity? Jund. It can completely stop jund when on the play. And jund is packed with a ton of ant affinty cards. It also shuts down tron, death's shadow, collected company, storm on the draw, valakut, infect, and a lot of control. It can win games and there's a reason there's a deck built around it. At three of, th chances of drawing are near the best. Four could just give a dead draw.
Slots 6&7: Chalice of the Void also shuts down a lot of the top meta right now. Casting on turn two can land a chalice for 1 and will completely shut down burn, deaths shadow, and storm. While it takes othe the effectiveness of Signal Pest, it's probably getting sided out anyways with how easy both decks can kill it. Outside of that, it stops a ton of removal and counters at that point against Affinity. Ceremonious Rejection? Spell Snare? You know the rest. Again, I know I'm missing a lot of what the card hits. It also pumps the artifact synergy within the deck. Against all these decks Affinity does do well against, so the card is a two of as it will probably win the game against a lot of decks, but you could win without it.
Slot 8: Engineered Explosives may not appear that great, and it's number of slots reflect that; however, it can cripple a deck such as shadow who went all in on the shadow, auras, collected company, tokens, and merfolk. Again, sure I'm missing more. This is more of a good against a general population that can cripple a deck and pumps for artifact synergy. The problem is that the mana cost can be sketchy as you likely are going to only be able to cast it as 1 but two isn't out of the question, and it's a card that you could win without. All of which lead to the card being included but only as a one of.
Slots 9&10: there is no specific card here, rather two graveyard hate. I prefer a split between Graffdigger's Cage and Rest in Peace here as Rest in Peace stops arcbound ravanger, doesn't offer artifact synergy, and doesn't always stop collected company. Graffdigger's Cage doesn't stop delve and Tarmogoyf. Making them two copies wouldn't be bad, but graveyard hate is necessity which both do well in slightly different ways. At two, the chances are higher of drawing the one I see most decks run.
Slots 11&12: Hurkyl's Recall in the mirror, whoever has the most artifact hate will win and recall is a big one that can cause devastating results to Affinity. It also works against many other decks that will grind the game out. These re the two big ones for affinity but aren't the only artifact hate as reflected in slots 12 and 13.
Slots 13: Here's where I run Wear / Tear. Since I already have Hurkyl's Recall, I stray away from ancient grudge here in favor of the anti Stony Silence option the card gives you. It cost the same amount and you still pack deadly hate against the mirror while having the same amount of cards as your opponent will have Stony Silence. Coincidentally, also hits cards like Ensnaring Bridge and other control. Here's where the sideboard becomes more reactive, but doesn't give up consistency. Maybe consider running one more or a copy of Ancient Grudge.
Slots 14&15: the last two slots are a toss up to your local meta in my opinion, and can be two separate cards, however I'd lean towards keeping the two cards the same for consistency if you can. My immediate suggestion is Thoughtseize as it gets rid of key combo cards, creatures, and removal that might hurt your speed or ability. Two would be fine to run with. Outside of two Thoughtseize you can look at additional Etched Champion, a Whipflare, Spell Pierce which I'm not keen on because it requires you to keep mana and slow the deck, Dismember, or Dispatch. I'm a fan of dispatch since it exiles any creature, but I'm not too sold on the latter with Galvanic Blast and Thoughtseize.
Let me know what you think about this sideboard primer of affinity. I'm interested to see the community's response to some of the changes I've made to the sideboard, mainly cutting variety for consistency and power.
Load more