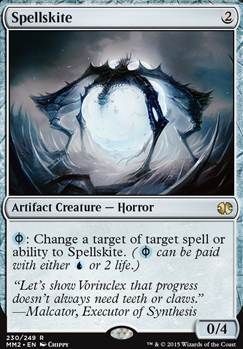 Spellskite
Artifact Creature — Horror
: Change a target of target spell or ability to Spellskite. ( may be paid for with either or 2 life.)
Browse Alters
View at Gatherer
Trade
Legality
| | |
| --- | --- |
| Format | Legality |
| Tiny Leaders | Legal |
| Noble | Legal |
| Leviathan | Legal |
| Magic Duels | Legal |
| Canadian Highlander | Legal |
| Vintage | Legal |
| Modern | Legal |
| 2019-10-04 | Legal |
| Block Constructed | Legal |
| Vanguard | Legal |
| Legacy | Legal |
| Archenemy | Legal |
| Planechase | Legal |
| 1v1 Commander | Legal |
| Duel Commander | Legal |
| Oathbreaker | Legal |
| Unformat | Legal |
| Casual | Legal |
| Commander / EDH | Legal |
Spellskite occurrence in decks from the last year
Commander / EDH:
All decks: 0.02%
Spellskite Discussion
1 week ago
Chivalry is Dead!
"Don't ask my name, it's long since I forgot
if once I had a name, a home, a wife?
No words of fame or valor is my lot,
and yet my quest continues past this life."
1 month ago
Hey all! I've recently decided to let go of my Druid combo stuff, since I prefer a more Pod-like approach as opposed to all-in combo, so I have the following available:
Playsets of:
Devoted Druid (Ultimate Masters)
Vizier of Remedies
Giver of Runes
Finale of Devastation
3 Duskwatch Recruiter Flip
Eladamri's Call
Knight of Autumn
Birds of Paradise (2 M12, M11, Battlebond)
also:
1 Silent Clearing
2 Walking Ballista
1 Ranger-Captain of Eos
3 Postmortem Lunge
1 Chord of Calling (M15, Russian)
1 Collector Ouphe
3 Veil of Summer
1 Thalia, Guardian of Thraben (Dark Ascension)
4 Restoration Angel (Avacyn Restored)
3 Wall of Omens
1 Spellskite
So yeah, I'm keeping the lands, Hierarchs, Eldritch Evolutions, and Pod stuff (you can't pry Voice of Resurgence or Kitchen Finks from my cold dead hands), but most everything else I have is fair game. If there's anything else I may not have listed, feel free to ask about it. I probably have it. :)
I'm looking for:
Sword of Feast and Famine
4 Ice-Fang Coatl
1 Spell Queller
2 Monastery Mentor (I have 1 Korean if anyone wants to swap their English one)
1x Cavern of Souls (preferable Innistrad, either printing is fine tho)
2x Selesnya Sanctuary
1x Hornet Queen
I will also binder dive, but my binder seems to show only the foil/promos?
2 months ago
Nice start. I do have a few suggestions to help you lower your avg. cmc though and I'll try to break it down by category and suggest a cut.
Draw: Midnight Reaper , Yawgmoth, Thran Physician , and Skullclamp for Butcher of Malakir (Grave Pact if your mana can handle it but Butcher is overcosted and susceptible to more removal), Bedevil (versatile but single use and not abuseable here), and Necropolis Regent (Really good at what it does but there's better finishers for Marchesa).
Control: Glen Elendra Archmage (combos with Mikaeus and Goblin Bombardment also) for Mystic Confluence (Glen Elendra gets multiple uses, Confluence only 1).
Boardwipes: Last One Standing and Jokulhaups for Decree of Pain (You won't need extra cards with Jokulhaups and it's cheaper to cast) and Polymorphists Gest (Last One Standing is the same cost but effects all opponents rather than 1).
Win Cons: Gray Merchant of Asphodel and Kokusho, the Evening Star (both very abuseable with Metallic Mimic to ignore the Throne and win outside of combat).
Discard: Sadistic Hypnotist and Oona's Blackguard (discard helps seal up games tighter than a dolphin's butthole) for Vilis (Marchesa does better with cheap aggro) and Underworld Connections (You'll have better results out of resource denial than a single use per turn draw).
Expensive Suggestions: Sneak Attack , Diabolic Intent , Imperial Recruiter , Grave Pact , Necropotence , and Spellskite
Feel free to check out my list for inspiration, it's one of the top rated Marchesa lists on this site. Upvotes on any of my decks are appreciated. Every Masochist Needs a Marchesa To Love Them
3 months ago
Why run Alchemist's Refuge over Emergence Zone ? Am I missing something or does Emergence Zone allow easier access when going for Bloom Tender / Incubation Druid / Arbor Elf lines?
Also, you need an outlet like Thrasios, Triton Hero on board to go off at instant speed (unless you have Alchemist's Refuge / Crop Rotation ), right?
I really like this list, but I've found that having Demonic Consultation and Laboratory Maniac in a similar-ish deck (the core is shuffle, minus the shuffle package, plus consult + incubation) lets me win at instant speed very safely (incubation line, Noxious Revival / Memory's Journey back Flash , and Flash in Laboratory Maniac , then I can pile over further interaction with Laboratory Maniac using Thrasios). And if I lose Thrasios, I can always go for a normal consult line, or the Spellseeker + Laboratory Maniac hulk pile for an extra B + draw.
Would swapping Alchemist's Refuge , Spellskite and Quicken / Finale of Devastation (infinite green + a single U makes a win with labman at instant speed) for Emergence Zone , Demonic Consultation / Tainted Pact and Laboratory Maniac make sense or does that break something?
3 months ago
Thought of a couple more worth mentioning Spellskite does a great job of taking pesky removal away from your infect creatures. If you need more creatures I would suggest Plague Myr and Core Prowler is also great for tacking on some more counters if it dies.
4 months ago
How about Spellskite , Fleshwrither and Docent of Perfection Flip for the Horror tribal? The first helps to protect your creatures and the second can be a good tutor. The third goes well with all the instant/sorcery spells that you have, and with Yidris, because is a Wizard
4 months ago
All of the above suggestions I agree with.
I would also say that you are trying to cast big 4 mana/ 5 mana spells so youll need more ramp to do that. I have a mono green version simular to your deck. Mono Green Control!?!. I am running an extra mana dork which can really be helpful. You have a lot of double green spells.
As for the maybe board Vivien Reid isnt gonna dig for the spells you want it finds creatures I wouldnt put it in. Nissa, Vital Force makes you commit more to green being you will have so many doubel green spells. If you are going to add a Nissa i would add Nissa, Who Shakes the World . If you are playing a lot of infect Melira, Sylvok Outcast might help you out but its a SB card at best. Spellskite is a soild SB card against burn. Plow Under is double green, but you in a way get to Time Walk . They have to redraw cards they have already played, and are cut off mana giving you ad advantage. It helps the most when you are in the lead, when behind it is not a great play. Kessig Wolf Run might be a "win more card" its fine when you have no cards in hand, but i dont forsee that happening being you have big spells, so youll only really cast 1 spell a turn. Surgical Extraction helps with graveyard decks 2x SB is where I would put it if you fight those decks.
Load more