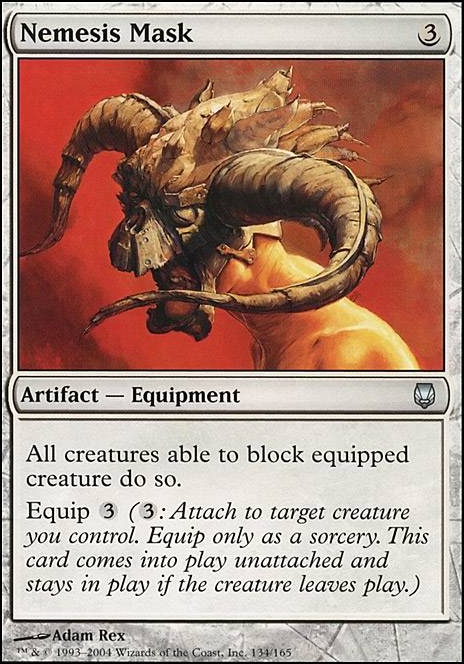 Legality
| | |
| --- | --- |
| Format | Legality |
| Vintage | Legal |
| Duel Commander | Legal |
| Commander / EDH | Legal |
| Legacy | Legal |
| Modern | Legal |
| Tiny Leaders | Legal |
Related Questions
Nemesis Mask
Artifact — Equipment
All creatures able to block equipped creature do so.
Equip (3) ((3): Attach to target creature you control. Equip only as a sorcery. This card enters the battlefield unattached and stays in play if the creature leaves the battlefield.)
Nemesis Mask Discussion
5 days ago
Don't stop now. I believe in you!
1 week ago
Wildfire Eternal was just spoiled and has afflict 4 (whenever a creature blocks this creature it's controller loses 4 life). How would this combine with Nemesis Mask or cards like mask?
3 weeks ago
With Nemesis Mask effects already in the deck, you have to find a way (in mono red xD) to have infinite mana and a way to infinitely untap Jabari's Banner.
Each trigger of flanking triggers separately, so you can give infinite -1/-1 to all of your opponent's creatures.
1 month ago
Since red is lacking in deathtouch and since it just got reprinted Basilisk Collar seems mighty worthy. It instakills all creatures regardless of size as long as they don't have pro red, pro creature or indestructible. It pairs nicely with Nemesis Mask for some good life gain/board wipe. The next worthy source of deathtouch is Quietus Spike witch could be easily manipulated with something like Brass Squire to just flip it to an unblocked goblin or you could use Brass Squire to throw it or Basilisk Collar on a goblin blocked by a fatties you want dead now. Gorgon Flail, and Gorgon's Head also can give alternate death touch effects but sacrifice features.
2 months ago
I love what you cooked up! Especially since it's something completely different from what most people build as most people go with angel tribals or a voltron Gisela. But some thoughts on your game.
My deck is about making way for Gisela and for that I use cards like Nemesis Mask in combination with cards like Assembled Alphas to have my Gisela go for a free swing. But a simple soldier token would be just as great!
I am an absolute fan of Temur Battle Rage, Ride Down, Deflecting Palm and Boros Charm in Gisela. All of which I abuse with Isochron Scepter, but the scepter would be to gimmicky here.
What your deck might also like is a Charmbreaker Devils to retrieve valuable spells back.
And maybe a Aurelia, the Warleader could do devastating damage also!
2 months ago
Nemesis Mask would be fun and interesting, indeed. I think I have to look into acquiring one...(smiles innocently)
Primal Surge is definitely an awesome card...I dunno if this deck necessarily needs it or not. If anyone else disagrees, please lemme know, I will never claim to be an expert on MtG. I would, however, like to get some Primal Surges for a few other decks of mine...
3 months ago
Here's some suggestions after looking over your deck. Obviously, these suggestion need to be adjusted based on your budget and/or collection.

Depending on the metagame for your play group or local store, I would recommend getting rid of the one shots which only help you in the early game. During the later portions of a long or group game, those cards are much less helpful.
Lotus Petal, Index, Ponder, Gitaxian Probe, and Serum Visions all fall into this category.

Another problem I see is you have Heartstone and Show and Tell which help your opponents as much or more than they help you.

Future Sight and Magus of the Future are cute, but provide too much information to your opponents.

Spellbook is just a bad card. I know a lot of people like it because they want to hold onto more than 7 cards. But it's just bad.
Consider the following:
Are you playing Spellbook or Reliquary Tower because you are drawing a lot of cards each turn?
Or are you playing Spellbook to get avoid discarding cards at the end of turn?
If you are drawing that many cards per turn, why aren't you playing those cards?
If you're holding onto those cards from one turn to the next, is it because you don't have enough mana to cast them? Add more land.
If your waiting for specific cards, why hold onto cards you don't want to play? Why keep cards that might be useful?

I also think you are running too few lands. Artifact mana ramp is nice but doesn't replace basic lands. You should have about 34 to 38 lands in a Commander/EDH deck.

Stuffy Doll is cute, but it can only damage a single opponent. You have to bounce it and recast it or flicker it to choose another opponent.
The Pariah's Shield is cute but there is better equipment for Stuffy. I've always liked Nemesis Mask with Stuffy Doll. People always forget that Stuffy does NOT have defender.
Loxodon Warhammer is another good equipment that would fit into this deck and would work with any creature on the field.
To sum up:
-1 Lotus Petal, too many other mana ramp cards
-1 Vedalken Engineer, too many other mana ramp cards
-1 Index, weak late game
-1 Ponder, weak late game
-1 Gitaxian Probe, weak late game
-1 Serum Visions, weak late game
-1 Heartstone, helps opponents too much
-1 Future Sight, helps opponents too much
-1 Magus of the Future, helps opponents too much
-1 Spellbook, just a bad card that keeps people from playing better.
+5 Island+1 Urza's Tower, to complete the set.
+1 Nemesis Mask, because Lure on a Stuffy Doll is awesome.
+1 Loxodon Warhammer, life gan and trample
+1 Myr Enforcer, could be free to cast but still allow you to scry 7 with Muzzio.
+1 Steel Hellkite, a great way to swing the game

Here are some other ideas that might also work, in no particular order: Sharding Sphinx for the tokens, Spire Golem cast for free with CMC 6, or Kuldotha Forgemaster for the tutoring and CMC 5.

Let me know what you think.
3 months ago
Interesting, I like your budget approach...but trying to keep cards under 30 cents is tough haha. Also, I think this deck may struggle to do enough damage in a commander game as ping effects generally don't do much in the format unless Vhati il-Dal is involved.
However, here are some suggestions I found. Stab Wound would be a good additional creature shrinker (for later ping-ing) and incremental life loss.
Since you run a lot of enchantments which punish opponents for blocking, the "Provoke" mechanic may interest you. Cards like Crested Craghorn or Goblin Grappler are options if you can keep them alive (sadly provoke is mainly a green mechanic). Breaker of Armies and Nemesis Mask also have similar effects.
Or you could look for further tap/untap permanents type cards. Endbringer is an option though it would require some more colorless mana (Wastes are cheap), it also is 50 cents. Goblin Archaeologist could provide more artifact removal. Puppet Strings will alow you to tap or untap at will.
I think your deck may want some sort of reanimation to it as that is what black does best, and I suspect your little guys will die rather frequently. Phyrexian Reclamation would be a nice addition to provide a pit of reanimation though it is 50 cents. Betrayal of Flesh doubles as removal and reanimation at instant speed.
Curse of Death's Hold would make pinging stuff to death easier, but again, it is 50 cents.
Load more