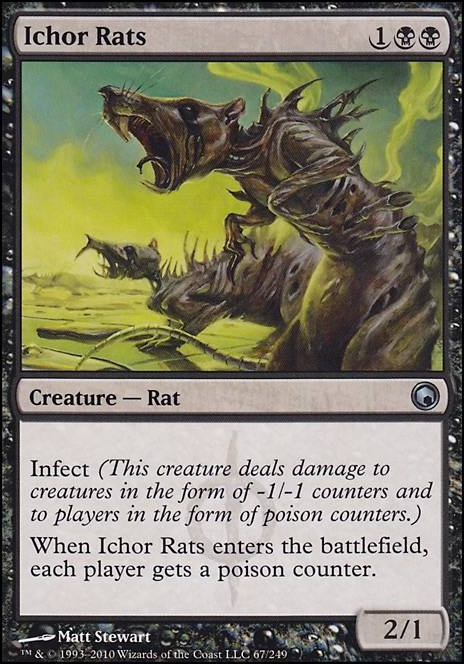 Legality
| | |
| --- | --- |
| Format | Legality |
| Noble | Legal |
| 1v1 Commander | Legal |
| Vintage | Legal |
| Modern | Legal |
| Casual | Legal |
| Vanguard | Legal |
| Legacy | Legal |
| Archenemy | Legal |
| Planechase | Legal |
| Duel Commander | Legal |
| Unformat | Legal |
| Pauper | Legal |
| Commander / EDH | Legal |
Ichor Rats
Creature — Rat
Infect (This creature deals damage to creature in the form of -1/-1 counters and to players in the form of poison counters.)
When Ichor Rats enters the battlefield, each player gets a poison counter.
Ichor Rats Discussion
1 month ago
Instead of the priests, why not an Ichor Rats? Don't need to even attack with it, and you can start a fast clock.
2 months ago
I need to know if there is a good combo that can go with this specific creature card. I am open to any suggestions...
2 months ago
Infect is just cruel! XD Flensermite, Ichor Rats, Phyresis or even Plague Stinger you don't know how many times I have beat out all my friends cause lack of flying or reach cards in their deck! Slow painful death... Good luck!
2 months ago
Personally i think the support mechanic from oath of the gate watch would fit perfectly for instance Relief Captain, Gladehart Cavalry,Shoulder to Shoulder, and Nissa's Judgment, there are more but just to start. also Rishkar, Peema Renegade, by using them together all your creatures now become mana rocks. Another great draw would be Armorcraft JudgeIf you choose to use this mechanic with lots of triggered abilities to use I'd say Panharmonicon and Strionic Resonator For cuts I'd say Prime Speaker Zegana, Ichor Rats, Elite Scaleguard,and Elesh Norn, Grand Cenobite.
2 months ago
If you want to win with poison counters, then either build a token deck with Triumph of the Hordes or use Ichor Rats in a lockdown stratigy with Atraxa, Praetors' Voice at the helm.
Infect isn't a deck that can really win in commander. Voltron already has issues, since you need to hit each player 3 times at least. That's 9 rotations. Infect is even worse because while you don't need to deal nearly as much damage, creature's with infect aren't exactly the most durable, and everyone will see what you're doing right away, so you get targeted very quickly.
And there's your problem. For this deck to work, you need an all in aggro deck that has the ability to control the board with a combination of Moat effects, removal, counter magic, and recursion, and there just aren't enough slots to fit all that in, not to mention the fact that the former and latter are polar opposites.
I'm not saying don't play infect. Play what you want. But understand that the deck is fragile, and that it has serious trouble killing multiple players. You will most likely seldom kill all your other opponents, but you can take one or two down with you. If that's ok, then who am I to stop you.
Oh, and while Glissa, The Trator is flavorful, I would actually reccomend Meren of Clan Nel Toth. Your infect creatures WILL die. She gives a bit of extra life to them.
Load more