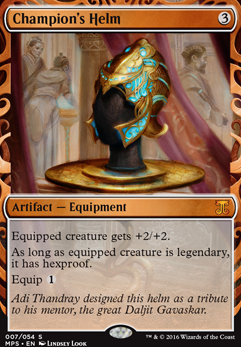 Legality
| | |
| --- | --- |
| Format | Legality |
| Pre-release | Legal |
| 1v1 Commander | Legal |
| Magic Duels | Legal |
| Vintage | Legal |
| Leviathan | Legal |
| Legacy | Legal |
| Duel Commander | Legal |
| Pauper | Legal |
| Commander / EDH | Legal |
Champion's Helm
Artifact — Equipment
Equipped creature gets +2/+2
As long as equipped creature is legendary, it has hexproof.
Equip
Champion's Helm Discussion
1 month ago
Don't stop now. I believe in you!
1 month ago
In your maybebaord you have some tasty cards, see the next few lines:
You run a lot of mana rock, you should then definitely consider Clock of Omens, it could give you a lot of free mana. You could then get rid of Doubling Cube or Voltaic Key, which are both great cards on their own (with entire different mechanic), but not on the same level as Clock of Omens (especially for commander in the case of Voltaic Key);
In the same vain, you should also play more draw engine to utilize that mana you already have: Tower of Fortunes is one of my favorite for exemple. I know draw engine can be difficult in colorless. If your meta has no infinite-mana combo, or any deck that do similar to yours, I STRONGLY advice you to play Well of Knowledge, it's an incredible card for commander, but it's more casual minded;
Metalworker is another all-star, no wonder why it's limited in vintage. You should definitely play it, no way you can skip that.
About the mainboard:
Random cards I would consider:
Mishra's Helix is a pretty funny card if you want to play more control, with all that mana you play right now you can literally kill people turn's even before they start it. But that card is really uncommon and eccentric. If you look at my decks you'll see I like to play strange cards XD.
Question:
Overall, great deck, super fun to play robots!
1 month ago
Thanks for the compliment and the upvote! "Simple" is one of the best words to describe this deck.
You are correct that an opposing deck centered around sacrificing creatures would give this deck a hard time. The biggest challenge for this deck are decks that can consistently remove (destroy/exile, sacrifice, or bounce) Isamaru, Hound of Konda and follow it up with card draw; black and/or blue control decks. Attaching Swiftfoot Boots or Champion's Helm can help but a well-timed Winter Orb or Armageddon is best. Success depends completely on what cards you draw.
1 month ago
Selvala, Heart of the Wilds is nuts with omnath fun fact. So is Vorinclex, Voice of Hunger. Also mana doubters Zendikar Resurgent (price not mana, thought it is mana efficient). Yeva, Nature's Herald and Vedalken Orrery both take advantage of the mana doesn't empty over phases and turns thing. Exploration is very good. Oracle of Mul Daya is insane. If you wanna go full theorycraft Gaea's Cradle. Also don't forget that you would love to be ramping consistently from 1 to 3 to get omnath earlier, so Llanowar Elves, Fyndhorn Elves, Arbor Elf, Birds of Paradise, and Elvish Mystic are all perfectly respectable. Also omnath is a removal lightning rod so you are going to NEED protection for him. May I reccomend Lightning Greaves, Champion's Helm, Dense Foliage, Asceticism, Alpha Authority, and Heroic Intervention.
1 month ago
For hexproof/similar abilities you'll want to be looking at Swiftfoot Boots, Mask of Avacyn, Darksteel Plate, Lightning Greaves, General's Kabuto and Champion's Helm. In regards to vigilance I'm guessing you want mass as opposed to single card vigilance? In this case you should look at Brave the Sands, Heliod, God of the Sun, Hold the Gates, Serra's Blessing and Angelic Field Marshal. Please dont take this the wrong way but I feel you have a fair few cards that aren't really in keeping with your gameplan or rest of the deck. For instance, Dragonlord Dromoka has a stax effect which youre not utilizing with other cards. Similarly, you're not running sacrifice so Ghoultree's mana reducing ability is unlikely to be utilized. Also, your land count is really low. An average EDH deck will run around 37 but you are using high costing creatures which require lands and ramp.
1 month ago
@ frwtr1968 Love the deck so far! It seems like a very fun and efficient mix of ramp, stax, sacrifice effects and reanimation! Normally, I would suggest adding some more ramp, but honestly I think you are pretty good! However, 37 lands for a deck with an average cmc of 2.86 is a lot and I would suggest cutting a land or two and adding in some more mana doublers like Nirkana Revenant and Magus of the Coffers to help ramp you (I would lower your land count to 36 lands if it was up to me, but 37 is just fine too). Nirkana Revenant is also a great finisher if you can somehow manage to get it through unblocked with something like a Whispersilk Cloak! The only thing I am struggling with is how you plan to win the game. While winning through attrition and recursion is definitely possible, I feel like you deck lacks staying power late game. Since you have a bunch of 1/1s and 2/2s, you aren't really winning through combat damage, and since you don't have any infinite combos (that I can see) you can't threaten to combo off and win that way. I would personally recommend adding in at least one infinite combo, a few more tutors and some more sac effects to help you win the game easier! In particular, I would recommend including the Mikaeus, the Unhallowed + Walking Ballista/Triskelion combo to close out games that go long. In addition to being a combo piece, Mikaeus, the Unhallowed is an amazing value engine that provides redundancy in terms of recursion and synergizes with Black Sun's Zenith! Another way to increase the power level of your deck is to add more tutors. Some tutors that are underused and would work great in your deck are Diabolic Intent, Increasing Ambition and Beseech the Queen. Lastly there are a TON of cards that synergize with your sacrifice theme (of permanents in general, not just creatures) or that benefit from creatures dying, that I think warrant some serious consideration. It don't have time to explain them all, so I will just provide a list and let you decide which ones to include! Alright, here are the cards I think should probably be in your deck: Fume Spitter, Tree of Perdition, Toxic Deluge, Death Cloud, Deathgreeter, Demon of Death's Gate, Ob nixilis, the unshackled, Ob Nixilis of the Black Oath, Weaponcraft Enthusiast (amazing reanimation target), Nezumi Bone-Reader, Malicious Affliction (Best removal for your colors!), Exsanguinate, Lake of the Dead, Bitterblossom (a must include in my opinion), Tragic Slip, Darksteel Plate (to protect Shirei), Hope of Ghirapur, Champion's Helm (same reasoning as Darksteel Plate), Bone Splinters, Killing Wave, Ashnod's Altar, Altar of Dementia, Waste Not, Cryptbreaker, Strionic Resonator (Does double Shirei triggers sound fun?!), Wretched Confluence, Entomb, and Champion of Stray Souls! Anyways, I know that's a lot of suggestions and a lot of information to take in, but I figured I should give you all the advice I have and let you decide what to do with it! Feel free to ask me for more advice or suggestions if you need to. Good luck with this amazing deck!
2 months ago
Looks pretty good, I have a Sram deck with fairly similar counts on voltron + lands & it tends to beat face consistently. Your's is a little different in that you utilize 2x commanders. That being said, I see a couple of reasons for KEEPING Reyhan, Last of the Abzan
GREEN color identity, those low cost green hexproof/shroud auras are reason enough to keep Reyhan - In fact I'd think about more due to you having a self-growing commander that isn't quite so screwed by shroud: Sexy BUDGET green aura to think about - Aspect of Mongoose , Canopy Cover , and CURSES!! Bear Umbra isn't budget but it sure smacks people. Pollenbright Wings can suddenly make you swing/block wide & is ridiculous with all that double strike.

You use so much shroud so it is nice to have a secondary equip option, unfortunately in Sram I actually had to PULL Lightning Greaves due to several games where I played it early for protection but never found myself drawing in to a new equip option; fortunately for you, you have a 2nd option readily available in Reyhan if Ishai, Ojutai Dragonspeaker is shrouded & blocked from further equip/targeting (nifty bonus that his innate ability lets him continue to grow)
Other things I think I noticed/possible suggestions (trying to stay on budget)
Really neat deck, I'm a little jealous of some of the color combos & other stuff you utilize that Sram cannot. Curious as to how it would square off against Sram voltron.. probably a 50/50 FAST game type of situation. Also, would depend heavily on the types of mana base both decks were drawing in to.
Load more