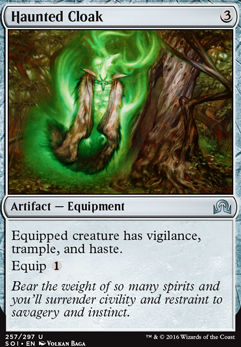 Legality
| | |
| --- | --- |
| Format | Legality |
| Vintage | Legal |
| Commander / EDH | Legal |
| Legacy | Legal |
| Tiny Leaders | Legal |
| Standard | Legal |
| Modern | Legal |
| Frontier | Legal |
| Tiny Leaders | Legal |
Haunted Cloak
Artifact — Equipment
Equipped creature has vigilance, trample, and haste.
Equip
Haunted Cloak Discussion
2 days ago
Don't stop now. I believe in you!
3 weeks ago
Geralf_Cecani okay, I appreciate the insight because I now know what to take out/in. So far I'm thinking Haunted Cloak (no power boost); and maybe Loxodon Warhammer. The latter I'm debating on because the trample is really nice.
Really wish Reanimate was easy for me to get haha. Idk what I'd take out for Necromantic Summons, I was thinking Beacon of Unrest, but decided against it because it can recur artifacts that are in grave too.
Ramp is pretty tight here, sadly. So I think I'll just have to save up for/buy Phyrexian Arena lol.
I'll reconsider adding in Sword of the Chosen too.
Thanks for all the suggestions and input!
3 weeks ago
hi, ich wieder. ich schreibe euch mal ne liste mit den karten die potenziell gegen welche aus meinen empfehlungen ausgetauscht werden knnten oder die in meinen augen nicht so die kartenqualitaet haben
Breaker of Armies - 10 mana fr ne kreatur, die man im endeffekt meist fr nen guten angriff draufgehen lsst, ist zuviel. lieber den Siege Behemoth, ist mit Triumph of the Hordes zsm einfach genauso ne wincon.
Intet, the Dreamer - ich denke selbst mit dem mini-drachen-thema wird er im endeffekt gecuttet. er bringt dich nicht wirklich schnell durchs deck, er muss angreifen UND mana blechen, und wenn er zerstoert wird bleibt die karte im exil. alles eher wackelig.
Omnath, Locus of Rage und Roil ElementalDie beiden sind erstmal prinzipiell gut, ich wrde das davon abhngig machen wieviel Landramp im endeffekt spielt. Omnath ist noch eher besser als das Roil, weil es eigentlich so sein msste das karten gezogen werden wenn ein 5er ins spiel kommt, auerdem ist ja Warstorm Surge ein wichtiges piece in eurem deck. aber das roil vielleicht raus, lieber clone spielen.
Ruric Thar, the Unbowed- hatten wir ja schon drueber geredet, ich finde temur ist nicht gruul und sollte deswegen auf noncreature spells nicht verzichten, tut euch im zweifelsfall eher selbst weh, und ein Teferi wuerde euch da schon mehr kontrolle erlauben (brigens, eigentlich wrdet ihr teferi immer im endsegment vor eurem zug reinflashen, wenn ihr dann in eurem zug ne combo zbw ne wincon rauspielt, nicht vorher)
Terra Stomper / Gaea's Revenge
da wrde ich langfristig maximal einen von denen spielen, einfach weils dekadent ist kreaturen ohne groen effekt zu spielen. auerdem braucht ihr halt die spots frei.
Savage Knucklebladeist zwar cool weil er fr 4 mana als 4/4er mit haste kommt, aber das gewinnt auch keine games. die Savageborn Hydra wrde ich solange drin lassen, wie ihr den Shaman of the Great Hunt und Rishkar spielen wollt. Wobei Rishkar auch evtl rauskoennte. evtl also nur den Shaman.
Bow of Nylea im endeffekt raus fuer Coastal Piracy oder Hammer of Purphoros. Die Todesberuehrung greift nur fuer attacker, somit ist es eigentlich nutzlos.
Chitinous Cloak / Haunted Cloaklieber raus. wenn ihr menace wollt, Gruul War Chant, und ansonsten bei den ausrstungen lieber noch Lightning Greaves die haben naemlich 0 austruestungskosten.
Banefire / Manifold Insights / Nissa's Revelation / Rishkar's Expertise
hab euch in meinem tipps glaube ich genug bessere alternativen vorgeschlagen.
Arcbondist nur in viel zu konstruierten szenarien gut fuer euch und schwer kontrollierbar.
Counterspellsich wrde eher nen Counterspell klarmachen, wenn ihr control-magic machen wollt. auch hier, habe ich gute alternativen vorgeschlagen, die das board fuer euch fitt halten.
Burgeoningje nachdem wieviel draw in dem deck ist, knnte man diesen spot freimachen.
Sight of the Scalelordseher nicht, ich glaub das macht selten den entscheidengen unterschied und kostet zuviel mana fuer das was es tut.
Weitere gute wincons fr euer deck;mit Palinchron / Peregrine Drake + Deadeye Navigator infinite mana gehen und dann mit Genesis Hydra alle nonland permanents ins game holen, alternativ auch infinite Coiling Oracle flickern. ich wei ich wei aber nen nav und nen oracle spielen ohne infinite zu gehen ist auch komisch :D
uebrigens, eine weitere wincon ist Grafted Exoskeleton, habe auch noch ein paar davon. einfach ne kreatur mit dem exo auf 10 bringen, unblockbar machen und durchkommen.
3 weeks ago
A little expensive, but would be great:
You missed:
Consider including:
Kemba wants low equip costs:
Other stuff:
I'd remove:
4 weeks ago
I think Unlicensed Disintegration is pretty good, but it's true that 2 artifacts makes it very unlikely to work as anything more than "Destroy Target Creature" for 3 mana (which is fine). However, you can throw in some Equipment or Vehicles that help increase your aggression.
Fleetwheel Cruiser and Ovalchase Dragster have Haste, and Haunted Cloak and Strider Harness grant Haste while attaching for (1). Almost all your minotaurs are 2-3 mana, so once your lands outpace that, being able to attach a Haste to each - conversely, a Vehicle allows you to crew with a creature with summoning sickness.
...also, minotaurs driving racecars is a stand-alone concept whose value cannot be overstated
My main concern with Cartouche of Zeal plus Trial of Ambition is that since you are burning your hand out so quickly, you're making it very likely that you will be able to trigger that combo rarely (if ever), so just having an equipment or vehicle you can toss out to help trigger Unlicensed Disintegration damage and accelerate your damage may get people deader faster. Also, you can use the Crew mechanic if need be to tap out your whole board to do more damage with Throne of the God-Pharaoh if need be to secure the victory.
1 month ago
I've recently started tinkering on a Gisela list and came across your list. You came to the same conclusions as me regarding Pyrohemia and Manabarbs and you're absolutely right I think these are among the best cards. I'd also run Burning Earth though. A couple of cards you run I'm not really sure about. Crawlspace is a card I never really liked. I prefer Ghostly Prison over it. Haunted Cloak is an interesting choice and vigilance is a pretty underrated ability in multiplayer, but before I'd add Swiftfoot Boots for redundancy next to the greaves. Now for the Isochron Scepter thing. I get it, the card is great but it's much less so without blue because with blue you can imprint counterspells which means it can protect itself. But if it gets removed you just got 2for1-ed. Also by playing a card like Disenchant as opposed to a much more powerful card in Return to Dust, you limit your deck construction severely just for the possibility of imprinting something into the scepter. I'd remove the scepter and play more powerful removal like Volcanic Offering (and cut Molten Rain on the process). I've never tried Assembled Alphas but it doesn't seem bad at all. I might consider it myself. Malignus is a good card but I think it's better if you play Fling or if Brion Stoutarm is your commander. The problem it has is a lack of evasion. There are too many Wood Elves an Solemn Simulacrum-type cards in the format for a creature like this to ever get through. Browbeat is also interesting. Without a damage doubler out I think it's not good enough but with one out it might be worthwhile. But I'm generally very sceptical about one-time value cards. I'd rather get my value from a permanent, such as Emeria Shepherd, especially because you also run Urza's Incubator. These are the most important things I needed to say.
You can check out the Gisela list I'm working on, maybe you find something else that inspires you: Pressure Fort
+1
1 month ago
You're already running From Beyond, so why not also play Awakening Zone? More ways to get tons of mana. Besides, that Haunted Cloak you're running feels like an odd choice anyways, unless there's some sort of awesome interaction I'm missing that requires it.
Load more