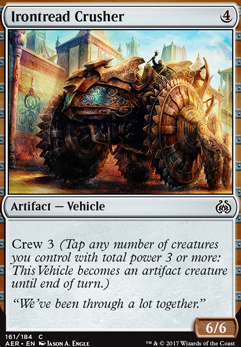 Legality
| | |
| --- | --- |
| Format | Legality |
| 1v1 Commander | Legal |
| Frontier | Legal |
| Vintage | Legal |
| Modern | Legal |
| Standard | Legal |
| Legacy | Legal |
| Duel Commander | Legal |
| Casual | Legal |
| Unformat | Legal |
| Pauper | Legal |
| Commander / EDH | Legal |
Irontread Crusher
Artifact — Vehicle
Crew 3 (Tap any number of creatures you control with total power 3 or more: This Vehicle becomes an artifact creature until end of turn.)
Irontread Crusher Discussion
2 months ago
Don't stop now. I believe in you!
7 months ago
These cards will all cost less than $30 with shipping on TCGplayer (all NM and LP). My total was $29.73. I think they should all make their way into the deck (suggested changes):
8 months ago
Thanks! That's always helpful, to see what you saw while building the deck, and see if there's anything else you pinpointed as strong along the way. Admittedly, this pool isn't the greatest, but one thing I really like about prereleases is you can make some really amazing decks out of what seems like the most hopeless pile.
I agree with your Red for sure...Kari Zev, Skyship Raider, Quicksmith Rebel, and Sweatworks Brawler are all strong pulls pushing you into the color, and the removal in Shock, Chandra's Revolution, and Destructive Tampering only help.
I see the appeal in the Black for more removal and evasion (and honestly, I did the same in my prerelease pool, after all...), but I feel like with the card pool you have, a bit of menace and Unlicensed Disintegration is not really enough to pull me in.
I think I would have attempted Green. Between providing energy to power your Territorial Gorger, and a Riparian Tiger (which, honestly, is better than most of the rares you can get out of the prerelease packs), those make for an excellent high end that can't be accidentally stymied by an artifact-light deck (as my Fen Hauler often was). Aside from all the energy cards, Scrounging Bandar is surprisingly good. I don't know how much use you got out of your vehicles in practice, but I feel like the Daredevil Dragster is good enough to include as well, if for nothing other than eliminating a few chumps and drawing some cards, maybe in place of the Irontread Crusher, depending on how many 3-power creatures you ended up with. Natural Obsolescence is actually worth considering in this format, given how common artifacts are.
One thing to look at in upcoming prereleases is the potential for a 3-color deck/a color splash. That depends on if there are a.) multicolor lands (none in this set) and b) other fixing (in this set Prophetic Prism and Renegade Map) in your pool. But here, we didn't really have that opportunity.
8 months ago
I used to play magic back in high school, but quit shortly after, and haven't played in 14 years, until this weekend.
I went to the midnight pre-release, made a R/G deck, but didn't do that good, 16 out of 28. The Sunday pre-release I made a B/R deck, and took 2nd out of 8th (barely had enough players to hold the tournament).
Some of the guys I was playing with invited me to the Tuesday night standard games they play there, so I need to flesh out my deck.
Here's what I made for my second tournament:
7 Mountain
1 Spire of Industry
9 Swamp
1 Aether Poisoner
2 Alley Strangler
1 Consulate Skygate
1 Consulate Turret
1 Daring Demolition
1 Embraal Bruiser
1 Foundry Hornet
1 Frontline Rebel
1 Gonti's Machinations
1 Hijack
1 Irontread Crusher
1 Lathnu Sailback
1 Night Market Lookout
1 Ornithopter
1 Perilous Predicament
1 Prophetic Prism
1 Quicksmith Rebel
1 Salivating Gremlins
2 Shock
1 Spontaneous Artist
1 Thriving Rats
1 Yahenni, Undying Partisan

Here is my entire inventory of magic cards:
Using just the cards I already have, what cards would you recommend adding, or swapping out, to make this a 60 card casually competitive deck?
I do plan on increasing my collection, but I have a very limited disposable income at this time, so can't go out and buy expensive cards, so I'm probably going to stick to picking up a few booster packs each payday.
Thanks!