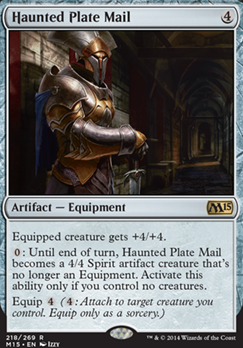 Legality
| | |
| --- | --- |
| Format | Legality |
| 1v1 Commander | Legal |
| Frontier | Legal |
| Vintage | Legal |
| Modern | Legal |
| Casual | Legal |
| Legacy | Legal |
| Duel Commander | Legal |
| Unformat | Legal |
| Pauper | Legal |
| Commander / EDH | Legal |
Haunted Plate Mail
Artifact — Equipment
Equipped creature gets +4/+4.
: Until end of turn, Haunted Plate Mail becomes a 4/4 Spirit artifact creature that's no longer an Equipment. Activate this ability only if you control no creatures.
Equip (: Attach to target creature you control. Equip only as a sorcery.)
Have (22)
ironax ,

r

a

k

d

o

s

2

4

, bradyofportdetroit , REV666 ,

T

i

d

d

i

l

y

w

i

n

k

u

s

, Lindough , Ellyreia ,

D

r

_

J

a

y

,

N

e

m

e

s

i

s

,

R

e

g

u

l

u

s

1

0

1

0

, joshw335 , mziter501 , philktoken8998 , the.beanpole ,

C

a

m

p

b

e

l

l

S

t

e

v

, Unlife , darthnuchi ,

G

o

l

d

G

h

o

s

t

0

1

2

,

a

c

b

o

o

s

t

e

r

, Mousemke , Wolfebladeelite ,

G

e

m

i

n

i

S

p

a

r

t

a

n

X

Want (0)
Haunted Plate Mail Discussion
3 months ago
Don't stop now. I believe in you!
10 months ago
ARTIFACTS:
---
Things you could replace these with that have similar effects:
---
Proliferation:
---
Card draw Cont.
---
Win conditions:
1 year ago
I'm guessing this is your first attempt on modern based on the cards you have?If so, the first thing you should look out for is to strenghten your removal and counterspells. Efficiency is key in countering in modern. You want to have counters that hit as widely ranged as possible for a minimal mana investment. Spells like Countermand will be to slow if you're going deeper into the format.
For starters, i suggest looking out for some Mana Leak to trade for. Those are great, since most decks in modern wont be able to pay 3 for a while.
For good removal options that are cheap and easy to get, you could try to trade for some Ultimate Price, Disfigure or even Dead Weight. If the Languish in your Maybeboard is a card you already have, be all means play it in the mainboard! it is great to have a sweeper in the main 60.
If you're not going all-in into milling your opponent i'd suggest exchanging the mill cards as well, since it can help out the opponent more than you! Almost all deck in modern use their graveyard as a resource to an extent.Paranoid Delusions, Sage's Row Denizen, Mind Funeral and Curse of the Bloody Tome can then all be replaced with cards that help your overall control strategy.
Cheap cards, that could also help you are e.g. Dimir Charm, Meloku the Clouded Mirror,Haunted Plate Mail can be a budget alternative for a wincon... Generally speaking, some UB dual lands will help your mana base out. Look for Jwar Isle Refuge, Choked Estuary or the likes, or if you can spend the few bucks/know someone who trades you some Creeping Tar Pit or Darkslick Shores.
Also you need a few card draw spells since you will end up empty handed if you cant refill your hand.There are plenty options to choose from.
1 year ago
If you wanna go Voltron and tokens without breaking the budget, try Captain of the Watch, Captain's Claws, Haunted Plate Mail, Demonmail Hauberk, Intangible Virtue, Cathars' Crusade, Moonsilver Spear. Add some ramp and cheap tutors: Burnished Hart, Relic Seeker, Heliod's Pilgrim, Darksteel Ingot, Mask of Memory, Everflowing Chalice. Thanks for the upvote on my Aurelia.
1 year ago
If I cast a 4cmc creature I expect 4-power so those two seem a bit weak.
Paladin en-Vec is ok but a bit low on power and not the most reliable evasion.
I think that trasforming Opal Guardian should be relatively easy against most decks and getting an evasive 3-power beater which can also block rather well with 4-toughness seems rather good.
Should I replace Genju of the Spires with It ?
Or is Genju of the Fields the better choice ?
It has less power but is a better blocker that can gain life.
Would Haunted Plate Mail be a good replacement for Brion Stoutarm ?
(or maybe Ojutai Exemplars/Thunderbreak Regent is the better option ?)
Another option can be Bonehoard which can get rather big with all my removal and board-wipes.Is it better than the above mentioned 4-drops ?
Load more