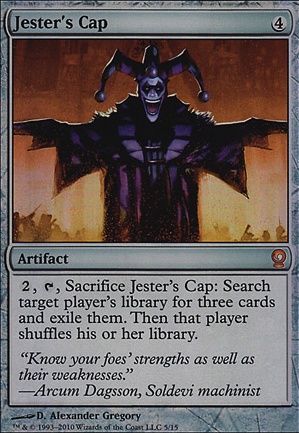 Legality
| | |
| --- | --- |
| Format | Legality |
| Noble | Legal |
| 1v1 Commander | Legal |
| Vintage | Legal |
| Modern | Legal |
| Vanguard | Legal |
| Legacy | Legal |
| Archenemy | Legal |
| Planechase | Legal |
| Duel Commander | Legal |
| Unformat | Legal |
| Commander / EDH | Legal |
Jester's Cap
Artifact
(2), Tap, Sacrifice Jester's Cap: Search target player's library for three cards and remove them from the game. Then that player shuffles his or her library.
Jester's Cap Discussion
4 weeks ago
Don't stop now. I believe in you!
1 month ago
Jester's Cap is another one, not for milling but to remove Eldrazi's or other cards that prevent milling fully and return to library upon entering graveyard
2 months ago
Jester's Cap is so valuable in this deck, I have a deck like this (its not on my main page but in my decks) that I put some work into if you want to look at it for references
3 months ago
Boundless Realms was added to help me thin out the deck, for when I couldn't get the infinite mana combos to go online, but I needed to thin out my deck. Having played both with it and against it, I can say that it gets ridiculous with Fork effects and a field full of basics!
Survival of the Fittest is appealing, albeit difficult (for me) to find. Fauna Shaman crossed my mind as an alternative that was easier to find (both for purchase, and in terms of tutoring).
Denying Wind was added as a response to my local meta, which features a lot of combo-heavy decks (hence how this little monster came to be...). Jester's Cap is an alternative I hadn't considered, but I'm more hesitant to add it, due to its inability to be copied by Riku, and lack of artifact tutoring in the current list.
Thank you for your suggestions! Nice to see that this is getting so much feedback!
3 months ago
Really good decks start out with a solid idea and evolve over time and play testing. Here's some ideas based on my experience.

Cards to consider (in no particular order):
Ugin's Nexus to keep people from taking extra turns.
Goblin Welder for artifact recursion. Even if they counter something like the Nexus or Contagion Engine.
Jester's Cap is great at ripping combo decks apart by removing key components. It also works well with the Goblin Welder.
Bonehoard is better than Nightmare Lash in multi-player games as it sees everyone's graveyard.
Grafted Exoskeleton really should be in this deck to help push the infect theme and make any creature a significant threat.
Infiltration Lens, for the card drawing. The defender chooses to either take the damage or allow you to draw two cards.
Skithiryx, the Blight Dragon also should be in this list.
Kumano, Master Yamabushi as an alternate win conditions via direct damage. With the Grafted Exoskeleton it's a short game.
Fallen Ferromancer, Frostwielder, Spikeshot Goblin, or Prodigal Pyromancer to get around those pillow fort opponents.
Kaervek the Merciless to make it hurt for those combo players.
Virulent Swipe as a better creature pump spell. The rebound means you get twice the effect out of one card.
World at War is another extra combat phase card. Also rebounds.
War Elemental can get huge. When paired with a Surestrike Trident it becomes a quick way to kill a player each turn.
Loxodon Warhammer for tample and life gain. Any creature in the deck is better with a Warhammer. Spikeshot Goblin is really fun with the Warhammer.
Relic Putrescence could be fun on someone's mana artifact.
Cards to consider cutting from the list:
Anthem of Rakdos deals too much damage to you. Per Gatherer: "The first ability triggers once for each creature you attack with. If you attack with three creatures, for example, theyll each get +2/+0 and youll be dealt 3 damage." Horrible when you have multiple combat phases per turn.Talisman of Indulgence should be a Rakdos Signet so you don't take as much damage.
Lashwrithe is too conditional on your lands in play.
Nightmare Lash same problems Lashwrithe.
Thunderscape Familiar and Nightscape Familiar don't promote your theme and are not strong enough on their own to be worth having on the field. If you really need the mana reduction, you're better off with more land cards.
Scorchwalker is a mediocre creature and a crappy pump spell. There are too many better creatures.

These cards are all single creature pumps that don't help you at all if an opponent plays a Wrath of God or similar effect. One-shots are nice against a single opponent, but not in multiplayer.
Haze of Rage, Reckless Charge, Tormenting Voice, Balduvian Rage, Brute Force, Enrage, Reckless Spite.
The X mana pump spells are really bad because of the mana choices that playing them forces on you each turn. Leave mana open for the X pump spell or play another card? Not worth it.

May be worth cutting unless you don't have a better option:
Inquisitor's Flail is a maybe. This one is kinda a tough choice. I would cut it for a better card but leave it in if your budget or collection doesn't have another option.
Bonesplitter is another mediocre card that's only good if there isn't a better option.
Swiftfoot Boots and Lightning Greaves The haste is nice but they are really only good against spot removal. I would leave these in until you need to cut them to make room for better cards.

Obviously, temper these suggestions with your collection and budget. Feel free to check out my decks and let me know what you think of the ideas.
4 months ago
With your description in mind, I would strongly suggest Jester's Cap. This card devistates a combo deck.
I would also suggest more land-ramp. Cards like Cultivate and Kodama's Reach both ramp (and simultaneously mana-fix), and provide card advantage. Sakura-Tribe Elder is an EDH staple, and for good reason. Even more so in a deck featuring recursion.
Rampant Growth and Nature's Lore are also fantastic early-game ramp. Lore especially, as it can fetch any forest, including combi-lands, and puts them into play untapped (unless otherwise specified).
I like the deck, but I would seriously consider your ramp and land balance. The average land count is usually 36-38, so you're at the issue where you could run into some issues.
Hope some of this was helpful. Definitely love the anti-combo angle.
4 months ago
Fatal Push will kill it every time. Also, Abrupt Decay will get rid of it. Silkwrap, Journey to Nowhere, Doom Blade, good old Murder, Surgical Extraction

to rip it out of his deck once it's in the graveyard, Nevermore, Pongify, Beast Within, Swords to Plowshares, Path to Exile, Condemn, hell, even Jester's Cap will get rid of 3 of them, or you can use it to grab one, Surgical Extraction

that copy for the other 3, then grab 2 other cards from his deck and possibly ruin his backup plans with yet another Surgical Extraction

or simply by removing his alternate win-cons. If you want to be ridiculous, which I highly encourage, flash in Ambush Viper to kill it.
Basically, if his deck revolves around Walking Ballista, kill all of them. That's how you get around it
Load more