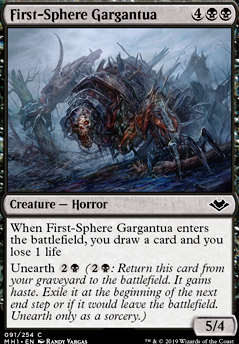 First-Sphere Gargantua
Creature — Horror
When First-Sphere Gargantua enters the battlefield, you draw a card and you lose 1 life.
Unearth (: Return this card from your graveyard to the battlefield. It gains haste. Exile it at the beginning of the next end step or if it would leave the battlefield. Unearth only as a sorcery.)
Browse Alters
Legality
| | |
| --- | --- |
| Format | Legality |
| Tiny Leaders | Legal |
| 1v1 Commander | Legal |
| Magic Duels | Legal |
| Canadian Highlander | Legal |
| Vintage | Legal |
| Modern | Legal |
| Penny Dreadful | Legal |
| Block Constructed | Legal |
| Casual | Legal |
| Pauper EDH | Legal |
| Leviathan | Legal |
| Legacy | Legal |
| 2019-10-04 | Legal |
| Duel Commander | Legal |
| Oathbreaker | Legal |
| Unformat | Legal |
| Pauper | Legal |
| Commander / EDH | Legal |
First-Sphere Gargantua Discussion
3 months ago
At first I was just thinking about I could I do to not just use Unearth straight, as you said. However, I slowly started to think about Ephemerate and it seems like a great ideia! I wouldn't even change the core ideia of the deck.
Right now, I'm thinking about losing some of the raw power by cutting things like Hell's Thunder and Sedraxis Specter and maybe go the more controlling side, with things like Rotting Rats for hand control, Extractor Demon as maybe a one or two of since unearth kinda combos with his ability to mill which could allow me to fuel my graveyard, First-Sphere Gargantua for repeatable card draw, Grixis Slavedriver for token generation and, of course, Anathemancer , altough the later I think is more suitable for the sideboard.
Throughout the day I'll be thinking about how to make a Mardu overhaul to this deck.
Thanks for the awesome tips, Funkydiscogod!
9 months ago
Great deck! I too have been quite interested in the potential of First-Sphere Gargantua . I quite like your inclusion of Kaya's Ghostform . It's quite brilliant in conjunction with Gargantua. May I suggest you consider Grixis Slavedriver ? I've found that he often works as copies 5-8 of Gargantua, e.g. a large threat with unearth that brings value even if immediately answered.
10 months ago
I think Bardel Entertainment will do a pretty alright job but where is Axis Animation the team behind the War of the Spark trailers? The attention to detail was pretty amazing at bringing out everything we could see in the cards, such as Bolas for example. It be a disservice to the show not to capitalize on all the amazing art the game has to offer. Nothing against Bardel Entertainment but The Dragon Prince, Teen Titans Go, and Rick and Morty don't nessesarily scream I bring First-Sphere Gargantua , Secluded Glen , Nyxathid and so on to life. Sorta feel that as I write this it's a way of keeping my expectations low. Story and Game play in MTG's past have always had their ups and down but the art has always been amazing (for the most part Circle of Protection: Art ). Just hope they capitalize on a pillar of what makes Magic what it is.