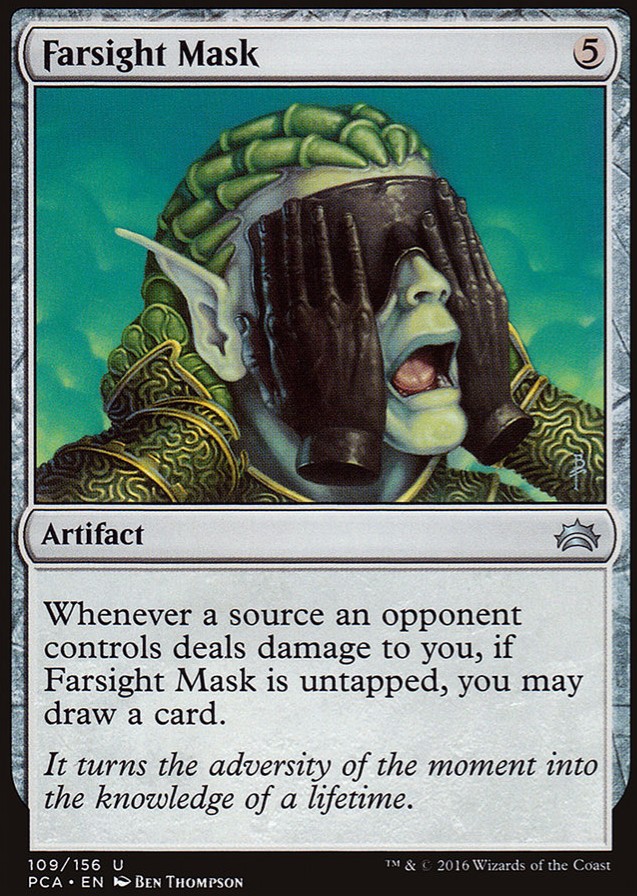 Legality
| | |
| --- | --- |
| Format | Legality |
| Tiny Leaders | Legal |
| Noble | Legal |
| Leviathan | Legal |
| Magic Duels | Legal |
| Canadian Highlander | Legal |
| Vintage | Legal |
| Modern | Legal |
| Vanguard | Legal |
| Legacy | Legal |
| Archenemy | Legal |
| Planechase | Legal |
| 1v1 Commander | Legal |
| Duel Commander | Legal |
| Oathbreaker | Legal |
| Unformat | Legal |
| Casual | Legal |
| Commander / EDH | Legal |
Farsight Mask
Artifact
Whenever a source an opponent controls deals damage to you, if Farsight Mask is untapped, you may draw a card.
Farsight Mask Discussion
3 weeks ago
Another good mono black inclusion I found myself putting in every mono black build is
Imp's Mischief
. This is a unique black effect that really catches people off guard. TAKING THERE EXTRA TURNS IS THE BEST.
---
Other neat tech I really like
5 months ago
Fire and Brimstone, Ancient Tomb, City of Brass, Farsight Mask, Grand Coliseum, Jinxed Idol, Mana Vault, Mana Crypt, Michiko Konda, Truth Seeker, Mindstorm Crown, Soul Warden, Soul's Attendant
10 months ago
Farsight Mask is a great card that more people should know about.
11 months ago
I feel like you have an aggressive deck, but it comes out too late without any control to back it up.
You will struggle turns 1,2,3, and sometimes 4.
Turns 5,6,7 you will be doing alright, but if you had a bad 1,2,3,4 you will be playing catch up on 4,6,7.
Turn 8,9,10. You don't have anything to carry you except Raksha and Jedit.
I play tested about 7 or 8 times and only drew one piece of equipment
A strong addition, if you can more reliably acquire equipment, Kemba, Kha Regent
Consider, either in addition to or replacing Raksha, Adaptive Automaton, Angel of Jubilation, Benalish Marshal.
Call to Arms or Crusade (Situational, but at 2 cmc these are good card).or other similar.
This deck would do better with faster lands. I found myself trapped for mana sometimes until turn five because of the double lands.
Now I say all this, but I'm rusty. I forget what five + player multiplayer games are like.
Drawing mechanics or fetching mechanics would help.
A couple drawing mechanicsAnvil of Bogardan, Abundant Growth (will help lands as well), Bargaining Table, Bazaar of Baghdad, Farsight Mask. Or something else. I'm not good with white/green.
1 year ago
Candles of Leng seems pretty good in a Commander setting.
Carnage Altar and Culling Dais seem really good with all the fodder you'll have for them.
Browbeat is one of my favorite red draw spells.
Coercive Portal could be fun, especially since your commander is indestructible.
Chandra Ablaze also has a good draw ability.
Liar's Pendulum is so much fun.
Solemn Simulacrum is ramp, draw, and fodder all in one.
Combustible Gearhulk, Aggressive Mining, Endbringer, Farsight Mask, Illuminated Folio, Mind's Eye, The Immortal Sun, Vanquisher's Banner, Magus of the Wheel, Wheel of Fate, and Wheel of Fortune all seem like solid draw effects.
1 year ago
Liquidbeaver: thanks for the suggestion, I definitely added Farsight Mask to my sideboard in case I find I'm drawing way more aggro than I normally would be. I can dig your justification for Siege-Gang Commander, it makes sense. He may just be one of the first to bite the dust should I find a better creature. Do you think Anger on top of Urabrask the Hidden is overkill?
Load more
No data for this card yet.