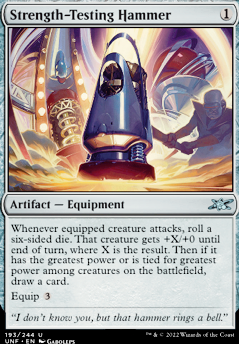 Legality
Strength-Testing Hammer
Artifact — Equipment
Whenever equipped creature attacks, roll a six-sided die. That creature gets +X/+0 until end of turn, where X is the result. Then if it has the greatest power or is tied for the greatest power among creatures on the battlefield, draw a card.
Equip (: Attach this to target creature you control. Equip only as a sorcery. This enters the battlefield unattached and stays on the battlefield if the creature this card is attached to leaves the battlefield.)
2 months ago
I thought you might be interested in a couple of equipment that work well with Isshin:
3 months ago
Strength-Testing Hammer could be a fun include for your deck. The ceiling for its buff is pretty funny with Isshin out.
Although it's not a Samurai Leonin Shikari could be very helpful for the deck also.