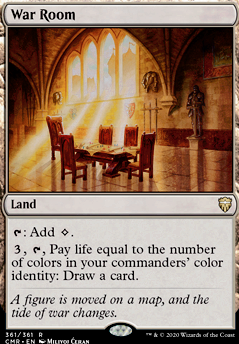 War Room
Land
: Gain .
, , Pay life equal to the number of colours in your commanders' colour identity: Draw a card.
Browse Alters
Trade
Legality
| | |
| --- | --- |
| Format | Legality |
| 1v1 Commander | Legal |
| Commander / EDH | Legal |
| Duel Commander | Legal |
| Limited | Legal |
| Casual | Legal |
| Leviathan | Legal |
| Custom | Legal |
| Tiny Leaders | Legal |
| 2019-10-04 | Legal |
| Oathbreaker | Legal |
Latest Decks as Commander
War Room Discussion
2 days ago
I have not updated my Xenagos since exactly a year ago, so some of these suggestions do not take into account cards that have been released since then such as Jeska(i?)s will and battle mammoth which should find their way into this deck. Now onto my specific suggestions....
I couldn't suggest more than what's allowed by tappedout, but let me know what you think of each suggestion. If you want ideas for cuts, lmk
3 days ago
Got you, if thats the case you should definitely prioritize instant speed interaction if the trade off isn't too bad.
(Also #3) I think you should run half of each, half snow, half non, that way you have the best chance of field of dead. But if you prefer not to, or $/availability is an issue, I understand your decision.
Your meta will adjust, as soon as I cast Lethal Vapors + a mind control effect, the entire table lost it when I made one opponent skip his next 1 million turns! :P
Thank you for sharing the ruling. Regarding Homeward path vs Nightmare, I like nightmare a lot more. I like the fact that its a creature and I feel it puts in more work. Truth be told, I think you should cut vault of whispers for homeward path. You mentioned the fact that its an artifact for metalworker, but artifacts are so fragile in EDH, it's just not worth it for metalworker alone. Having homeward path, especially now that you added expedition map would fit better IMO. Although I see you already cut bog for it, which is better. I guess I just don't like vault, having more types makes it more susceptible to removal. War Room is a maybe as card draw can't hurt.
I agree with pretty much all of your swaps, your note on disciple is spot on! Very good inclusion!
1 week ago
War Room Endless Atlas and maybe even Tome of Legends for card draw. The land is also a partial wheel could be useful if you find yourself with dead cards in hand.
As you said, you need to refine the list. Once it's refined, I would love to give this deck another look :) +1
1 week ago
Hey, making an Angel deck on a budget is not easy, well done.
My advice is to cut several high CMC cards for more low CMC ramp, more lower CMC Angels and repeatable draw sources. Some cards to consider adding, in order of best to worst and then I'll explain my suggestions.
---
Aurelia and Avacyn are the high CMC Angels you want to play more then the rest therefore consider cutting several other high CMC Angels? Emeria Shepherd 's repeatable reanimation by playing a Plains makes other Angels who reanimate less needed. You want more of an established battlefield of Angels before you play Aureila to take advantage of her haste and extra combat. There's a new Magic set called Kaldheim and in the set are many Angels for Boros with Righteous Valkyrie as the stand out.
Consider cutting some high CMC Angels for more ramp to help to cast Aureila and the other Angels quicker? An example is cutting Akroma, Angel of Fury for a two drop ramp Boros Signet . Signet helps to cast Aurelia or any other Angel way before you can cast Akroma. For the same amount of mana you could cast Avacyn therefore you don't really need Akroma.
---
In Commander you want repeatable draw sources, but Boros has an overall problem with drawing cards. A mechanic called the monarch helps and it's fun in multiplayer Commander. Court of Grace when you have the monarch creates a 4/4 Angel at your upkeep. If not it creates a 1/1 Spirit no matter what it's creating a flying creature.
When you have the monarch at your end step you draw a card. Any opponent who does combat damage to you then becomes the monarch. Once any player is the monarch then it can change who's the monarch throughout the game. Your goal however is to keep the monarch because then it becomes a repeatable draw source for no additional mana to draw.
An advantage that Angels have with the monarch is their flying and vigilance. If you lose the monarch it will be easier to get it back with flying creatures by doing combat damage to the opponent who's the monarch. Vigilance lets you attack and then keep your creatures back on defense making it more difficult for an opponent to do combat damage to you. Any player can play a card that makes them the monarch which means you will lose the monarch, but you can get it back.
I offer more advice including cuts to consider. Good luck with your deck.
1 week ago
You might consider these: Colossus Hammer , Ogre's Cleaver , Armored Skyhunter , Stonehewer Giant , Gold Myr (2-drop ramp gets Balan out a turn faster, increasing your damage output. personally I'd pull out 9 lands and replace them with ramp pieces), Mind Stone , Sol Ring , Everflowing Chalice , Guardian Idol , Hedron Crawler , Mask of Memory , Argentum Armor , War Room , Bonders' Enclave , Buried Ruin , Cathedral of War
2 weeks ago
@Reins of Power While the creatures do synergize well with the voltron aspect, it doesn't mesh well with the polymorph package I'm trying to run. I've found that with Polymorph, you need a game changing hit from it after it resolves. Unfortunately, if I add too many creatures, it can gum up the works.
Skeleton Key and Trailblazer's Boots have been on my radar for possible includes, I really like the skulk the skeleton key provides, I'll go digging through my bulk for them!
War Room I like that a lot! I'll try it out!
Aqueous Form Was in my first draft of the deck. In playtesting, I found myself in situations where I could tudor for the Twisted Image , but it would kill the crab due to the 0 toughness, so I tried out Aether Tunnel instead.
Masterwork of Ingenuity looks like fun, especially in my meta full of swords of this and that! I've gotten in trouble before by copying some of the pro blue swords and been unable to target my charix or creature with my blue enchantments, but I don't think it's come up as an issue too often to ignore the benefits.
I was thinking of running Commander's Plate , but I play in a meta with a lot of Guilded Drake,
Homeward Path is becoming a pet card of mine, and I plan to also include it when I can get a copy!
2 weeks ago
Thoughts on these? Sword of the Animist , Trailblazer's Boots , Skeleton Key , Merfolk Thaumaturgist , Crookclaw Transmuter , Paragon of Gathering Mists , Burnished Hart , Aqueous Form , War Room , Masterwork of Ingenuity , Deadeye Quartermaster , Vanishing , Trinket Mage , Tribute Mage , Trophy Mage , Inventors' Fair
Load more