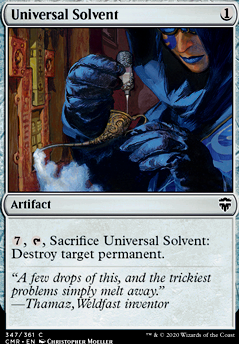 Universal Solvent
Artifact
, , Sacrifice Universal Solvent: Destroy target permanent.
Browse Alters
Legality
| | |
| --- | --- |
| Format | Legality |
| 1v1 Commander | Legal |
| Arena | Legal |
| Block Constructed | Legal |
| Canadian Highlander | Legal |
| Commander / EDH | Legal |
| Duel Commander | Legal |
| Gladiator | Legal |
| Highlander | Legal |
| Historic | Legal |
| Legacy | Legal |
| Leviathan | Legal |
| Limited | Legal |
| Modern | Legal |
| Oathbreaker | Legal |
| Pauper | Legal |
| Pauper EDH | Legal |
| Pioneer | Legal |
| Tiny Leaders | Legal |
| Unformat | Legal |
| Vintage | Legal |
| Casual | Legal |
| Custom | Legal |
| Quest Magic | Legal |
Latest Decks as Commander
Universal Solvent Discussion
3 months ago
This is definitely going to be an opinion-filled thread, but I'll throw my hat in.
I disagree wholeheartedly. In fact I'd go so far as to say Strixhaven is the only set I've been actually excited for in what feels like ages. Eldraine was somewhat exciting but before that... Dominaria? Again this is entirely subjective and I'm not here to tell anyone they're wrong about their opinion on a product. But I'm looking forward to Strixhaven.
Introduction to Annihilation is the worst example I could possibly think of to argue blurring the line between colors. Scour from Existence , Universal Solvent , Meteor Golem , Unstable Obelisk , Spine of Ish Sah , Colorless permanent removal is far from new or color warping. Most of the lessons, like Introduction to Prophecy , will mostly be inconsequential imo because, to be frank, they're bad. 3 for a Serum Visions ? Even mono-white isn't THAT desperate for draw.
WOTC is trying to force us into playing golgari lifegain
I'm stoked to finally get golgari lifegain support. If that's not your style, I get it, but I'm happy for it personally.
Galazeth Prismari feels like a case of catering to EDH. Adding red to your deck options and tapping artifacts for any color instead of blue feels like more of a sidegrade than a downgrade. We'll have to see how it does imo.
As for Beledros Witherbloom , a wise man once said of Prophet of Kruphix : If you think this card costs mana, you've been fooled. As for "This card may not be used in any infinite mana combo", actually it says "Flicker me". It's not in good colors for that, but I could see a BUG deck getting infinite mana out of this if they can find a way to supply the life. Deadeye Navigator says hi.
Release, experience, and hindsight will probably affect everyone's opinions on Strixhaven, as it has every set before it. So I generally try to take a "wait and see" approach, even if MTG doesn't have a great record for what I've waited for and seen recently imo.
7 months ago
Boxing League Round 3 Swaps
11 months ago
Hi, I just recently brewed up a Tatyova list that is aiming to be competitive and I wanted to ask about a few of your choices. I acknowledge that you have likely tested and played this deck more often but I am mostly curious about some of your card choices and the direction that you took this list. You can find my deck here: ~PDH~ When Lands Came to Value Town (Tatyova)
Thank you for hearing me out. I am sure that there is a good reason for many of the cards I just questioned and I am excited to hear them to understand your deck better. If you have questions about my choices and reasoning I would be more than happy to explain further. I am trying to make the best Tatyova deck that I can and just wanted to know why a list with a similar end goal is running certain cards that I cut out.
Lastly, I just wanted to say that after looking through your list I am considering running: Lull and Moment's Peace because sometimes this deck has a problem stabilizing early because my playgroup sees my deck as a very large threat. Merchant Scroll, I don't know why I was not running it. Mystic Remora and Rhystic Study are just too good to pass up and I probably should have been running them. I have just one problem and that would be cutting cards. I would apreciate it if you could take a look at my list and tell me what you think.
1 year ago
sovereign glue
Artifact
whenever another artifact with a converted mana cost of 1 is put into your graveyard from play, you may pay . If you do, return it to your hand instead.
---
to pair with Universal Solvent, the old D&D combo
make another card based on a RPG
1 year ago
Just for future reference, you can surround a card's name with double brackets, "[", in order to link the card image to it. You can do this sitewide.
To your question though, you can respond to the activation of Universal Solvent, but the Solvent will be gone when you do so. In all activated abilities, there is a colon, ":". Everything after the colon are the effects. Everything prior are the costs. In order to activate an ability, you must pay all the costs associated with it. For the Solvent, that means paying Mana and sacrificing it, so it would, therefore, not be there after the ability is activated.
This is often a problem with Tormod's Crypt. There is very little you can do to get rid of it once it's on the battlefield since your opponent can be activated whenever, and it will take your graveyard with it.
Hope this helps!!
1 year ago
First, I'm going to point out things that may not be the best on the maybeboard,
Blasting Station: Semi-repeatable but free sack outlets are just better. Unless you can continuously flicker something from the grave to the battlefield this should be cut.
Netherborn Altar: Highly situational. Better off just having protection for your commander or ramp.
Diabolic Intent: Personally not a fan of tutors but this is on theme and can help you in a pinch. My philosophy is to only tutor for a response and not for the win but to each their own.
Nim Deathmantle: 4 is a high cost to hold up to sometimes save your commander. Better protection available.
Panharmonicon: You have 8 creatures currently with ETBs which is a bit low to include this.
Universal Solvent: Mono-color decks have weaknesses. Typically in EDH certain board threats can be handled by others at the table. I would cut it unless your meta has little to no interaction for threats.
Witch's Oven: Love this card, just not for EDH.
On second thought, your maybe board is REALLY big. I'm just going to go with what cards stand out.
Augur of Skulls, Burglar Rat: Black's best advantage is denying your opponents advantage. Burglar rats is the better of the two since it will cause your opponents to discard 3 cards. Augur is only better if there is that One player in the meta that needs to discard.
Orzhov Enforcer: Helps to build a token board presence. Best case scenario this trades with something and you get a token and you repeat this every turn.
Sling-Gang Lieutenant: Same as above but better. Helps with some life-gain and gives you blockers/sac fodder.
Thorn of the Black Rose: Are you low on card draw? Yes, then add it. You should be wide enough to keep monarch. Good on draw? Then give it a pass.
Yawgmoth, Thran Physician: You typically don't want creatures with power greater than 1 but... This is card draw, removal, and a sac outlet. If you have it then use it.
Dredge the Mire: Seen this been played. 4 mana for three creatures is just good. Those creatures may not synergize well but you should at least get one good threat and it should help to have one big dumb creature.
Mutilate: Just a good board wipe. Sometimes you need to hit restart. If you have the funds, Dead of Winter is strictly better but needs snow-swamps.
Altar of Dementia: Two mana on a sac outlet that is harder to remove than a creature. Yes, please.
Meekstone: This will defend you from a ton. May also draw some hate but can save your from the R/G trample guy.
Smokestack: Really good in your deck. But, if you play it, be able to win in the next few turns and have some kind of recursion or the mana to replay your commander. This is a salty card, so be aware of your play group.
Grave Pact: With this and a sac outlet you should be able to own the board. This is a hard yes.
Oversold Cemetery: Could act as a good backup plan for your commander dying too much. Send him to the grave then re-play him. Then grab your graveyard recursion creatures next and your back fairly quickly from a board wipe without needing to draw into it.
Phyrexian Arena: Steady card advantage. One of my favorite cards.
Deadly Rollick: Free removal. Your running a linchpin deck (as in your commander is essential to be on the field) therefore this card pulls more weight cause if its dead your probably dead.
Imp's Mischief: Just a fun card no one expects in mono-black.
Cabal Coffers, Cabal Stronghold, Nykthos, Shrine to Nyx: If you own them you should run them. Also, especially if you have more than one of these, cards like Torment of Hailfire, Black Market, In Garruk's Wake, and Exsanguinate should be looked at more closely.
Hope that helps.
Load more