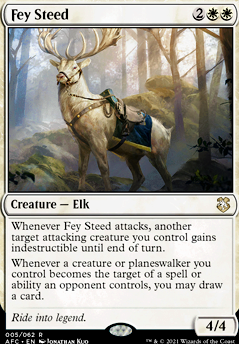 Legality
6 months ago
Im really not a fan of the battle cry mechanic. It could work really well with Krenko, Tin Street Kingpin, Mardu Ascendancy, or the other many token makers, but I would rather just run Fervent Charge. It takes a single card for +4/+4 and your creatures are more likely to survive combat. you could always stack more though
Vengeful Ancestor, Parasitic Impetus, Shiny Impetus, and maybe Martial Impetus could all be fun tools to mess with your opponents while keeping yourself safe from larger threats. You get double rewards with Isshin
Guild Artisan, Curse of Opulence, and Sword of the Animist are options for ramp.
Fighter Class is nice for the tutor and later on can force blocks and can be used to kill off weak targets.
Shadowspear exists. you should use it in every deck Helm of the Host lets you double commanders, and lets you go infinite with Godo, Bandit Warlord. Who also should just automatically be your automatic first pick for a 6 drop. Tutor, double combats...
Bruse Tarl, Boorish Herder doublestrike AND lifelink. costs one more but can replace your enchantment.
Ilharg, the Raze-Boar Wanna play two cards for free?
Breena, the Demagogue does so much. buffs you like crazy. Can net you two cards per combat phase... which you will hopefully get multiple of with more things like: Aggravated Assault and Waves of Aggression can go infinite Port Razer, Raiyuu, Storm's Edge, Response / Resurgence are also nice
Agent of the Shadow Thieves and Fey Steed protect your commander or other attackers, and the steed may also come out even against removal.
You dont need to go all out on making one guy and instakill, Sublime Archangel with many tokens or Pact Weapon with combats can do it by themselves situationally. And the pact weapon is just way too cool.
Selfless Samurai is free lifelink and protection you can save for your commander. Cathedral of War is just going to be free power every once in a while
Hopeful Initiate is repeatable removal with extra steps I'd honestly ditch the sunforger.