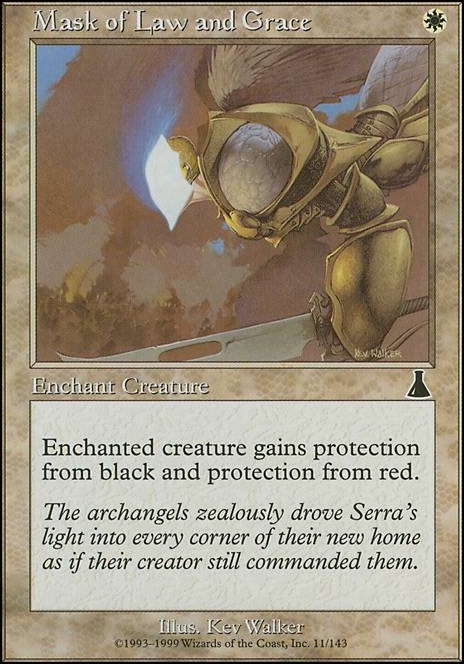 Legality
4 months ago
Hello! May I step in to give you some recommendations? Since you're on a budget, all cards suggested are 2 dollars or less.
Part 1: Ramp
In: You probably want aura ramp and cost reducers over standard land ramp: Wild Growth, Transcendent Envoy, Hero of Iroas, Jukai Naturalist and Stenn, Paranoid Partisan (choosing Enchantment). These will allow you to storm through your deck casting Auras ad nauseam.
Out: Elvish Mystic, Farhaven Elf, Arcane Signet, Nature's Lore and Cultivate are all great ramp cards, but you can do better (and more thematically) with the cards I mentioned above.
Part 2: Card draw
Just as important as ramp is card draw: Galea won't always be available to you.
In: Sage's Reverie, Enchantress's Presence, Satyr Enchanter, Mesa Enchantress.
Out: Coiling Oracle, Curious Obsession (unreliable), Curse of Verbosity (unreliable), Eel Umbra.
Part 3: Removal
Swords to Plowshares is GREAT, no doubt. But, in this kind of deck, you can spice it up with the great Auras that has for removal.
The objective is, then, to use the cheapest Auras that can hit more than one permanent type, with emphasis on "loses its abilities" in the text box.
In: Mortal Obstinacy, Ossification (synergy with your basic land fetchers).
Out: Reclamation Sage, Swords to Plowshares.
Part 4: Boardwipes
In: I believe you should run more boardwipes that leave your board mostly untouched. Austere Command is one such example. You almost always will clean all artifacts and the half of creatures that are more dangerous to you. Curse of the Swine is another selective wipe.
Out: Time Wipe (not one-sided), Plains.
Part 5: Protection and Evasion
In Voltron, tempo is crucial.
Now to the Auras:
Following the same logic as with removal, I'm using auras over instants to protect the Voltron.
Part 6: Tutors
Without Hammer of Nazahn, Nazahn, Revered Bladesmith is just a more expensive Open the Armory.
In: Open the Armory, Heliod's Pilgrim, Moon-Blessed Cleric, Light-Paws, Emperor's Voice and Invasion of Theros  Flip (bonus that all those tutors also change your library's top card).
Out: Nazahn, Revered Bladesmith, Celestial Archon, Heliod's Emissary, Hypnotic Siren, Curse of Unbinding (7 mana is a lot for an Aura).
Part 7: Win Conditions
In: Since you're going all-in with auras, All That Glitters and Ethereal Armor do wonders.
Out: Bruna, Light of Alabaster is slow and telegraphed in this build. People won't let her stick to the field. Nissa, Steward of Elements is tough to protect in a Voltron build, while she only offers scry, which your lands can already do.
Part 8: Lands
In:
Out:
If you read this far, congratulations! Here is the list of the deck with all the suggested alterations, in case you want to test it: Galea, Menacing Aura. Good luck and have fun!
3 years ago
If your opponents playing mono-red and mono-black, i recommend you to add this card Mask of Law and Grace
4 years ago
MaStCu Hahaha, Yes! I would love to tell you how the deck plays, that discription isn't too informative :)!
Step 1: Typically, you try to get out Tallowisp asap, but if you don't think it will survive, wait until you can do both Step 1 and 2 at the same time.
Step 2: Cast a Spirit/Arcane spell, search your library for Mask of Law and Grace . Enchant Tallowisp . Sometimes Inviolability /An Umbra works fine, but only in rare circumstances.
Step 3: Cast a Spirit/Arcane spell, search your library for Shield of Duty and Reason . Enchant Tallowisp . Now that that's done, your Tallowisp has protection from everything except white. (Kill white players first because of that)
Step 4: Look around the table, find the most problematic commander. Cast a Spirit/Arcane, search you library for an answer.
Against Disciple of Deceit , Shackles can work, but sometimes Reprobation is necessary. (Use reprobation sparingly, it's your best enchantment.)
Against a Voltron commander, Asha's Favor does the trick surpisingly well. (Assuming that they have hexproof, otherwise Pacifism works fine.)
Against Aggresive decks, Lifelink + Asha's Favor / Ethereal Armor makes it very hard for them to survive.
If you have Plow Through Reito , search up Empyrial Armor for the OTK.
Step 5: You can mostly just start making the rest of your opponents boards unable to attack, while finding Ethereal Armor . Keep in mind that if you need a cath all answer, Reprobation & Choking Restraints are your best bets.
You can also tutor up cantripping auras to make your spirits draw you a card, and give protection to your opponents creatures to make other auras fall off.
Hope this helps!
4 years ago
So as most everyone knows that cards like Sword of Feast and Famine and the rest of the sword cards are all pretty expensive. But if you are just looking for protection from two colors and not the added abilities then I may have found a decent (not great) alternative with Shield of Duty and Reason , Mask of Law and Grace , and Crown of Awe . All of these do give you protection from two colors but don't have any other added effects and unfortunately they are only enchantments.
6 years ago
Don't stop now. I believe in you!
Load more