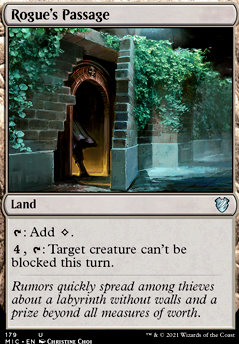 Rogue's Passage
Land
: Add .
, : Target creature can't be blocked this turn.
Browse Alters
Trade
Have (4)

o

r

z

h

o

v

_

i

s

_

r

e

l

a

t

i

v

e

l

y

_

o

k

a

y

8

1

9

, MrShhh , danaran117 , 31770
Want (9)
Matheusalem , Goji , dchaffee02 , 31770 , Onmyway2thetopz , Morpho-peleides , Cool_Cat , TheOtherRoxas , Kotakiva
Legality
Latest Decks as Commander
Rogue's Passage Discussion
1 week ago
Hey! Kinda late, but I would like to suggest some stuff:
(Disclaimer: I have a budget way lower than yours, but I've been tinkering with Ghired for almost two years - he's my favorite commander. I'll break the suggested upgrades down into categories for better organization.)
Haste enablers:
Ramp: Run at least 15 ramp cards to make your deck flow smoother and faster.
As an aggressive deck, speed is fundamental. Fellwar Stone, Nature's Lore, Three Visits, Skyshroud Elf, Bloom Tender, Faeburrow Elder, Chromatic Lantern, Coalition Relic, Wood Elves, Skyshroud Claim and Mirari's Wake can ramp and heavily fix your mana, taking the place of Gyre Sage, Solemn Simulacrum, Rampant Growth, Sakura-Tribe Elder and Xenagos, the Reveler - the latter is a win-more ramp, and his 2/2 token is not large enough to synergize with the power-based card draw, while the other four fix for a single color of mana (Ghired decks can sometimes be color-hungry), and this deck can't abuse the sad robot for value.

In the land department, Krosan Verge and Blighted Woodland pull their weight, and synergize greatly with Avenger of Zendikar and Rampaging Baloths. Maybe remove Cascading Cataracts? (Your spells are not THAT color hungry.)
Direct damage:
Extra combats: You don't have to worry about your opponents' answers if they never get to their turn, so...
Boardwipes:
Card draw: Alongside ramp, it is my main concern with Ghired. I want to be able to rebuild my board after a boardwipe.
Some cards I suggest you to remove:
Some cool lands for you to try out: (landbase is my favorite part of deckbuilding)
I hope I've been of some help to you. I didn't suggest many token-related cards because I believe that, as long as you have decent ramp, draw and removal in your deck, you can win to your heart's content. Wanna throw in a Godsire? Do it. Prefer to clone your opponents' creatures with Hate Mirage? Go ahead. But the fundamentals of the deck is what makes it flow consistently. Have fun and smash 'em all (and run Doubling Season for extra fun) ;-)
3 weeks ago
Great first deck but i fear you may not have the mana you need to make it work i would cut some lands like for some more basic lands and get a few more land ramps
Crucible of the Spirit Dragon for a Basic Mountain, Crucible is fine but slow as it only taps for colorless and you have to pay mana to get colored mana, this is the biggest maybe I've never like storage lands personally.
Gateway Plaza, Archway Commons and Rupture Spire one or two of these can be cut for another mountain and a Darigaaz's Caldera
I would also trade Opulent Palace for Savage Lands since Jund () are your main colors
I would also rearrange some of your basic land numbers try 5x Mountains, 4x Forests, 3x Swamps and 2x Plains and Islands and i would cut Underdark Rift, Treasure Vault, Rogue's Passage and Prismari Campus for the basic lands
Would also try to get some cheap basic ramp cards like Cultivate, Kodama's Reach, Farseek and Sword of the Animist for basic land ramp and things like Hour of Promise, Tempt with Discovery, Pir's Whim, Explore and Growth Spiral for non basic ramp.
Now that I told my thoughts on your mana here are some other cards to help your dragons not sure your budget so i categized them. These price are based off of TCGplayer.
0.1-$4.99-Favorable Winds0.40, Teneb, the Harvester$3, Lathliss, Dragon Queen $3.50, Silumgar, the Drifting Death 0.70, Kolaghan, the Storm's Fury 0.70, Eerie Ultimatum $3, Ruinous Ultimatum $5, Genesis Ultimatum $1.00,
$5-$9.99-Dragon Tempest$5, Scion of the Ur-Dragon $7, Drakuseth, Maw of Flames $5, Karrthus, Tyrant of Jund $3.50, Mirari's Wake $6, Rhythm of the Wild $6
$10-$19.99- Scalelord Reckoner $13, Vanquisher's Banner $12, Sarkhan Unbroken $15,Sarkhan, Fireblood $11,
$20 and over-Terror of the Peaks $25, Dragonlord Dromoka $25, Balefire Dragon $30, The Great Henge $50, Urza's Incubator $40, Sarkhan, Dragonsoul $27, Chromatic Orrery $20
3 weeks ago
Cheeky_Dick-waffle The cards only have to have been printed at common at least once, regardless of their current or previous rarity. For example: Rewind was upshifted to common in Eighth Edition, but it's original printing in Urza's Saga was at common, so it's pauper legal (even though it has been uncommon for nearly 20 years). So while lots of these cards are now uncommons today, all were common at some point, so they are allowed.
That being said, this is still an illegal deck, as Rogue's Passage has never been printed at common, and has always been uncommon. Also, Mystic Remora and Rhystic Study are both banned in pauper EDH.
1 month ago
amicdeep thanks for you're comment, good insights
Flickerwisp and Reflector Mage are strong cards but Venser, Shaper Savant putting the permanent/spell back into their hand with instant speed is just harder for my opponent to deal with even though it does cost more mana. Will test them anyway though, you never know.
The flip lands could be a very nice combat trick but am trying to avoid enter tapped lands as the 3 and 4 drops are just so important to have on time.
Professor of Symbology would be a great card against slower decks to find everything when you need it but to have mainboard might just be a bit too slow but I will definitely test it mainboard.
Hallowed Respite I really like a flashback blink spell to accelerate ETB value but at sorcery and 2 mana and only non-legendary I'm not sure.
Lavinia of the Tenth I don't know how I missed this card it seems excellent in this deck and could replace the extra copies of Cleansing Nova as it deals with all nonland permanents, very nice find.
From testing I think just a Rogue's Passage giving unblockable works just as good in the situation you would want a manland and doesn't enter tapped or need snowlands.
1 month ago
Hey, nice budget version. You've done well to keep the mana curve low with Syr Gwyn as the highest CMC card.
Some suggestions of improvements to the manabase on a budget.
Good luck with your deck.
1 month ago
Tectonic Inversion
Sorcery
Each player seperates their lands into two piles. You choose a pile for each player, and that player sacrifices it. You may then play up to one additional land from each player's graveyard this turn. Those lands enter the battlefield tapped.
---
Someone have a Gaea's Cradle, an Ancient Tomb or a Spinerock Knoll? What about an Urborg, Tomb of Yawgmoth? Command Tower? Inkmoth Nexus? How about Dark Depths or a Nykthos, Shrine to Nyx? Maybe they have a Vault of the Archangel or a Rogue's Passage? Minamo, School at Water's Edge?
Technically, Rules As Written, a pile could be 0. So, when you seperate your own lands, you could theoretically have a pile of all of your lands, and a pile of 0 lands, then sacrifice the pile of 0 lands. Absolutely disgusting.
Lots of ways to seriously get ahead with a spell like this.
Repeat, or wild if you've already done it and wanna get back into the thread.
Load more