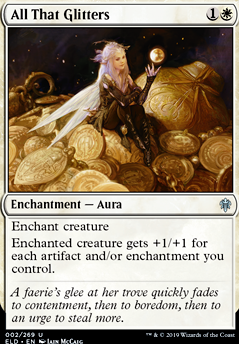 Legality
4 weeks ago
Hello! May I step in to give you some recommendations? Since you're on a budget, all cards suggested are 2 dollars or less.
Part 1: Ramp
In: You probably want aura ramp and cost reducers over standard land ramp: Wild Growth, Transcendent Envoy, Hero of Iroas, Jukai Naturalist and Stenn, Paranoid Partisan (choosing Enchantment). These will allow you to storm through your deck casting Auras ad nauseam.
Out: Elvish Mystic, Farhaven Elf, Arcane Signet, Nature's Lore and Cultivate are all great ramp cards, but you can do better (and more thematically) with the cards I mentioned above.
Part 2: Card draw
Just as important as ramp is card draw: Galea won't always be available to you.
In: Sage's Reverie, Enchantress's Presence, Satyr Enchanter, Mesa Enchantress.
Out: Coiling Oracle, Curious Obsession (unreliable), Curse of Verbosity (unreliable), Eel Umbra.
Part 3: Removal
Swords to Plowshares is GREAT, no doubt. But, in this kind of deck, you can spice it up with the great Auras that has for removal.
The objective is, then, to use the cheapest Auras that can hit more than one permanent type, with emphasis on "loses its abilities" in the text box.
In: Mortal Obstinacy, Ossification (synergy with your basic land fetchers).
Out: Reclamation Sage, Swords to Plowshares.
Part 4: Boardwipes
In: I believe you should run more boardwipes that leave your board mostly untouched. Austere Command is one such example. You almost always will clean all artifacts and the half of creatures that are more dangerous to you. Curse of the Swine is another selective wipe.
Out: Time Wipe (not one-sided), Plains.
Part 5: Protection and Evasion
In Voltron, tempo is crucial.
Now to the Auras:
Following the same logic as with removal, I'm using auras over instants to protect the Voltron.
Part 6: Tutors
Without Hammer of Nazahn, Nazahn, Revered Bladesmith is just a more expensive Open the Armory.
In: Open the Armory, Heliod's Pilgrim, Moon-Blessed Cleric, Light-Paws, Emperor's Voice and Invasion of Theros  Flip (bonus that all those tutors also change your library's top card).
Out: Nazahn, Revered Bladesmith, Celestial Archon, Heliod's Emissary, Hypnotic Siren, Curse of Unbinding (7 mana is a lot for an Aura).
Part 7: Win Conditions
In: Since you're going all-in with auras, All That Glitters and Ethereal Armor do wonders.
Out: Bruna, Light of Alabaster is slow and telegraphed in this build. People won't let her stick to the field. Nissa, Steward of Elements is tough to protect in a Voltron build, while she only offers scry, which your lands can already do.
Part 8: Lands
In:
Out:
If you read this far, congratulations! Here is the list of the deck with all the suggested alterations, in case you want to test it: Galea, Menacing Aura. Good luck and have fun!
6 months ago
Exquisite Blood would be pretty nice with Zur's Weirding Out, in addition to giving life for Necropotence, and with Protection Racket, it's one thing to pay a few life to keep you from getting a free card, giving you free life feels pretty awful, and Zur can dig out Protection when you just want cards without paying life. You can mention to people you don't run any 2 card combos, so they won't worry about the Sanguine Bond combo with Exquisite Blood.
With Merieke and Zur, I feel like you'd want Pemmin's Aura and/or Freed from the Real, once Zur puts the Aura on her, it's U to kill target creature, and when you're out of U you keep the best creature you can steal until you have mana again. If Merieke is a card you like digging out, there are 3 mana Transmute cards fwiw, Perplex, Dimir Machinations and the ungodly bad Drift of Phantasms.
For Zur, I like having the option to go Voltron, to do so I run All That Glitters and Heliod, Sun-Crowned. If one copy of All That Glitters doesn't quite cut it, there is also Michiko's Reign of Truth  Flip, but I mostly use Copy Enchantment, Estrid's Invocation and Mirrormade to make more Glitters if I want a bigger Zur, 3 is usually a 1 hit kill fwiw, and he can dig out an Unblockable aura or Thassa, God of the Sea technically. For Shroud I like Greater Auramancy, but there is also Diplomatic Immunity to consider.
If you don't mind running Vanishing, which is a very good 'dodge' effect for Zur that doesn't cost him Auras/Counters, you can also run the very funny Out of Time to just wipe creatures pretty much permanently. If you have Copy Enchantment effects, you can duplicate this before it goes away to lock away another group of creatures, very nasty vs large creature boards, and Zur finds both pieces.
Another funny Zur card is Dance of Many, which can duplicate a creature you can target, a very strong effect if your meta cares about powerful creatures. If people run Mill in your area, Nighthowler can be fetched out for a big creature or be drawn to make Zur bigger.
You can't fetch it out, but like Mother of Runes it's very good to have out, Devoted Caretaker can offer very versatile protection to more stuff.
If you want something pretty dirty you can pull out vs opponents that are running stronger than expected decks, your Smothering Tithe works very well with Stasis, which also likes Black Market Connections, though you'll want Brave the Sands to give Zur (and your board) Vigilance. Stasis also likes Archon of Emeria and you're already running Thalia, Heretic Cathar. It's certainly not fetching out Heliod after you've dropped Balista, this doesn't win on the spot, but it's a very strong/nasty effect to have access to, even if you don't dig it out very often. Fortunately Stasis is the only piece you wouldn't want to draw!
7 months ago
Have you thought about adding Ancestral Mask and All That Glitters, possibly Ethereal Armor, to allow voltron off of one card and what your deck is already trying to do? Zur the Enchanter can be found via Sisay and can find these pieces. Zur can also find Freed from the Real or Pemmin's Aura to make infinite mana off of Sanctum Weaver, which I feel is a card you might look at even if you don't bother with Zur. Zur in general is good with Shrines or Backgrounds, I feel like with both he's a great fit.
Really love this deck!
8 months ago
I don't think you can use Vanishing to be unblockable, but I think you could wait until someone decides to block him, and if Zur would die, you can Phase him out and he's removed from combat, you'll still have gotten his attack trigger though.
You've got quite a few solid stax creatures (people often call them Hatebears) in here already, but I run Opposition Agent, Dauthi Voidwalker, Drannith Magistrate, Malevolent Hermit  Flip, and Archon of Emeria, as well as Wandering Archaic  Flip, which is very effective piece if people run lots of non-creature counters, such as more competitive playgroups.
Well, there are various ways you can win via Zur's ability, in my Zur deck my plan is to lock up the board and then win from a fairly safe position. To go with Spirit of the Labyrinth you could run Teferi's Puzzle Box and Necropotence to lock people out of having cards except you, who can draw via Necropotence. I also use Walking Ballista and Heliod, Sun-Crowned as a half-fetched combo. Because it only needed 1 card, I use Second Chance + Hall of Heliod's Generosity + Necropotence to get infinite extra turns, but you might need a way to get rid of Necropotence to let you draw cards normally, a thing Zur can also help with. Another option that people use (but is pricey) is Rest in Peace (or Voidwalker) and Helm of Obedience, which can help remove players by milling them out, if this seems bad keep in mind that with Mirrormade you can duplicate the Helm on the 2nd turn and eliminate up to 2 players that turn, which should close out a game. While it won't quite win you the game on the spot, there is (back of Hermit) Benevolent Geist and Dovescape so that only you can cast non-creatures. If you're worried about birds you can just use Detention Sphere to clear them out each turn via Estrid's Invocation, but if you've got the most birds, you can keep them around. I like my Zur decks to have a janky feel, so I also don't run Thassa's Oracle.
One of my favourite ways to win is All That Glitters with stuff like Copy Enchantment, Estrid's Invocation and Mirrormade to generate a Voltron win off of Zur's ability. For protection I just run Greater Auramancy, which helps both my Voltron and my general supply of enchantments I don't want targeted. The already mentioned Luminarch Ascension can be a solid win con once it's set up, 1W for a 4/4 flyer is really, really good value, even in cEDH people play the card in control decks.
Load more