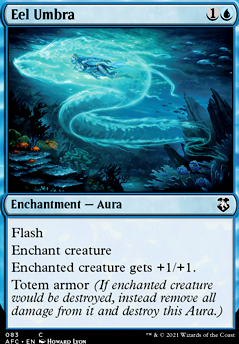 Legality
Rules Q&A
4 months ago
Hello! May I step in to give you some recommendations? Since you're on a budget, all cards suggested are 2 dollars or less.
Part 1: Ramp
In: You probably want aura ramp and cost reducers over standard land ramp: Wild Growth, Transcendent Envoy, Hero of Iroas, Jukai Naturalist and Stenn, Paranoid Partisan (choosing Enchantment). These will allow you to storm through your deck casting Auras ad nauseam.
Out: Elvish Mystic, Farhaven Elf, Arcane Signet, Nature's Lore and Cultivate are all great ramp cards, but you can do better (and more thematically) with the cards I mentioned above.
Part 2: Card draw
Just as important as ramp is card draw: Galea won't always be available to you.
In: Sage's Reverie, Enchantress's Presence, Satyr Enchanter, Mesa Enchantress.
Out: Coiling Oracle, Curious Obsession (unreliable), Curse of Verbosity (unreliable), Eel Umbra.
Part 3: Removal
Swords to Plowshares is GREAT, no doubt. But, in this kind of deck, you can spice it up with the great Auras that has for removal.
The objective is, then, to use the cheapest Auras that can hit more than one permanent type, with emphasis on "loses its abilities" in the text box.
In: Mortal Obstinacy, Ossification (synergy with your basic land fetchers).
Out: Reclamation Sage, Swords to Plowshares.
Part 4: Boardwipes
In: I believe you should run more boardwipes that leave your board mostly untouched. Austere Command is one such example. You almost always will clean all artifacts and the half of creatures that are more dangerous to you. Curse of the Swine is another selective wipe.
Out: Time Wipe (not one-sided), Plains.
Part 5: Protection and Evasion
In Voltron, tempo is crucial.
Now to the Auras:
Following the same logic as with removal, I'm using auras over instants to protect the Voltron.
Part 6: Tutors
Without Hammer of Nazahn, Nazahn, Revered Bladesmith is just a more expensive Open the Armory.
In: Open the Armory, Heliod's Pilgrim, Moon-Blessed Cleric, Light-Paws, Emperor's Voice and Invasion of Theros  Flip (bonus that all those tutors also change your library's top card).
Out: Nazahn, Revered Bladesmith, Celestial Archon, Heliod's Emissary, Hypnotic Siren, Curse of Unbinding (7 mana is a lot for an Aura).
Part 7: Win Conditions
In: Since you're going all-in with auras, All That Glitters and Ethereal Armor do wonders.
Out: Bruna, Light of Alabaster is slow and telegraphed in this build. People won't let her stick to the field. Nissa, Steward of Elements is tough to protect in a Voltron build, while she only offers scry, which your lands can already do.
Part 8: Lands
In:
Out:
If you read this far, congratulations! Here is the list of the deck with all the suggested alterations, in case you want to test it: Galea, Menacing Aura. Good luck and have fun!
1 year ago
(Yeah hey I'm Reece's friend and I had nothing else happening so I thought I'd take a peek at the deck. First of all, it's a pretty sweet deck, I love this commander and how you decided to build it. Everything I'm saying here are just suggestions to help you enjoy your deck more. Do with it what you will.)
Due to the final activated ability on The World Tree, it actually has a color identity of all 5 colors, so it can't be run in this 3-color deck. If you want a great resource for finding better lands, I'd recommend looking on managathering.com
Enlightened Tutor is pretty expensive money-wise, but of you're proxying or playing online it is a fantastic tutor that also sets the card to the top of your library to let Galea cast it with her ability
This deck is pretty heavy on board wipes in my opinion, but if you like them, keep them. It might be worth running more ways to give your commander indestructible or totem armor such as Hammer of Nazahn or Eel Umbra so that she's not caught in the crossfire. These can also replace instants doing a similar thing for just 1 turn, such as Heroic Intervention
Have a backup plan for if your opponents decide to kill Galea, Kindler of Hope every time she comes out before she can get protected. You may want to run more creatures to have other targets for your buffs. Many good options in the Maybeboard
You have plenty of defensive interaction to protect yourself (maybe even too much), but not nearly as much offensive interaction to stop others. Cards like Beast Within or Generous Gift are incredible tools to deal with any problem. Or, consider more cards that have multiple modes such as Selesnya Charm or Primal Command so that you can choose when to help yourself or slow down opponents as needed
Generally speaking you'll probably want more card draw. Spidersilk Net feels great when you cast it off the top of your library for free, but if your hand gets filled with cards like that you'll feel like you can't do anything. Sram, Senior Edificer is the perfect kind of card draw engine this deck wants to see, more things like him will help immensely.
Since your deck isn't racing as fast as possible to get Galea out, ramp like Avacyn's Pilgrim and Llanowar Elves become a bit more of a liability. If you want more reliable ramp, consider switching them for more effects that put lands from your library into play. These effects have the added benefit of shuffling your deck afterwards, so once Galea is out you can use them to get a new card on top.
Be very careful with "protection from color" effects in this deck. Giving a creature "protection from white" will cause any white auras attached to it to fall of and be sent to the graveyard, as they can no longer target the creature.
Assault Suit is very funny. Use at your own risk...
If you like Trophy Mage, you'll love Tribute Mage and Trinket Mage. Similarly:
.
Hope this helps! ~Yoshe
1 year ago
If I play multiple forms of totem armor like Eel Umbra, Bear Umbra and Estrid, the Masked -1 ability, do their buffs stack, and when a creature is destroyed do I get to choose what get's removed or is it in a specific order? Thanks!
3 years ago
Good choice of commander for a sea monsters deck. I have an Urza sea monsters deck, trying to use Urza's ability to tap artifacts for blue mana to ramp hard into those big blue beauties. It still ends up playing like an Urza artifact shenanigans deck though, because it's Urza..
So my next move is to make it an Arithmexes deck instead! The inclusion of green for its ramp should make it playable. I think that you should consider Circuitous Route, Nyxbloom Ancient, Explosive Vegetation, and Frontier Siege. This last one only produces green mana but holy god does it produce mana. Two green on EACH main phase, and those blue beauties need a lot of any color mana regardless.
Temur Sabertooth can save as many critters from board wipes as you have the mana for, as well as itself. Breaching Leviathan is nasty. Tidespout Tyrant is not a fish but is definitely a blue sea monster and does work. I love the inclusion of Tale's End. So unexpected and great for dealing with those obnoxious sac engine decks. Similar to Soul's Majesty, Return of the Wildspeaker will draw a ton of cards in a deck like this and has the added upside of being used as a finisher.
I also love the various umbras, generally, for commander decks. Eel Umbra has flash and will unexpectedly save one of your fish from removal, and Bear Umbra will do work in any green deck. Lastly, Capsize in a deck like this is great fun, and flavorful, but can produce saltiness when bought back repeatedly.
If you are interested, this is my Urza deck: http://tappedout.net/mtg-decks/urza-old-man-of-the-sea/?cb=1593614404
It has a strong draw package.
3 years ago
I've updated the deck to include a solid grave hoser, and another way to dodge wraths. We may be a little light on card draw now, but I'll run some more tesing soon.
Sea-Dasher Octopus --> Ashiok, Dream Render
3 years ago
Stuff that seems underwhelming here: Blossom Dryad, Dragonscale Boon, Erosion, Garenbrig Paladin, Gift of Strength, Nyxborn Colossus, Oko, the Trickster, Reduce in Stature, Sauroform Hybrid, Stony Strength, Tall as a Beanstalk, Wavebreak Hippocamp, World Shaper
Cheap all-stars: Cold-Eyed Selkie, Eel Umbra, Inspiring Call, Molting Skin, Octopus Umbra, Rancor, Simic Ascendancy, Snake Umbra, Spider Umbra, Thirst for Meaning
Load more